Back in the days, deciding what bracelet to wear was not a big challenge for men, but not for the reasons you might think.
Ten years or so ago, bracelets were seen as something for women, meaning that the vast majority of men were afraid of being labeled as feminine if they wore them. However, this meant that the few men who did break the norms and wore bracelets had very few alternatives because the demand for them was extremely limited.
But over the last couple of years, we have seen a tremendous explosion in the popularity of wearing bracelets among men. The evolution has gone so fast that you might even call it the bracelet revolution among men. Today, bracelets are an accessory that is socially accepted for both men and women, but that does not mean there aren't recommendations on how you should wear bracelets and which bracelets you should wear during which occasions.
If you're reading this, you're probably someone who have realized the great benefits of wearing bracelets, and how they can enhance your overall look of your outfit in a matter of seconds.
The bracelet "revolution" meant that the demand for bracelets increased dramatically. This, of course, also lead to the supply of bracelets becoming bigger, and the emergence of new bracelet models and styles growing faster than ever.
The tons of new bracelet models that have emerged is both something positive and negative, however, the benefits outweigh the disadvantages.
First of all, having more bracelet models to choose from means that you can better adapt bracelet type, color, and model to what clothes you're wearing and what occasion you will be wearing them on.
Secondly, what was back in the days only available in a few boring colors is now available in a ton of different colors, giving you the opportunity to mix and match your bracelets with your outfit, sending signals that you are someone who knows what you are when it comes to fashion.
Knowing what bracelet you should wear for which occasion is extremely difficult, and that's why we've created this guide, so you can be confident when picking bracelets to wear.
How to Choose The Right Bracelet for The Right Occasion
Formal style
When choosing bracelets for formal occasions, you need to be careful.
Because formal outfits are normally worn in conservative environments such as meetings, you need to be very careful in which bracelets you choose, because wearing something too bold can make conservative people raise their eyebrows.
When picking bracelets for this type of occasion, you want to look at bracelets which are very masculine.
Materials like steel and leather are often great choices for these types of occasions because they are discrete and not something flashy.
Colors like black, brown, navy blue and gray are colors to prefer. These colors are also often most common for suits, so matching will be an easy task.
As a male, you want to avoid wearing any type of bracelet with gemstones during formal occasions. Depending on who you are and where exactly you're going, wearing gold bracelets might be a bold move. A great tip is to look at everyone around you in the space you plan to wear them before you're putting on bracelets that are a bit bolder than leather and steel. Are they wearing gold bracelets? If so, you might also be able to pull them off.
Seen in the picture above is a black leather anchor bracelet in rose gold plated stainless steel. This is a discrete and masculine choice, perfect for any formal occasion. If you are a guy who enjoys wearing bracelets on the same wrist as your watch, you can do so. And doing so can really make for a great overall look, as seen above.
Anchor bracelets come in a variety of different colors and materials, but as mentioned earlier, choose hook bracelets in masculine and very discreet colors to complement your look in a stylish yet moderate way.
Get the anchor bracelets here.
Another type of bracelet that really never goes out of style and is perfect for formal occasions is the braided leather bracelet.
Nothing screams masculinity like a black braided leather bracelet finished with a stainless steel push button clasp. Simply a perfect addition to any formal man's wrist.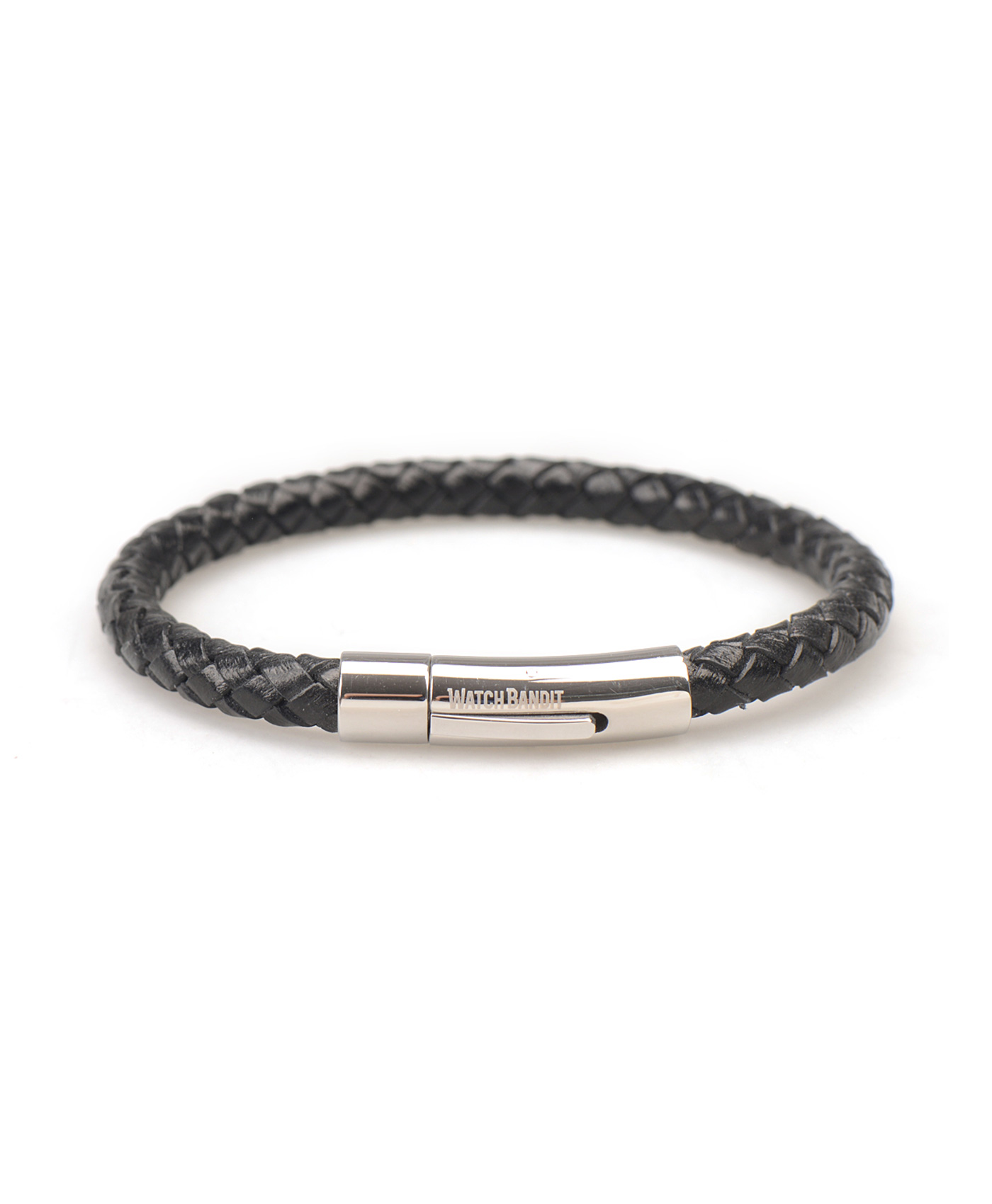 Get the braided leather bracelet here.
Casual occasions
There are many different "levels" of casual occasions, therefore, speaking about all of them as one occasion would be unfair. That's why we'll separate them into a few sub-categories.
Casual everyday look
A day off, a pair of jeans, a shirt or maybe a t-shirt. This is the most common occasion, and since you're freer, there are fewer rules to what bracelets you should wear, however, as you are dressing a bit more casual, you want to wear bracelets that reflect that. This means wearing not the most relaxed bracelets but not the most formal bracelets either.
The great thing here is that you don't have to be moderate with your color choices. For these types of occasions, you can be bolder and add a little bit of color to your outfit.
For this occasion, any type of gemstone bracelet is perfect. Gemstone bracelets will add that extra bit of flair and class to your outfit and show that you care about your appearance, even if you're more casually dressed.
As you can see in the image above, you can stack these types of bracelets for an even sharper look. To add the cherry on top, you can choose a bracelet in a color that matches something you are wearing. In the image above, you can see that one of the bracelets matches the sweater in a discrete yet very stylish way.
When you are "everyday casual", there's no reason to why you shouldn't reach for more colorful bracelets. Wearing colorful bracelets will add a bit of playfulness to your outfit, and make it more interesting.
Relaxed work
This is for the everyday outfit when you go to your job, yet still, want to dress up a bit and look stylish. For this occasion, you can wear anything from jeans with a blazer or a shirt and chinos.
Because you're in a workplace, you don't want to wear bracelets that are too bold, but you can definitely experiment a bit with a few conservative bracelets and one or two bracelets that are bolder.
For everyday work occasion, you can add a little bit of color, but you don't want to go too crazy wearing the most fluorescent bracelet you can find. However, as mentioned earlier, it also depends on the vibe and vibe you have at your office.
We looked at both the braided leather bracelet and the anchor bracelet when we discussed bracelets for formal styles, and for the relaxed work occasion, we can wear the same type of bracelets. The only thing that is different is the color.
Colors can do a lot to a bracelet. While a black and steel bracelet looks very masculine and discrete, the same bracelet in steel and blue, for example, can look playful and bold.
However, they both have something in common – they're both perfect for the occasion in which they are worn.
Vacation/Beach
During your vacation, you can be a lot more relaxed and bold with your bracelet choices.
For these types of occasions, bold and bright colors are often perfectly combines with a t-shirt or swim trunks.
The best type of bracelets that you want to aim for when wearing either beach clothing, shorts, and t-shirt, or shorts and shirt is bracelets made in nylon.
If you're wearing beach attire, there's a big chance that you are going to be bathing, and if you are, you don't want to take on and off your bracelets every time.
Nylon bracelets can handle water and sweat which means you can wear them during warm summer days as well.
Regarding colors, there are no limits. If you plan on wearing your bracelets with swim trunks, why not wear a few nylon bracelets that match them?
Nylon bracelets often make for a very relaxed look, however, they complement your style in a fun and unique way, showing that you care about your appearance even if you're rocking a t-shirt.
A tip if you further want to strengthen the feeling of a relaxed look, a tip is to stack several nylon bracelets in different bright and bold colors.
About the author:
Jens Wirdenius is the editor-in-chief and co-founder of VeloceInternational.com.
He is a social media and marketing nut, sharing his passion for business in his articles.