The Camden Watch Company Automatic Collection was born out of a love for watches and the desire to create beautiful timepieces that are affordable to all. The watches come from the inspiration of Swiss watches that the designer fell in love with while spending a decade abroad. These watches are timeless pieces that are designed to be owned by and worn by anyone.
The Camden Watch Company Automatic Collections are intricate timepieces with a story to tell. Each watchcase in the collection is fashioned using 316L stainless steel, which measures an approximate 43 millimeters in diameter. The dials of these watches vary with the style, and each one of the dials is protected by sapphire crystal glass. This sapphire crystal helps to protect the dial and hands from any type of damage that could occur while the watches are being enjoyed. On the inside and outside of the glass, there is anti-reflective coating that makes it simple for you to see the dials in any sort of light setting. Inside, there is a Japanese Automatic Miyota 8215 Fine Finishing movement that keeps the time with reliability and precision. These watches have a water resistance up to 5 ATM.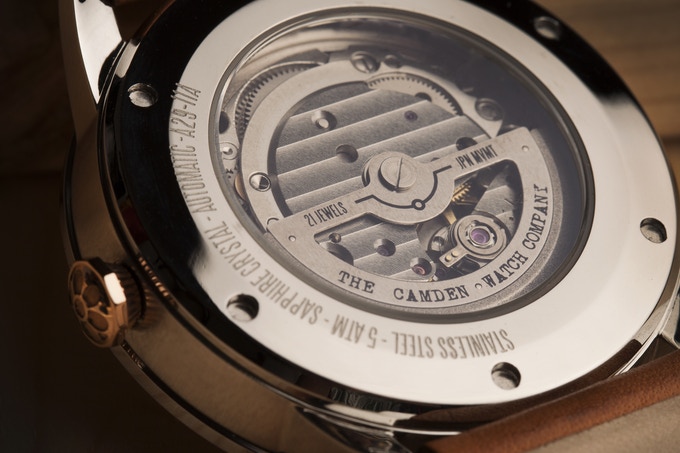 Currently, Camden Watch Company Automatic Collection is being funded on the crowdfunding site, Kickstarter. At the time of writing, the Camden Watch Company Automatic Collection has reached their goal of $23,706, raising a total of $49,427 thus far with 22 days left to go. If you want to own your own Camden Watch Company Automatic Collection timepiece, you can put in a minimum pledge of around $387.