Circula is a young watch brand, that didn't need to buy a name and extraneous "tradition" like many other new micro brands; Circula watches was revived within the own family of its founder Heinz Huber; Everything started with the family's watch wholesale Huber & Co from 1926 and Heinz Huber founded Circula in 1955 in Pforzheim, the center of the German watch and jewelry industry in the Black Forest. He named the company after the circulating of the parts in mechanical movements. After his retirement, Heinz Huber passed on the tradition of watchmaking to his grandson Cornelius Huber, who revived Circula in 2018 to build on this heritage and follow his passion.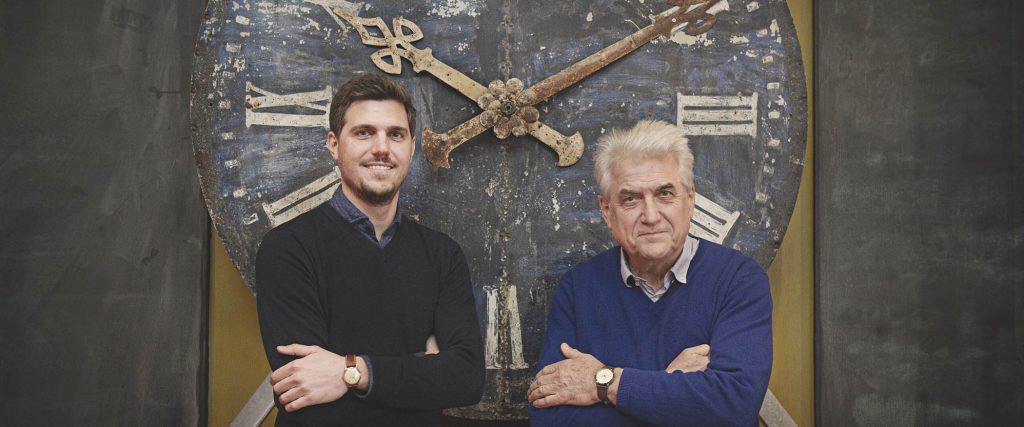 Just like his grandfather, Cornelius Huber grew up in the watch wholesale of the family, which influenced his passion for watches. Coming from a family that owns a watch wholesale company is a fact, that also benefits Circula today; Knowing a watch parts supplier first hand is very valueable. After a successful start with quartz watches, Circula is now producing first-class mechanical watches with Japanese and German calibers. In the "Limited Edition" of the Heritage collection  Circula uses vintage watch movements from P.U.W., Pforzheimer Uhren-Rohwerke GmbH, from the 1970s, which are serviced and newly installed. Real "Made in Germany" and in terms of accuracy and longevity, the P.U.W. calibers keep up with today's movements.
This is not only a rare, but also a heart warming fact, which does not only make the founder proud, but also us as watch enthusiasts from Germany, seeing family tradition, craftmanship and entrepreneurship revived and continued.
Circula Classic Automatic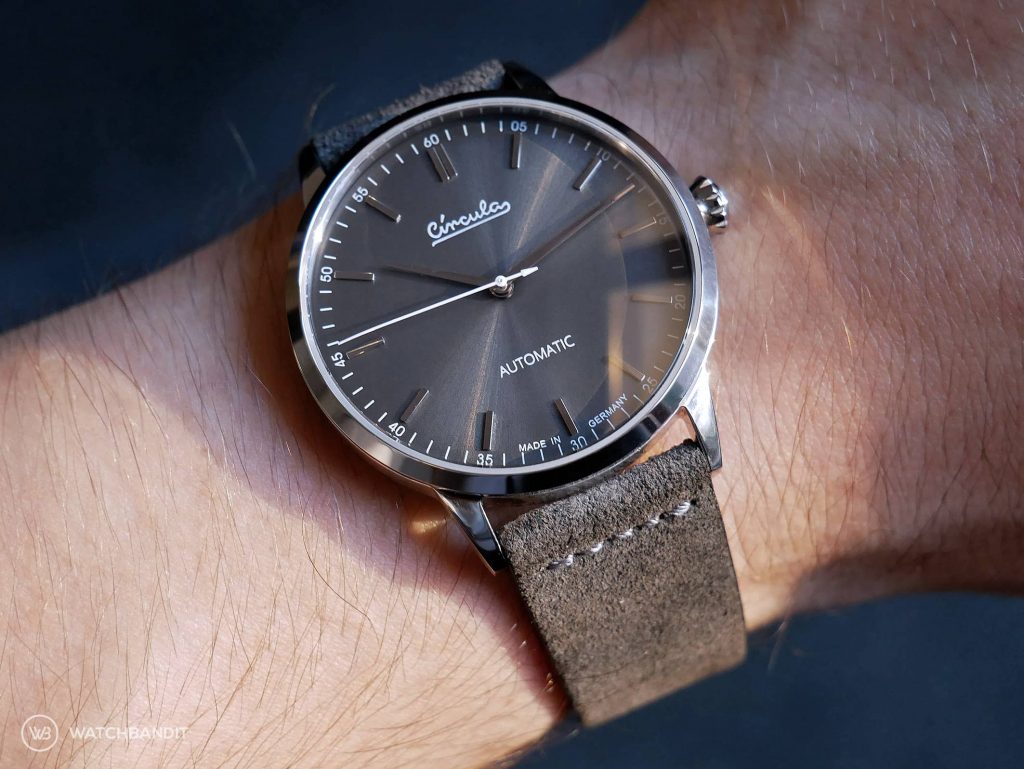 In our review we take hands on the Circula Classic Automatic – Anthracite for 390€ / $461 (incl. 19% VAT), which matches its anthracite velours strap perfectly on the first look. The size of the watch alone is already a particularity; With the diameter of 39 mm it fills a gap in the watch market of highly asked <40 mm diameter cases. The trend is going back to smaller watches, not only for women, but also for mens watches. This makes the Circula Classic Automatic a perfect unisex watch, that can be worn by ladies and gentlemen the same.
As everything in life, also the watch diameter is relative. I own watches with 36-, 40-, 42-, and even 43 mm case diameter and every watch appears differently on the wrist, depending on how large the bezel is and thus the dial turn out. Let me make an example: A LeJour Seacolt GMT has a total diameter of 40 mm, but its dial has only 30 mm because of the GMT bezel; That's 10mm less than die total diameter – This way it seems smaller than 40 mm, or at least as same big as a 39 mm watch with a 35 mm large dial, like the Circula.
Due this fact the Circula Classic automatic feels very good on my wrist as a usually 40 mm watch wearer, but it's still a little more discreet than a >40 mm watch. I have to say, that the Circula with its 39 mm has a very comfortable size and I immediately got used to it.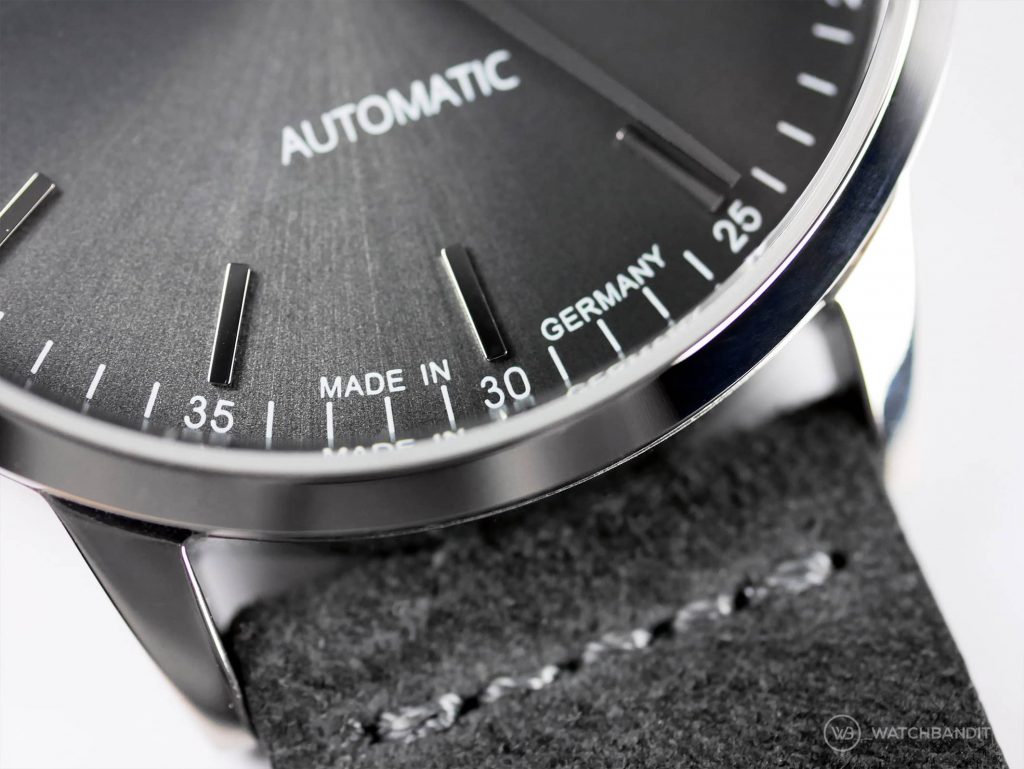 The finish quality of the case and dial is outstanding in this price segment; Hands stack and indices appear flat on the sunburst dial, that has a fascinating shine. Even the anthracite version can be almost described as colorful, depending on which surrounding colors or sunlight the anthracite sunburst dial is reflecting. Besides the anthracite versions, there are also Classic Automatic models with a blue sunburst- and white "tapisserie" dial available. The dial is covered by a scratch-resistant, double-curved and double anti-reflective coated sapphire crystal, which is an outstanding feature in this price segment as well.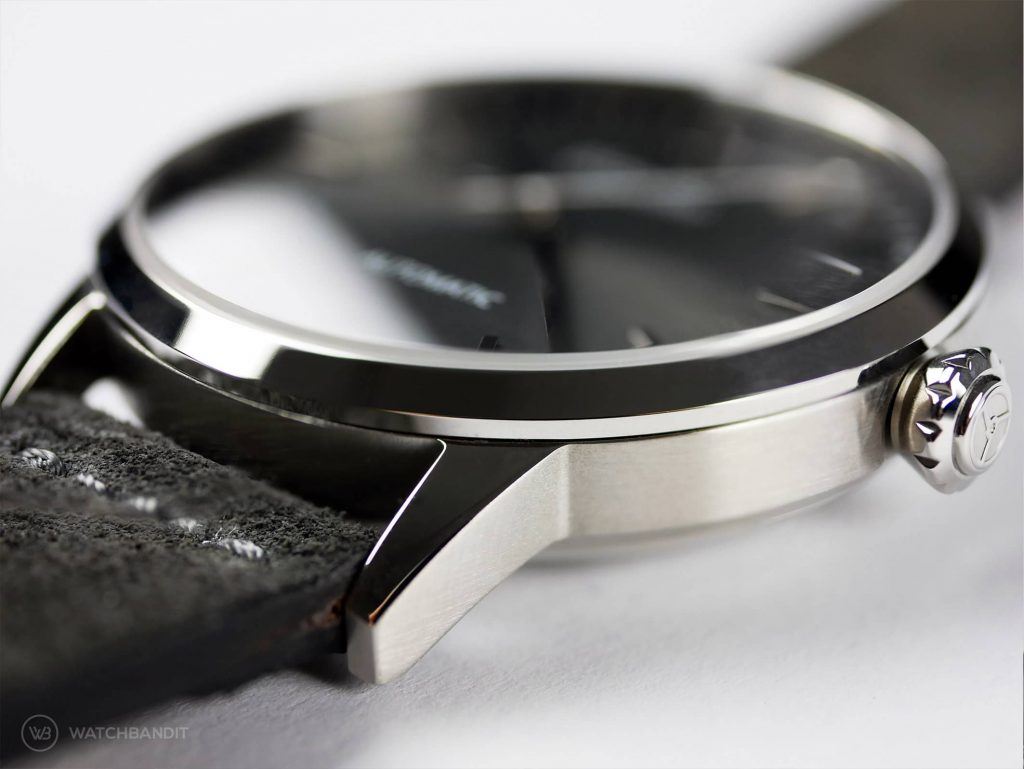 The polished bezel, lugs and horizontally brushed sides of the 316L stainless steel case have a stunning finish quality and it feels just great. This shows at first glance, that the good networking from the old family business in the watch supplier community pays off. A nice detail is the symbol embossed on the crown: It shows a balance wheel and is a homage to the founder and the brand name. Furthermore the crown is nicely shaped, this way it can be easily pulled and operated.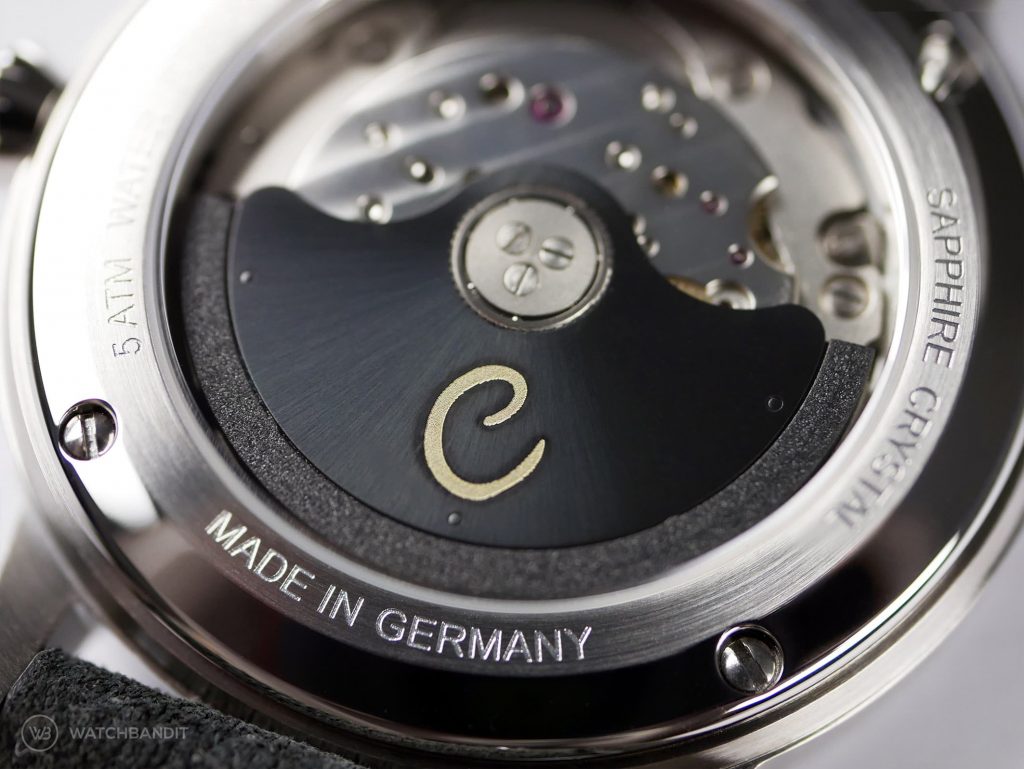 Inside the Circula Classic Automatic ticks a premium automatic movement caliber 9015 from the Japanese manufacturer Miyota, which is again refined and regulated in Pforzheim. The movement is a technical masterpiece, which was introduced in 2009 as an evolution of the 8215 caliber. Due to the low overall height of this movement of only 3.9 mm, the Circula Automatic has a total height of only 10.1 mm, so it fits easily under your shirt cuff.
The caliber 9015 works very precisely with 28,800 half oscillations of the balance wheel per hour and has a power reserve of 42 hours. The accuracy is officially stated with -5~+10 seconds per day seconds per day, but according to experience, however, the watch runs much much more precisely. Furthermore, the movement has a shock absorber and a Swiss anchor escapement. The well finished and refined Circula movement can be admired through its glass case back. Especially the black rotor with it's golden lasered "C" is an eye-catcher (especially when the first latter of your name is "C" 😉 ).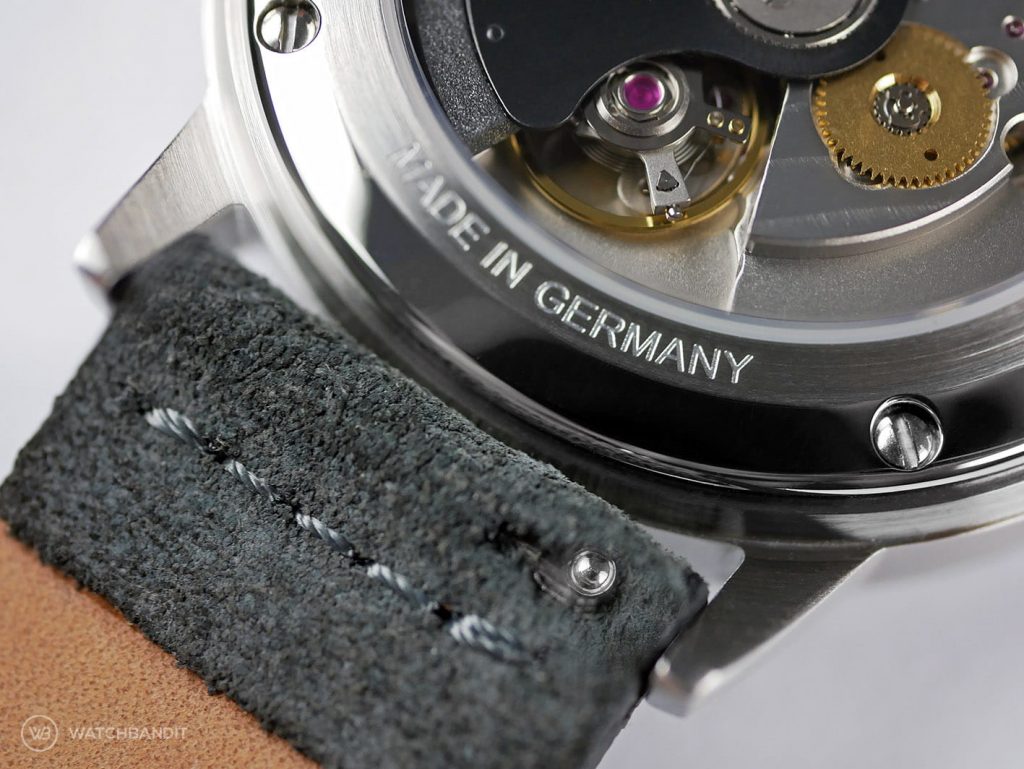 Circula is Made in Germany and due the fact of the close contact with their network of specialized partners, they use only high quality materials from responsible sources, in order to guarantee the high quality of all their components. The smooth handmade leather comes from tanneries in southern Germany, offer a quick exchange system and is environmentally friendly, plant-tanned, without any chemical sealing.
Conclusion
Circula watch can be the perfect watch, if it will be your first mechanical watch or if you want to get a more decent and little smaller watch. It's unisex, has a minimalistic and yet casual design and is very well constructed and finished. The size and design express a certain kind of reserved simplicity, combined with a certain elegance from the sunburst dial and finished case. Furthermore this special versatility of Circula watches makes them the perfect watch for our large collection of WB Original leather straps. The price of 390€ / $461 for the Classic Automatic up to 850€ / $1003 for the Heritage hand-wound (incl. 19% VAT) for this versatile, classy, well constructed and -finished time pieces is more than fair in my opinion. Especially the Classic Automatic has a very good price-performance ratio. Even the higher prices of the hand-wound Heritage show a good price-performance ratio, given the fact that it houses a 100% German vintage movement neatly serviced and prepared by Circula.