Hemel – Night Ops
Designer Marvin Menke translates two more best selling pieces from the Hemel line up into the Night Ops family introduced early this year. The HM (Hemel Military) Series now joins theHF (Hemel Flight) and the HD (Hemel Dive) Series in this exclusive and covertly styled grouping.
The two new field watches employ the 9039 movement, a true no date premium automatic caliber which moves at 28.8 beats per hour. This caliber which hacks and hand winds is housed in a fluidly curved case and held in place with a brass retaining ring. C3 lume and a curved sapphire lens with an anti-reflective coating top off the dial. "The Hemel 24 and the Hemel Track were the first two watches that I designed and every-thing I've done since then really stands on their shoulders. This is why I'm so excited to finally see them in stealth mode beside the HFT20 and Hydrodurance." Marvin continues, "I can finally say that the Night Ops collection covers land, air and sea, just as the broader Hemel collection does."
Military field watches of the late 60's and early 70's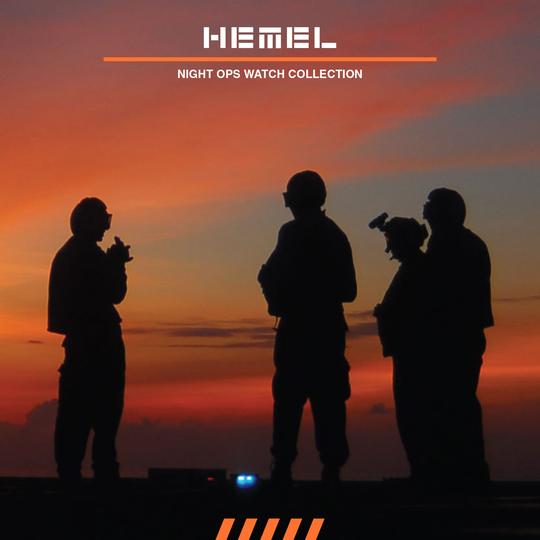 The HM1, simply called the Hemel 24, is based on the military field watches of the late 60's and early 70's with their 24 hour delineated dials. The HM2, or the Hemel Track, recalls the field watches of the mid twentieth century and around the time of the second World War with its simply appointed "railroad track" chapter ring. Stylish accents like the whisper of a coin edge, the pop of orange in the second hand and the minutely signed buckle ring bring the HM Series to a place of refinement while maintaining more rugged appointments like the100 meters of water resistance. The screw down crown is inspired by the treaded wheel tracks of an armored vehicle and while this detail does bring a playful factor, the element is hardly frivolous: the treaded wheel does offer a dependable bit of tactility for good measure. With this new iteration of these HM best sellers, the black IP coating further elevates the bead blasted watch from a playing field of so much sameness. The Night Ops HFT20 and Hydrodurance models are also exactly the same as their original models save for the black coating. The entire Night Ops line up is available now for immediate delivery. No preorder necessary.
Support military veterans and their families
As from the beginning of the HFT20 in 2017, Hemel will continue to donate a percentage of it's proceeds to the Bob Woodruff Foundation, a non profit organization that benefits military veterans and their families.