The inspiration
The Clock Tower in Venice is an early Renaissance building on the north side of Piazza San Marco, leading to the Merceria. One day, Alberto and Alessandro, two brothers sharing a huge passion for vintage timepieces, decided to visit the ancient building and they got impressed by the vintage clock mechanism inside immediately.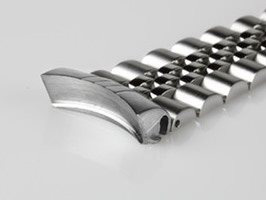 Now with Jubilee Bracelet
The new Meccaniche Veneziane Nereide GMT is now available with a solid end-link Jubilee Bracelet, which gives the watch a classic and vintage GMT watches inspired look.
A clockwork from the 16th century
After some research, they found out that Venetian watchmaking tradition had declined over the centuries. How could this amazing craftsmanship be lost? Their biggest challenge became it to bring back Venician watchmaking tradition to the 21st century.
Inception
The two founders shared the same concept and decided to launch their watch start-up called Meccaniche Veneziane which literally means "Mechanical devices from Venice". The brand logo draws inspiration from the cross on the top of Saint Mark Watchtower, which is considered the symbol of timekeeping in Venice.