Artisan gradient watches, the Undone Watches take with their The Mystique Collection cues from watches that were once highly popular in the European market during the 1960s. Undone Watches works hard to recreate watches from this era but transforms them into something that can be worn and appreciated by modern day watch enthusiasts. The Mystique Collection from Undone Watches involves the old twelve-step creation process that starts from scratch and brings the watches to life through labor intensive work.
Learn more about how these unique dials are born in this short video.
Able to be purchased in four unique styles, The Mystique Collection offers classic gradient dials that have been upgraded to suit the modern times, each of which boasts the color of the planet or satellite they are named for: Eclipse is gray; Mercury is a rich blue; Neptune is an oceanic green, and Mars is a deep red. These watches have case widths that measure 40 millimeters sans the crown for a large and noticeable watch. The watches from the Mystique Collection are 13 millimeters in thickness. The cases are all crafted out of 316L stainless steel for durability with the option to have it covered in either silver or rose gold. Protecting these fascinating dials from any sort of impact, scratches or other damages is a hardened domed K1 glass. All of the Mystique Collection offer a water resistance of 3 ATM which translates to 30 meters. Inside, there is a Seiko VK61 Mechanical-Quartz Hybrid Flyback Chronograph that tracks time with both great dependability and accuracy. The straps are available in caviar leather and measure 20 millimeters.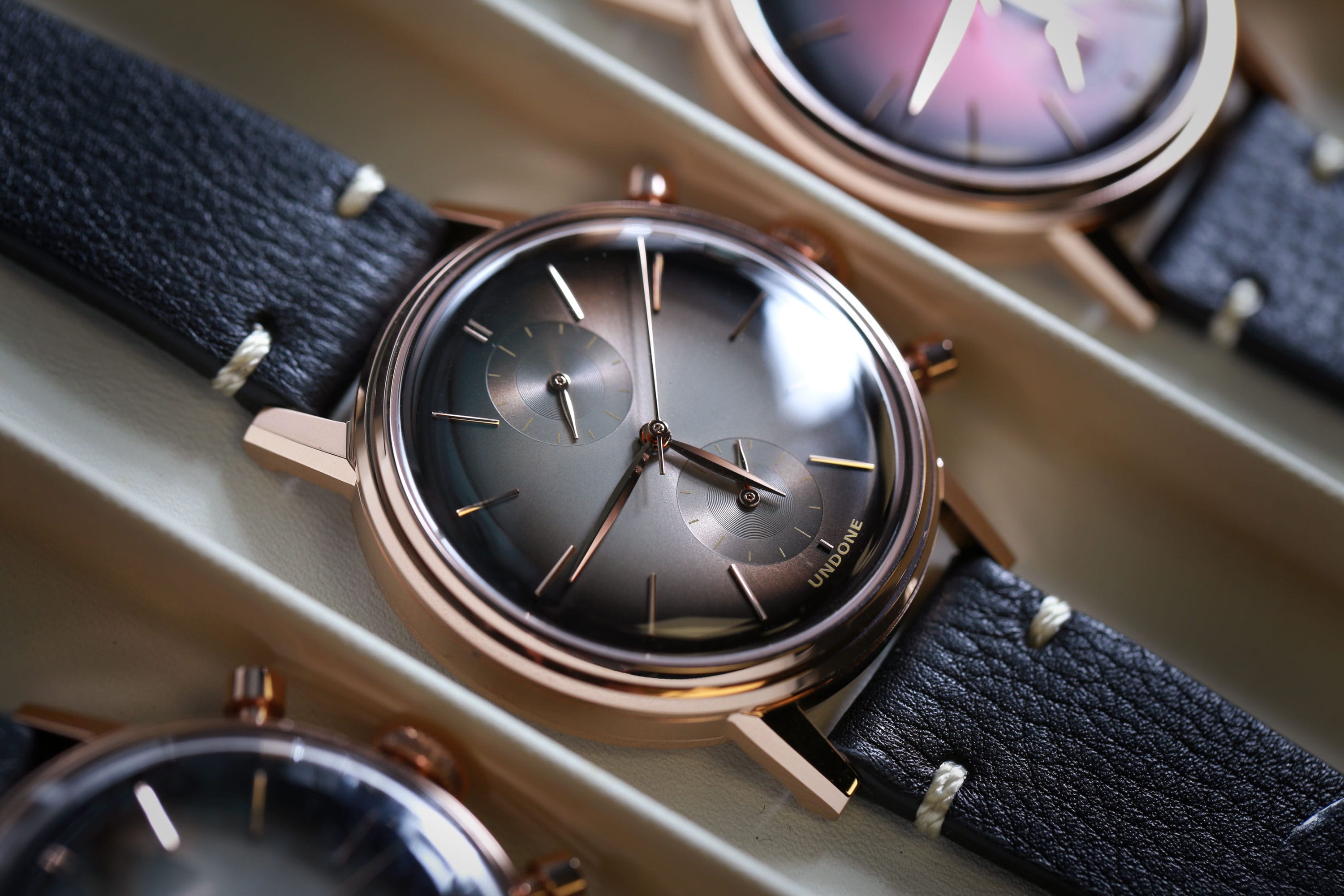 You are able to get the Mystique Collection from Undone Watches, including the Eclipse, Mercury, Neptune and Mars watches, by going onto the Undone Watches website. Undone watches are also available here at WatchBandit as an authorized retailer. Shop Undone Watches.
Learn more about the Mystique Collection
Product Specification
CASE WIDTH 40 mm excl. crown
CASE LENGTH 52 mm
CASE THICKNESS 13 mm
WATCH MOVEMENT Seiko VK61 Mechanical-Quartz Hybrid Flyback Chronograph
CASE MATERIAL 316L Stainless Steel Case Coating Options: Silver / Rose Gold
CRYSTAL MATERIAL Hardened Domed K1 Glass
DIAL OPTIONS 4 Dial Colors
WATER RESISTANCE 3 ATM / 30 Meters
STRAP SIZE 20 mm
STRAP MATERIAL Cavair Leather