In this Hands-On review we will have a closer look on the avant-garde W22 collection by Wolkov Design. One of the things that sets Wolkov apart from other luxury watchmakers is its unique heritage. The brand is helmed by expats based in China, with a Shanghai-based French mastermind, William Volcoff, whom we will look at in more detail at the end of this article. This combination of global perspectives and local expertise is evident in every Wolkov timepiece, which is crafted with an exceptional attention to detail and an unwavering commitment to quality.
If you're looking for a watch that combines exquisite avant-garde design and exceptional craftsmanship, the Wolkov W22 Neige watch is an excellent choice. With its laser cut multi-layered steel plate, raised indexes, and white semi-glossy metallic paint, this timepiece boasts a unique aesthetic that sets it apart from the crowd.
The Wolkov W22 Neige is powered by an automatic Swiss made Sellita SW200 movement, which ensures reliable timekeeping without the need for a date window. The watch face is protected by a sapphire crystal and multi-layer anti-reflection coating, which enhances visibility and prevents scratches.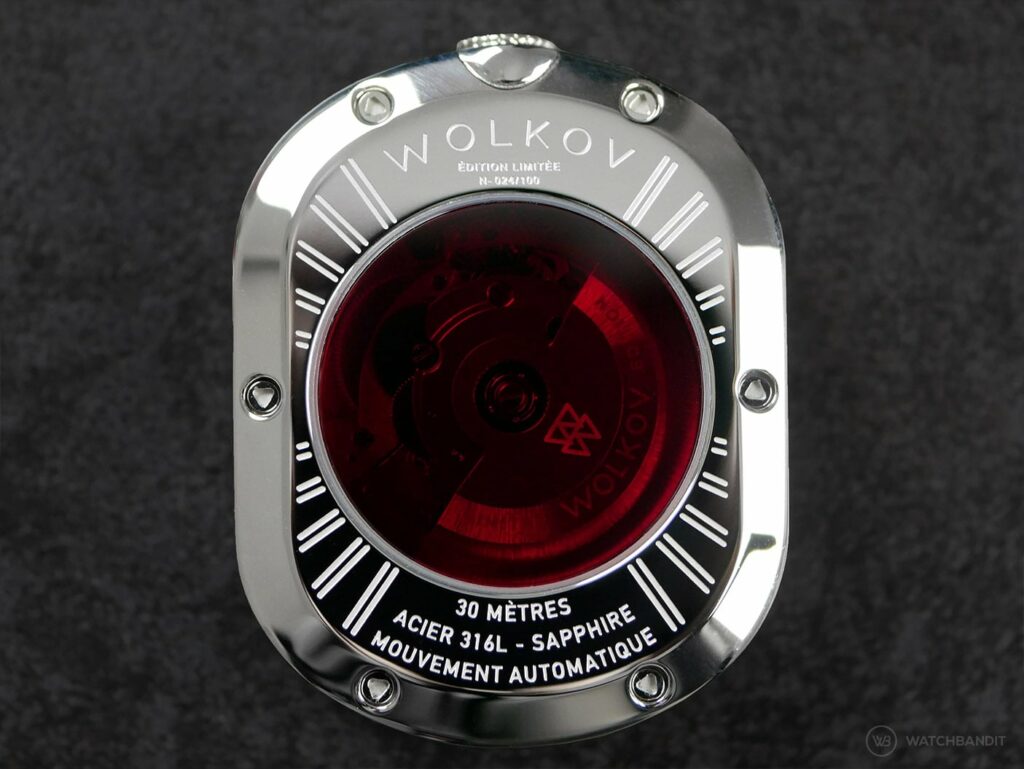 Crafted from 316L stainless steel, this watch is built to last, with a case back and movement that can be seen through red solid tinted mineral glass. What's more, the watch features a super unique strap-changing mechanism, allowing you to switch up the look of your timepiece in just seconds.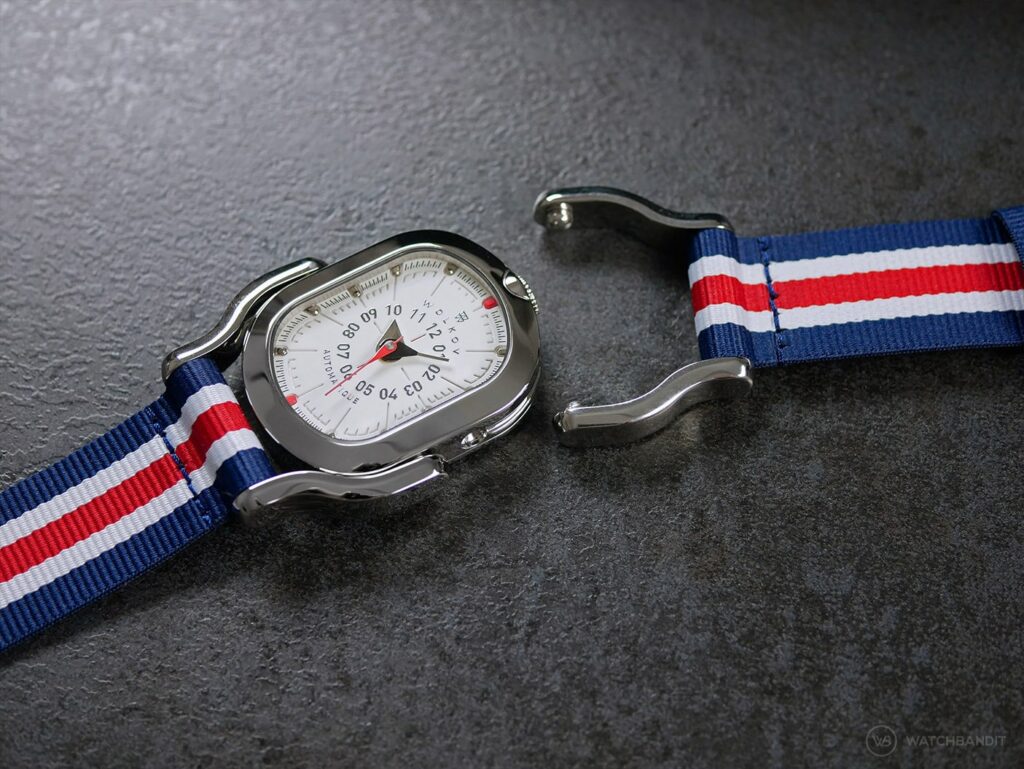 Despite its bold size, the Wolkov W22 Neige watch is surprisingly comfortable to wear, thanks to its large and flexible lugs. Whether you're dressing up for a formal occasion or keeping it casual, this watch is sure to make a statement. This is the perfect moment to show you some great strap combos in our WOLKOV W22 Strap-Guide.
WOLKOV W22 Neige Strap-Guide
One of the most innovative features of the Wolkov W22 Neige watch is its super unique strap changing mechanism. This mechanism allows wearers to change the straps of their watch within seconds, giving them the ability to customize their look to suit any occasion. Our Wolkov W22 Neige watch came with four different strap options, each with its own unique style and material.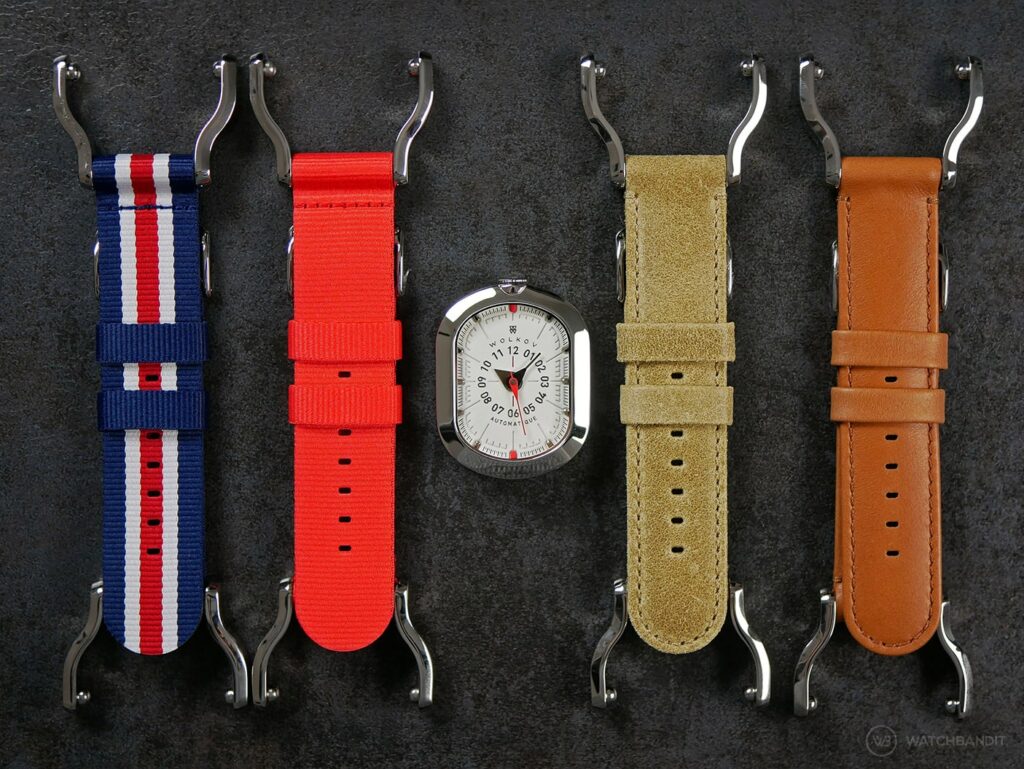 Changing the straps on the Wolkov W22 Neige watch is incredibly easy. Simply use the unique strap changing mechanism to release the current strap, and then attach the new strap of your choice. This process can be completed in just a few seconds, meaning that you can switch up your look as often as you like.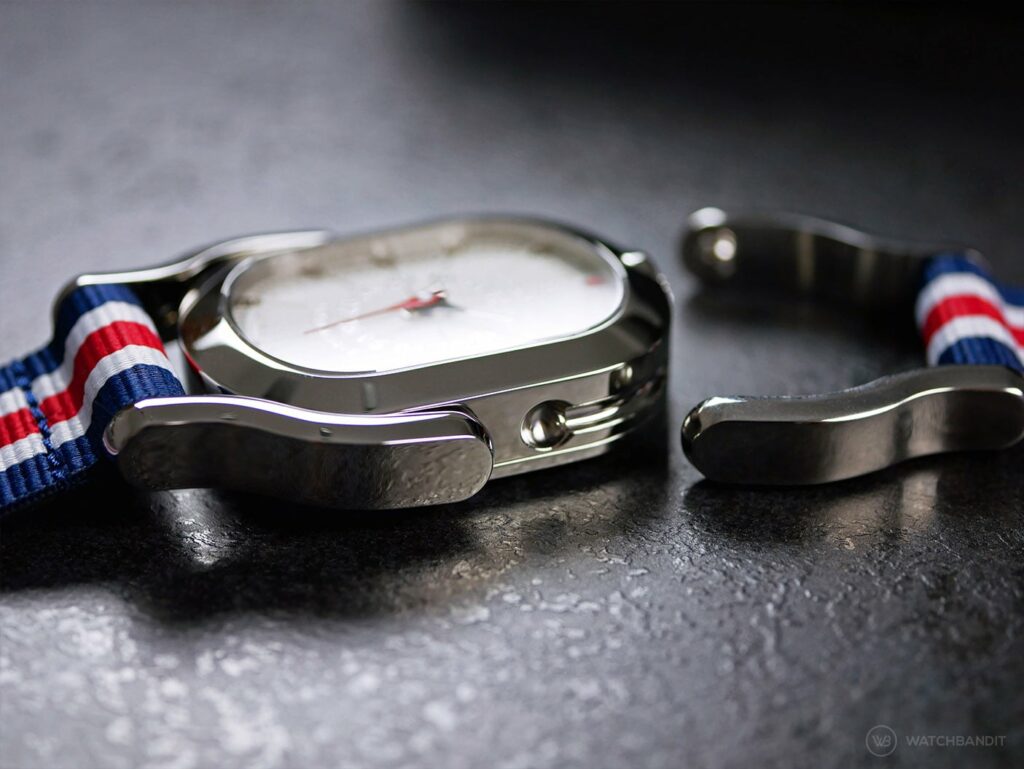 Red Polyamide Strap
The red polyamide strap is perfect for adding a pop of color to your outfit and matches the second hand perfectly…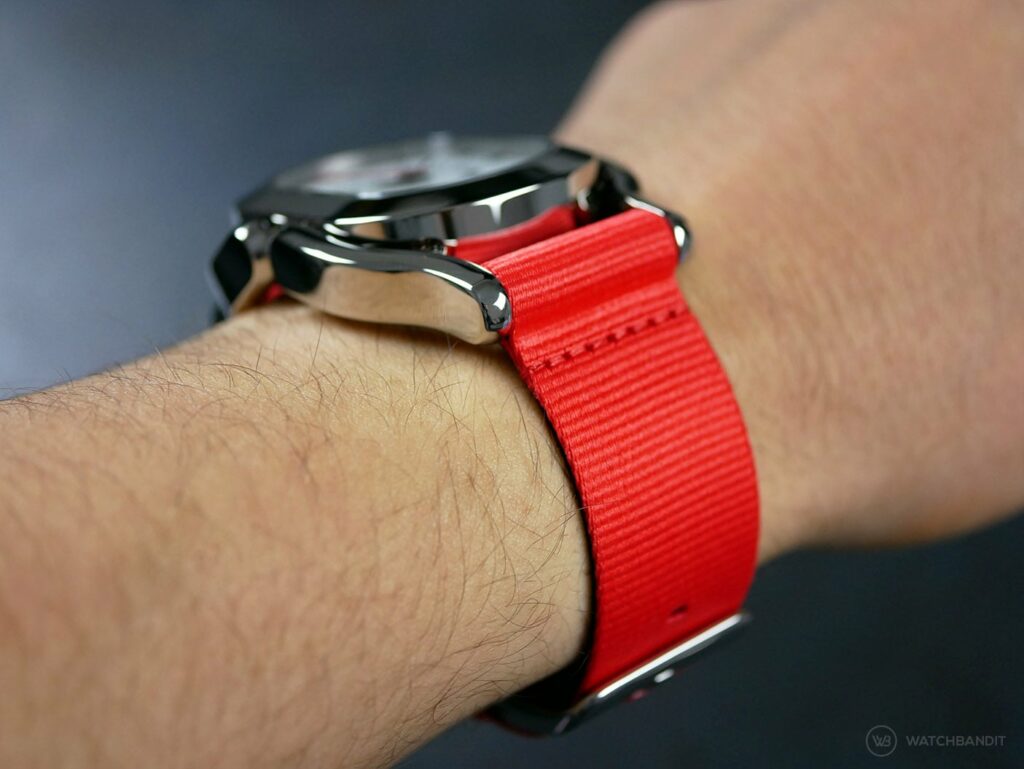 Flag Polyamide Strap
.., while the flag polyamide strap is a great choice for those who want to show off their patriotic side.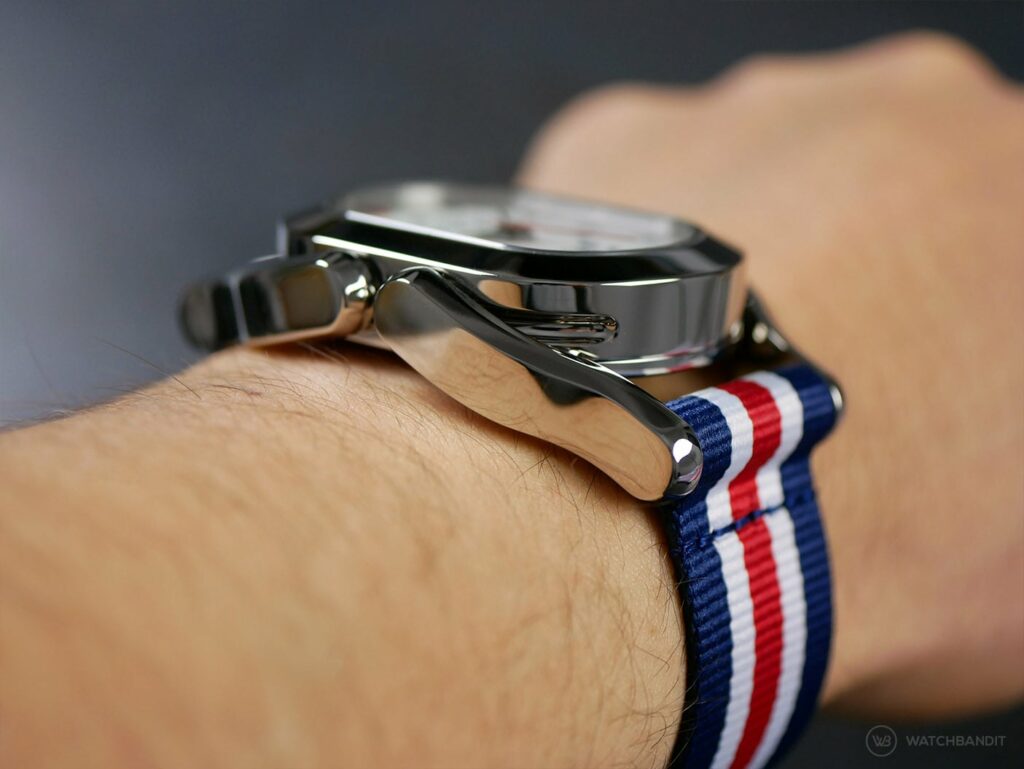 Light Brown Leather Strap
For a more classic look, the light brown soft touch leather strap is a great choice. Made from high-quality leather, this strap is soft to the touch and comfortable to wear.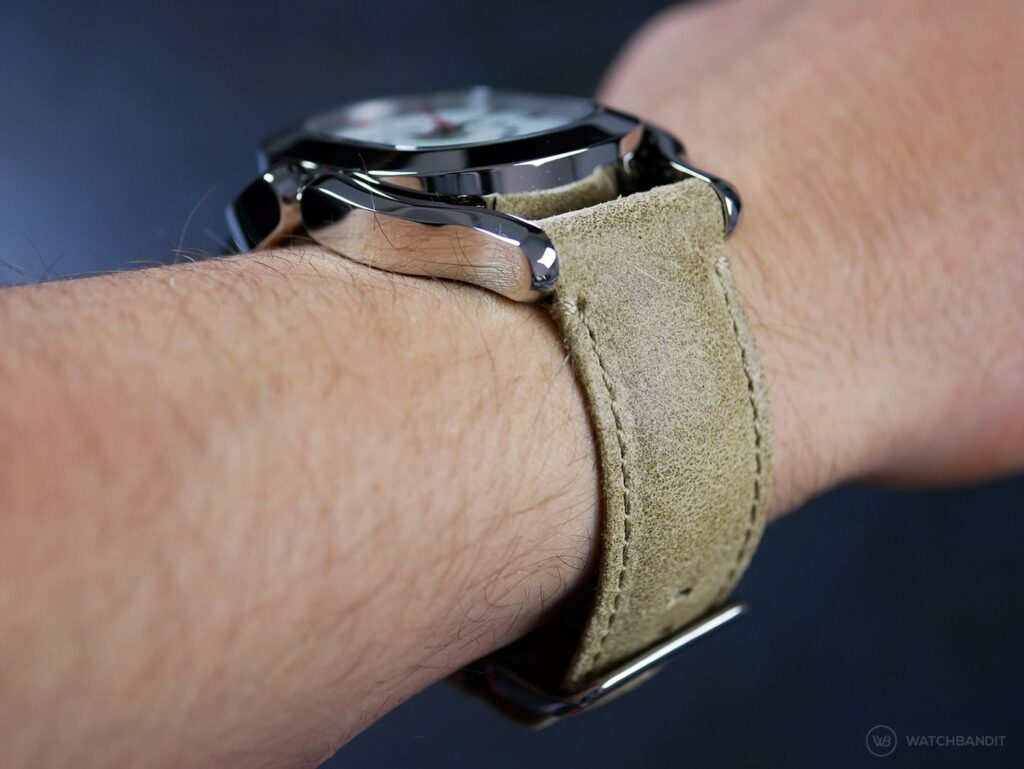 Soft Touch Leather – Light Brown
And for those who want the look of leather without the traditional texture, the soft touch leather in light brown is the perfect choice.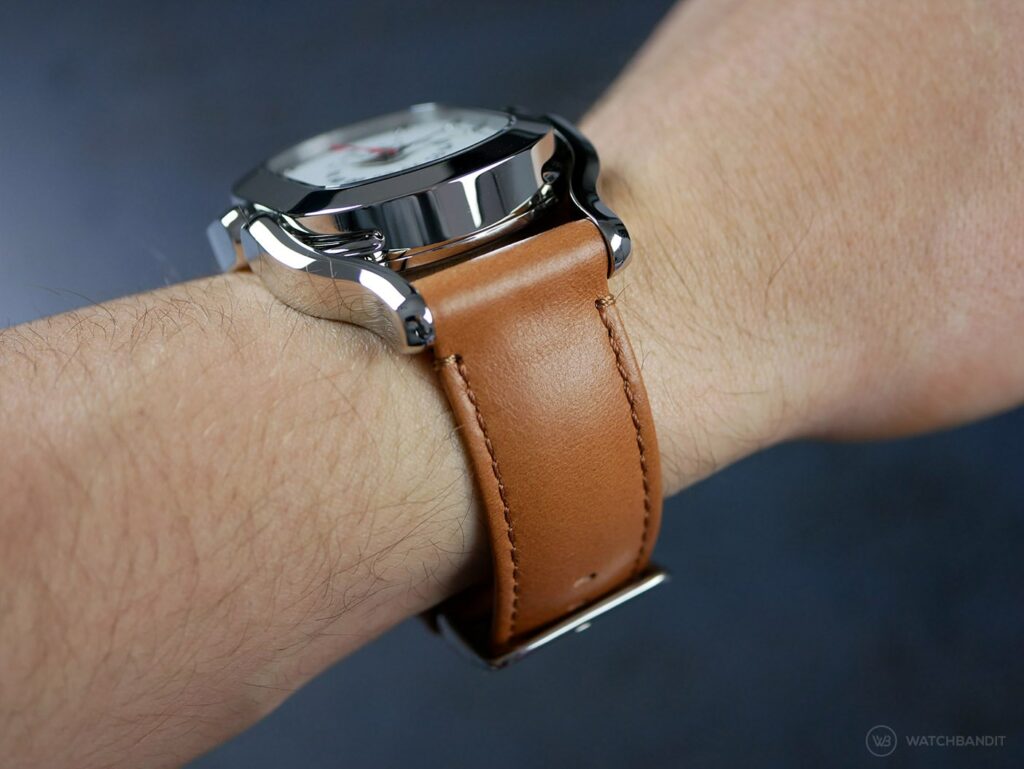 Not only does the ability to change straps make the Wolkov W22 Neige watch incredibly versatile, it also makes it a great investment. Rather than having to purchase multiple watches to suit different occasions, you can simply change the straps on your Wolkov W22 Neige watch to suit your needs.
In conclusion, the Wolkov W22 Neige watch is a game-changer in the world of luxury watches, thanks in no small part to its super unique strap changing mechanism. With four different strap options to choose from and the ability to switch them out with ease, the Wolkov W22 Neige watch is the perfect choice for anyone who wants a versatile and stylish timepiece.
Sieh dir diesen Beitrag auf Instagram an
About the founder
William Volcoff is a name that has become synonymous with avantgarde luxury timepieces in recent years. Moved from Lyon, France to Shanghai, China in 2009 he became the founder and creative mastermind behind Wolkov Design. William has been instrumental in bringing some of the most innovative and stylish watches to the market and even became the head of the industrial design department supervising the teachers and curriculum of the Shanghai Institute of Visual Arts (SIVA), a University in Songjiang.
For many people, inspiration and motivation can come from many different sources, whether it be a favorite book, a mentor, or a personal hero. But for William Volcoff, the founder and designer of Wolkov Design, his biggest source of inspiration and motivation is his son.
William's love for watches was sparked by his father, who dealt luxury watches for the whole South of France area in the 90s. But it was the birth of his son that truly changed his perspective on life and gave him the drive to pursue his passion for watch design.
As a father, William wants to create something that his son can be proud of, and he sees the watches he designs as a legacy to pass down to future generations. He often involves his son in the design process, showing him sketches and prototypes and asking for his opinion. This not only helps William to get a fresh perspective on his designs, but also strengthens their bond as father and son.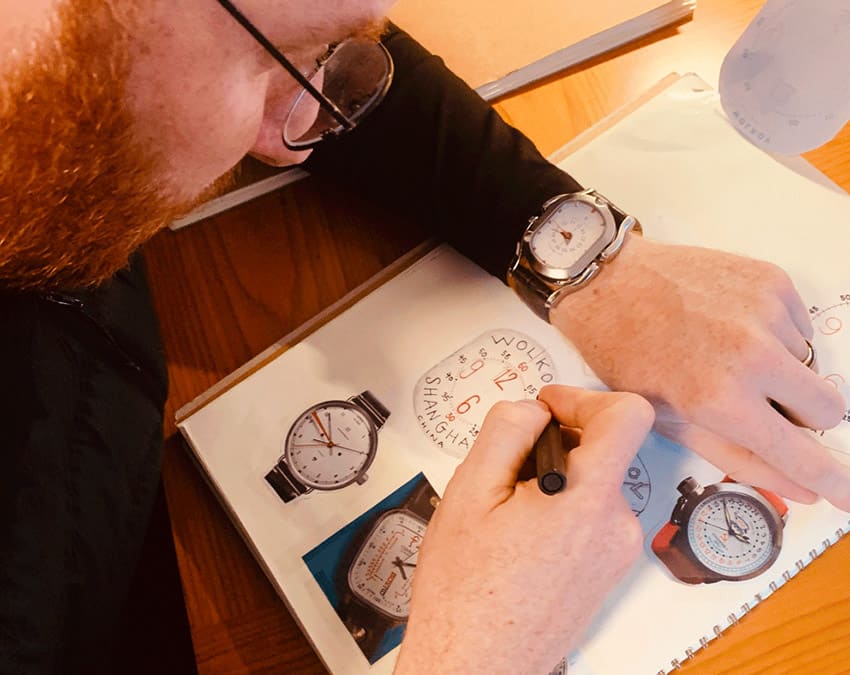 After years of honing his craft and establishing his design consulting agency, despite his success in this field, he felt that something was missing. He wanted to create something truly unique, something that would turn heads and stand out on any wrist.
The early beginnigs
In 2014, William began sketching a new automatic watch design. The idea was to create a timepiece that was both elegant and innovative, with interchangeable straps that would allow wearers to customize their look with ease. William knew he had a lot of work to do.
Over the next five years, William worked tirelessly to refine his design. He experimented with different materials, shapes, and sizes, always striving to create a timepiece that was both beautiful and functional. Finally, in 2019, the W20 collection was launched, and it was an instant success.
The W20 collection quickly gained a reputation for its unique design and unparalleled quality. The interchangeable straps were a hit with consumers, and the watches themselves were praised for their precision and durability. It was clear that William had struck gold with his design, and he knew that he had found his calling in the world of luxury watchmaking.
Today, William continues to push the boundaries of watch design with his innovative creations. He is a true visionary in his field, with a deep understanding of what makes a unique timepiece. If you want to know more about what brought William in to creating his own watches, we highly recommend you to read his Interview with Jacob Flowers at Smart Shanghai here.
Conclusion
In conclusion, if you're looking for an avant-garde luxury watch that offers both unique style and substance, the Wolkov W22 Neige watch is definitely worth considering. Not only does it feature a unique strap changing mechanism and high-quality materials like laser cut multi-layered steel plate and automatic Swiss Sellita SW200 movement, but it's also the product of a passionate designer with a deep commitment to his craft and his family.
In addition to its impressive technical specs and design features, the Wolkov W22 Neige watch is a symbol of William's commitment to his family and his passion for watch design. So, if you're looking for a luxury watch that's more than just a piece of jewelry, but a meaningful time piece, the Wolkov W22 Neige watch is definitely worth considering.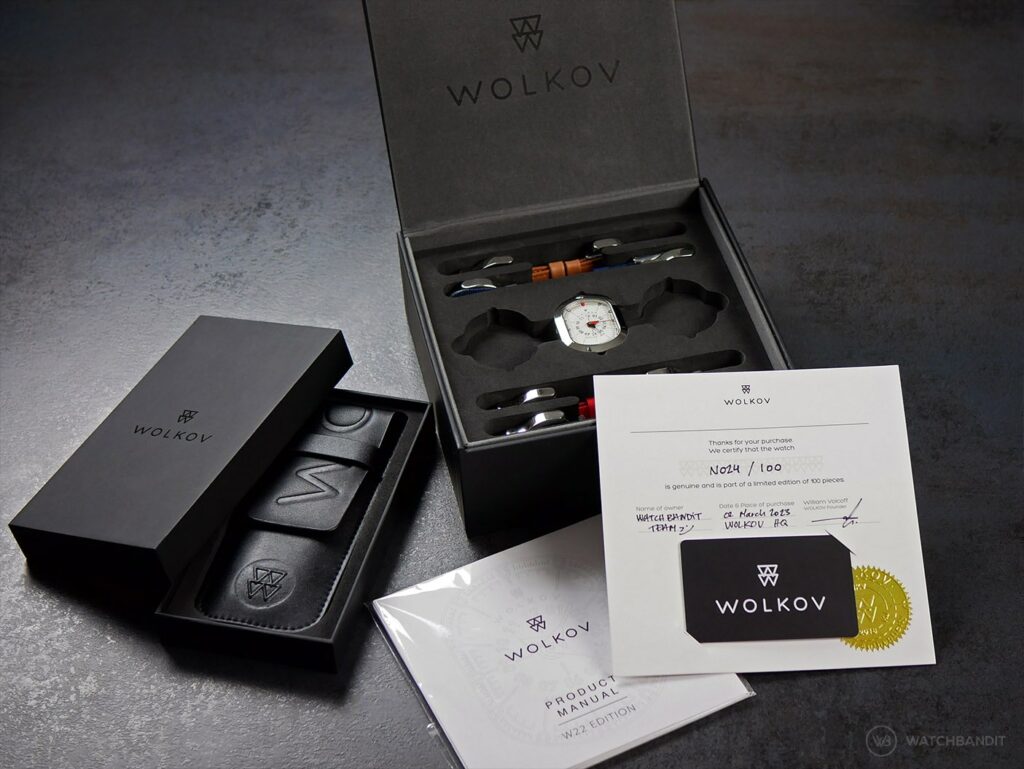 Specifications
Movement: Automatic Swiss Sellita SW 200 – 38 hrs power reserve
Case: Length: 47 mm – Width: 37mm – Thickness: 12.3 mm
Case and Lugs: High glossy 316L Stainless Steel
Crown: Push In With Double O-ring
Glass: Front: Sapphire Crystal + Multi-Layer Anti-Reflection Coating, Back: Red tainted mineral glass.Water Resistance: 3 ATM