WOLKOV DESIGN is a Shanghai based watch manufacturer founded by the french William Volcoff. WOLKOV is the result of 20 years love affair between a French man and watches. From the first glance at the Zenith and Eterna watches distributed by his father during his teens, his mind was clear and he knew he was going to create one day his own timepiece. It was a pleasure for the Team Watchbandit to welcome William in Berlin and take hands on the WOLKOV SUPER Chrome Edition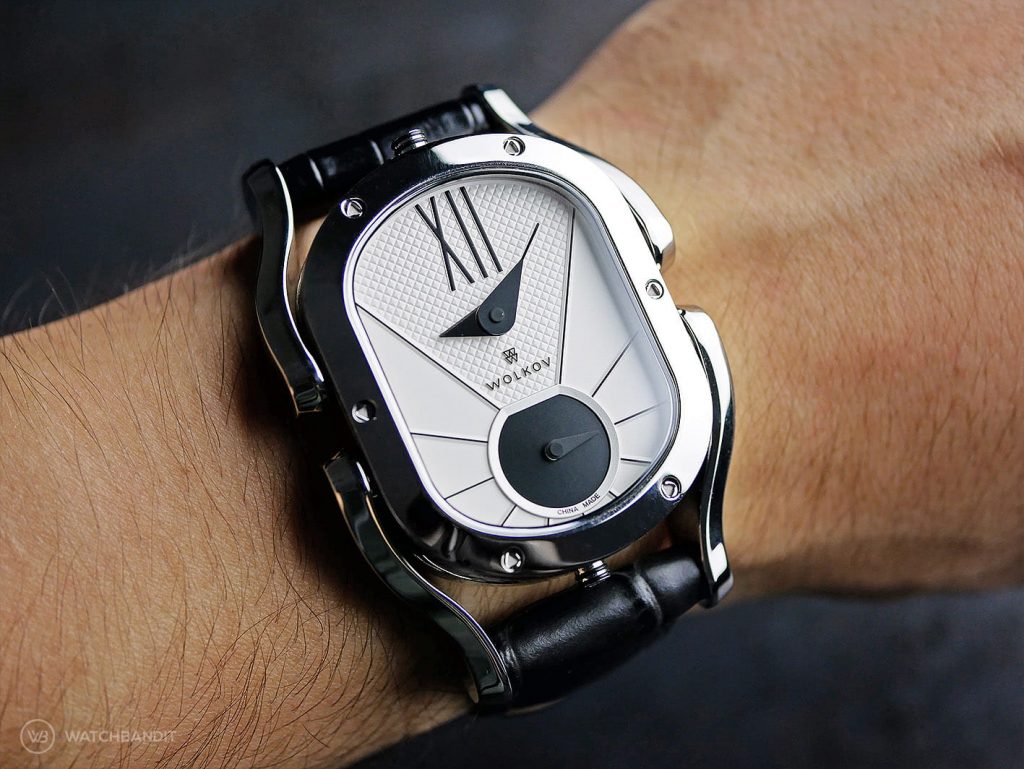 This watch is the original Wolkov release: Chrome finish case with two different straps included: Charcoal polyamide (kind of NATO fabric style) and a genuine leather strap. The Design is definetely nothing you'll see often; Huge lugs that aren't part of the case, but the watch strap and it's brilliant and yet simple mechanism. It holds on to the watch case like a clip and is therefore easy and without tools to change. The oval shaped case houses two watch movements, one is mechanical and one is quartz, and is holt together by 6 screws, that influence the watch design in a very sporty way. I never had a watch like this on my wrist before; It's definitely not everyone's cup of tea, but it couldn't be more unique, so that it becomes a fascinating.
Unique Strap-Mechanism
The highly versatile watch comes in numerous finishes and strap combinations. The unique design features a clock face on both sides of the watch body and the innovative clip system allows the wearer to flip between the two faces. This great combo will get you 4 different watches to match your ever changing lifestyle: mixing polyamide black strap with Super XII for casual evening. Going discreet yet elegant mode with Super 8 and black leather… mixing black lugs and chrome case. You get the idea. Furthermore the strap mechanism makes the watch comfortable to wear.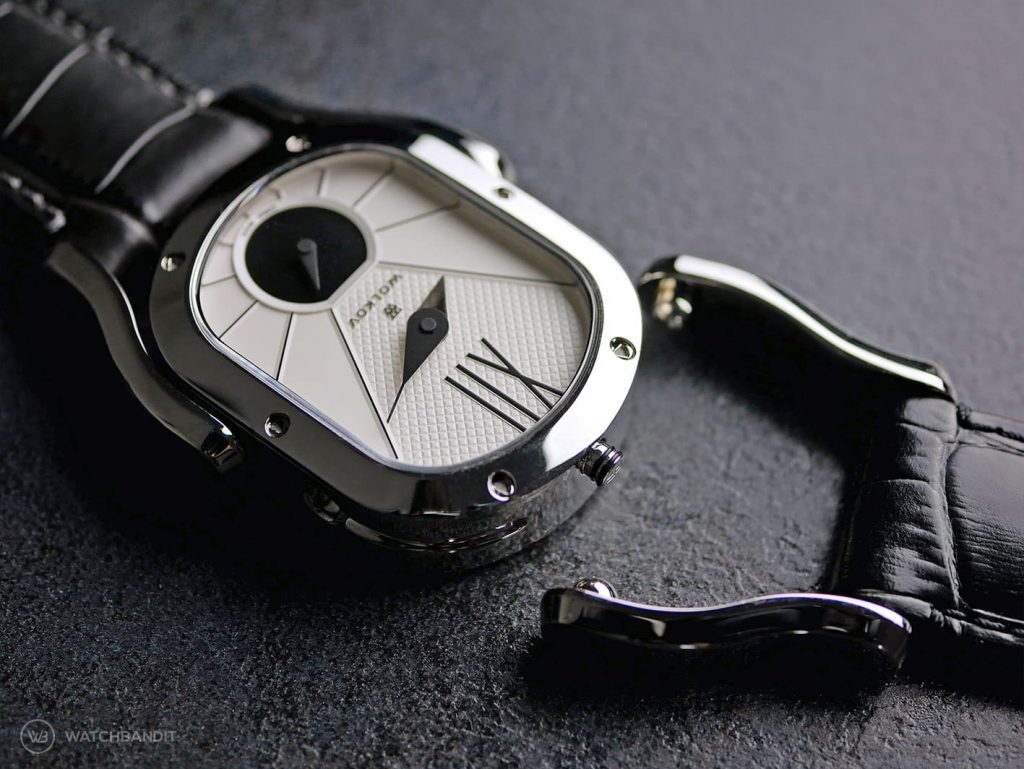 William Volcoff  lives in Shanghai for over 10 years, but is still very much French at heart. He is the founder and run Octopus Innovation for over 14 years before launching WOLKOV in 2018. At Octopus his team worked on product-, space-, brand development for global companies as well as small startups. Through WOLKOV, William wants to focus on high-quality accessories, apparel and strategic co-branding partnerships. Deeply cosmopolite like Shanghai, William's family takes root in Russia, Poland, Brittany and Corsica. This cultural melting pot is the source of WOLKOV inspiration. Each collection is deeply influenced by his multicultural experiences, his love of pop-cultures, dead singers and enchantment of living in today's world. Connecting several like-minded partners, WOLKOV provides original and design-oriented products that makes men feel amazing when wearing them.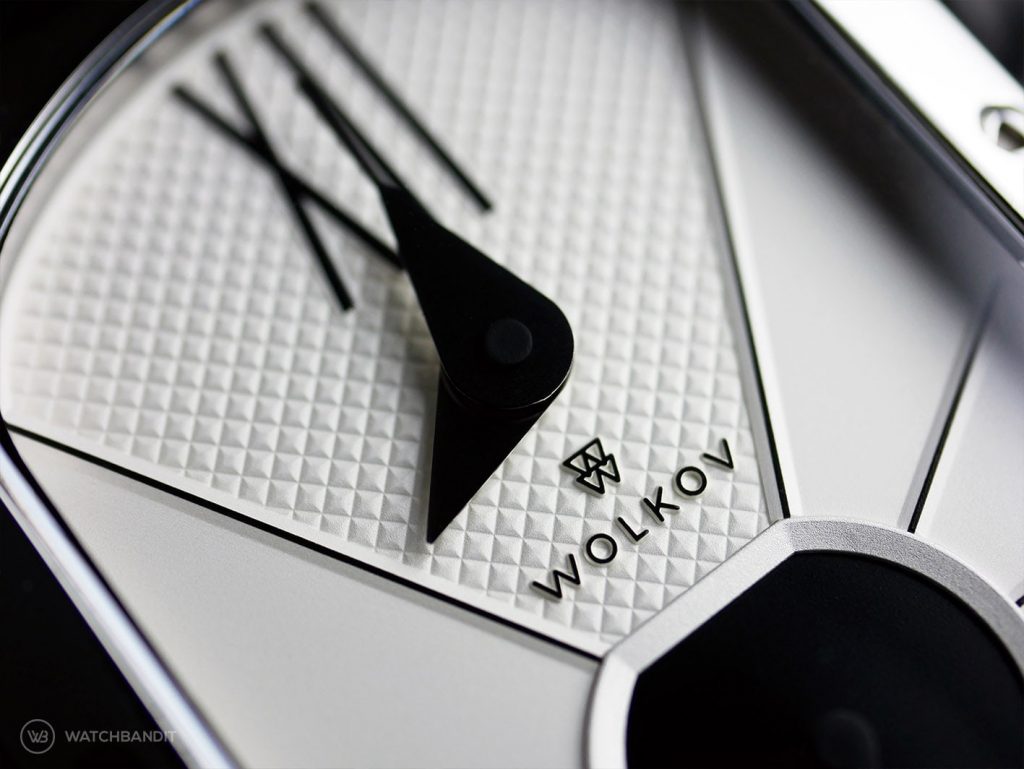 Technical Specs
Face A – Super 8 Dial

Sapphire Crystal | High scratch resistance (9 Mohs).
Automatic Movement
Peacock Cal. SL1701 28800/hr, Made in China Function: Hr./Min. 2 hands.
Case & Clip | 316F Stainless Steel.
Face B – Super XII Dial
Sapphire Crystal | High scratch resistance (9 Mohs).
Quartz Movement
> Miyota 9T22, Made in Japan | Function: Hr./Min. 2hands
> Miyota 9T33, Made in Japan | Function: Small Seconds
Case & Clip | 316F Stainless Steel.
The watch is limited to 200 pieces and costs $680. All designed in their Shanghai-based studio and produce proudly in China. More about WOLKOV here.