The term "micro brand", or "microbrand" in the watch world is often loosely defined. Some people use one definition, others use a completely different one.
But according to Wikipedia's definition, microgram watches are "wristwatches produced by independent watch companies that have an output of about 300–2000 watches per year."
Whilst the largest watch brands in the world own the majority of the watch market – both in the most affordable segment, but also for the more exclusive pieces – microbrand watches have increased in popularity in recent years. This is because microbrand watches tend to offer a number of benefits according to many buyers. The most important include:
Unique designs

 – since the production is so low, you're unlikely to meet anyone wearing the exact same watch as you

Microbrand watches tend to put great emphasis on quality and finish

. Many of them have their own workshops and work carefully on each individual timepiece that leaves their factory. Because they have a low production output, they can put more attention to each and every single timepiece they produce.

More personality

 – many microbrands tend to have much more personality than the major corporations. In many cases, the owners are the front figures and the faces of the brand, which creates a much more intriguing connection and a deeper relationship. It's not impossible or unlikely that you'll be speaking with the owner when you are placing your order or communicating with the brand.
Switzerland is the capital of watchmaking, but there are also several major German watch brands that have built a strong reputation on the watch market. But these are large and do not fall under the "microbrand" category, which is exactly what we are going to look at in this article. Sinn, for example, is a popular German watch brand, but they produce more than 12.000 watches per year.
Without further ado, let's look closer at some of the best and most popular microbrand watches from Germany.
Best micro watch brands from Germany
Nienaber Uhren

First up, we have Nienaber uhren. This is a watch brand that certainly ticks the box of being a microbrand. All its models are produced in small series of 10 to 30 watches and dedicated to a specific style such as Art Deco, Jugendstil, or Bauhaus. All of their watches are made in-house in their own workshop. They exclusively make mechanical watches. The company was founded in 1982 as a repair shop and the company eventually started producing its own watches. The company makes its own watches in-house and its low production numbers ensure a timepiece with great craftsmanship, attention to detail, and something truly unique.
D.Dornblüth & Sohn 

D.Dornblüth & Sohn is a German microbrand watch company that was founded in 1959. They put great emphasis on quality, craftsmanship, and fine watchmaking, hence why their watches use high-quality premium materials, great attention to detail, and beautiful finishing. The watches are made with the utmost level of fine watchmaking, hence why they are in the premium segment in terms of price. Each and every single timepiece is crafted and finished, by hand according to old Swiss and German traditions. In their own words: "Experience with us the traditional craftsmanship of fine German watchmaking as it was a hundred years ago. The result is a unique timepiece to treasure for generations to come.". This goes to show the value and importance the company puts into its watches.
Heinrich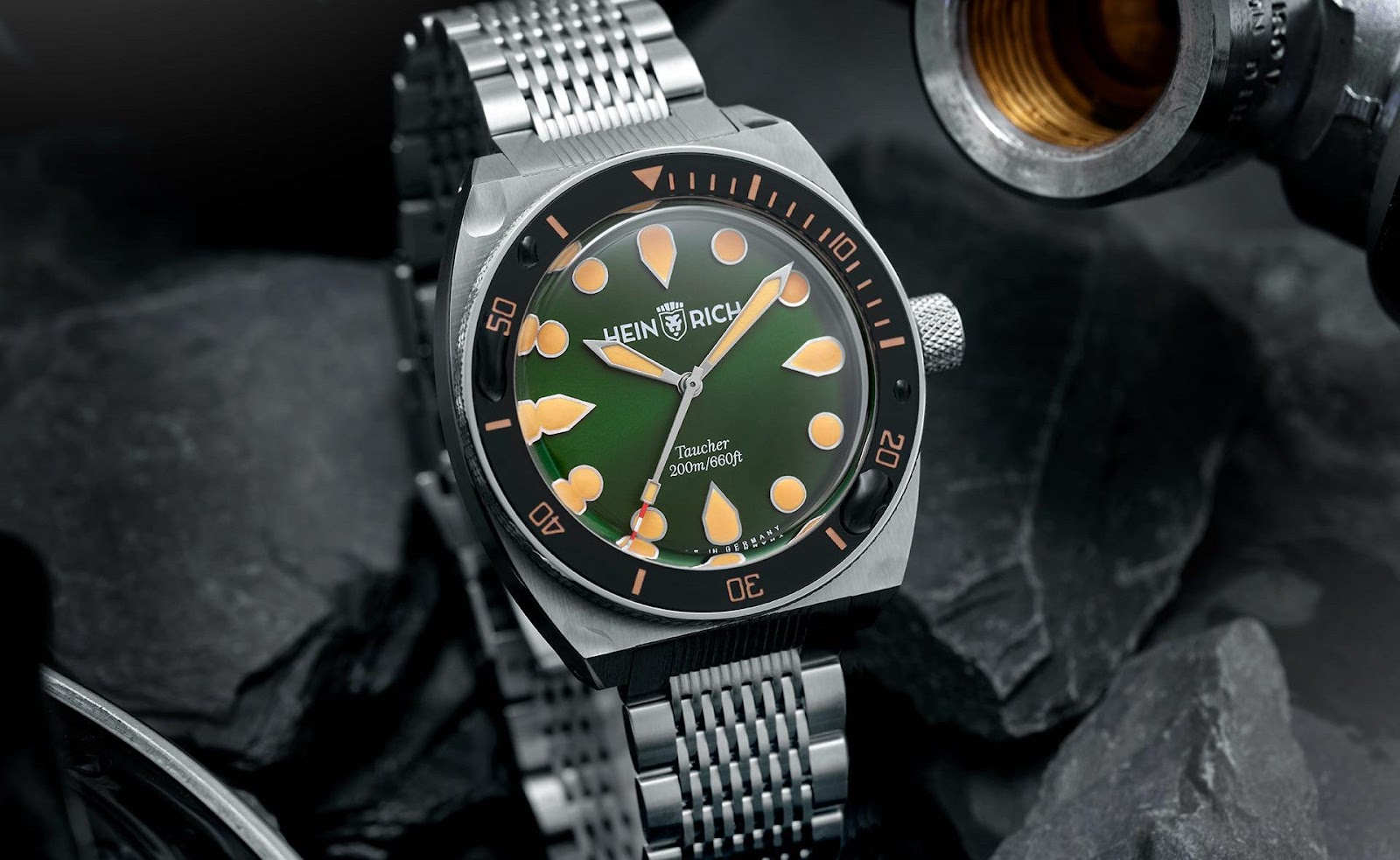 The company describes itself in the following way: "HEINRICH watches is an independent watch brand from Germany. Designed and developed in Stuttgart, built in Pforzheim in limited series." Heinrich is a German watch micro watch brand that makes "vintage-inspired dive watches with a 70s vibe.". It focuses specifically on making dive watches which makes it a great choice if you are a fan of dive watches – especially vintage-inspired such. The company is based in southwest Germany within the state of Baden-Württemberg. All development and designing are made in Stuttgart, but the company works together with suppliers around the world as well as a Pforzheim-based watchmaker partner that has decades of experience in the watch industry. The watches are priced at less than 1000 euros, but still, they have a good quality to price ratio, making them great value for money. The company has low production models for its timepieces, ensuring that you are wearing a unique timepiece.
Circula watches

Circula is a German-based micro watch brand with a history that goes back to 1955. But the watchmaking history of the Huber family actually dates all the way back to 1926 and started with the foundation of the watch and jewelry wholesaler Huber & Co in Pforzheim. The company is named after the circulation of the balance wheel in mechanical movements. Today, the company focuses on making high-quality timepieces in the third generation. According to Circula, it makes it "one of the oldest watch microbrands in the world." The company focuses on direct sales via its own online shop, allowing it to cut out the middlemen and focus on making high-quality timepieces that offer good value for money. Something that is appreciated by the watch community is the fact that the customers get a close relationship with the brand thanks to direct communication. Circula also involves the watch community in the development of its timepieces. Today, all Circula watches have automatic or hand-wound movements. The company even used original (new old stock) in-house movements from Pforzheimer Uhren-Rohwerke GmbH made in 1970 for its limited-edition Heritage collection that the brand released in 2019. All Circula watches are made in Germany, specifically developed, designed and produced in Pforzheim according to traditional craftsmanship principles. This is the same place that the company was founded in, back in 1955. We are proud to be an authorized dealer of Circula watches, see the collection here. 
Archimede
The history of Archimede goes all the way back to 1924 when Karl Ickler founded the Ickler family business. In 1947, he went on to make his own watch case factory. What is interesting is that the family heritage lives on to this very day as it is managed by Thomas Ickler, a member of the third generation of the family.  Archimede timepieces are made all of its watches in-house, including its watch cases. As a matter of fact, almost every part of the watch is developed and manufactured in-house, including the design, construction, prototyping, parts, finishing/treatment, Laser engraving, assembly, and quality control. This is a huge value proposition for a micro watch brand  In 2003, the first models were brought to market under the Archimede name with the goal of offering" exceptional quality at an affordable price point". To ensure high quality and great attention to detail, the company incorporates a lot of hands-on human touch into its manufacturing process.
Sternglas Zeitmesser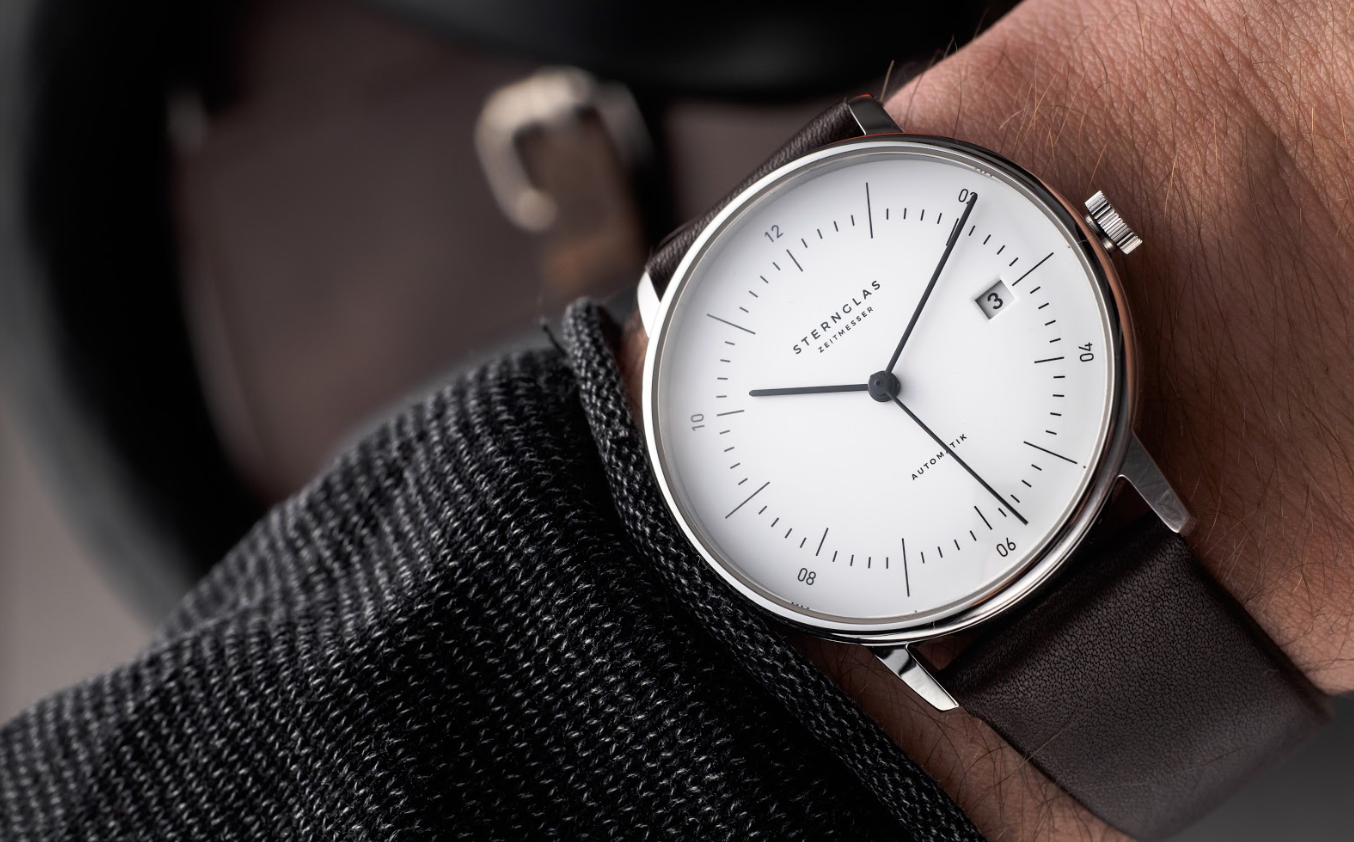 Sternglas Zeitmaster makes beautiful, simple, minimalistic timepieces with a traditional German Bauhaus style. If you're a fan of classic German Bauhaus design language, Sternglas Zeitmesser is definitely a brand you should consider. The company is quite young, started in 2016, but nevertheless, they have really affordable timepieces with minimalistic designs and great quality.
Schaumburg Watches

Schaumburg is a German watch brand that focuses on low production numbers but unique creations with a great level of fine watchmaking incorporated into them. This means high-quality, exclusive materials, beautiful finishings, and nice complications. With their expertise, Schaumburg has also created two other watch brands (Nauticfish and NB.Yaeger) which are priced at a lower price point. Apart from the great quality and finish, what makes Schaumburg watches stand out is their unique and distinct designs. Whilst some of the brand's watches are simple and minimalistic, it also dares to experiment with unique and striking designs. With that said, if you're intrigued by German watch brands and want a high-quality, fine timepiece with a unique and distinct design, it is definitely a great alternative.
Tourby watches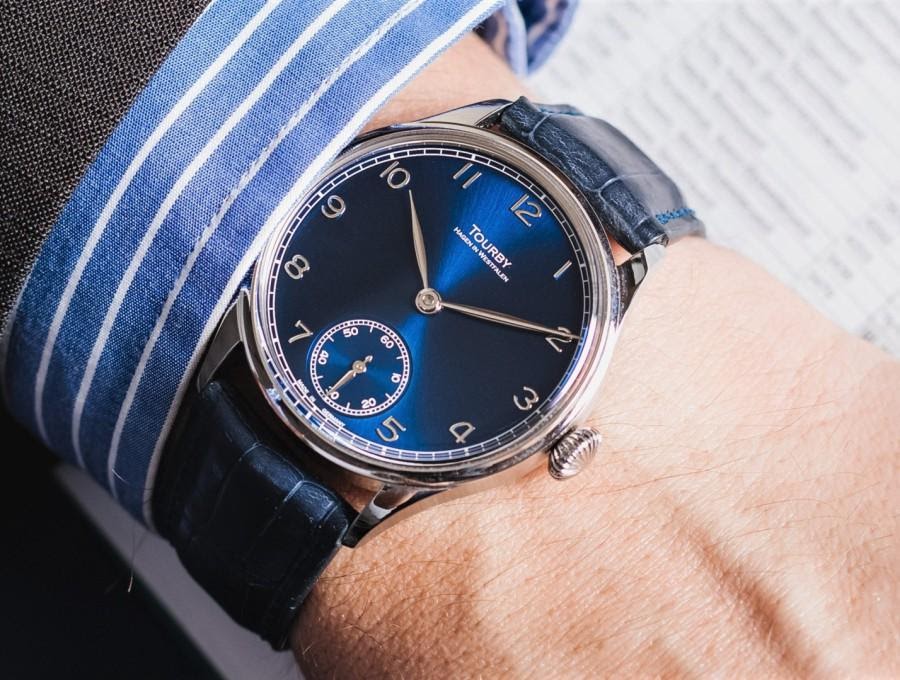 Tourby makes traditional, vintage-inspired timepieces with classic designs. In the company's own words "The design of his watches will always be inspired by the design of old pocket watches and the Unitas pocket watch movement. A pocket watch for the wrist is his trademark." The company was founded in 2007 and focuses on direct-to-consumer sales, meaning cutting out the middle man and offering better quality at a more affordable price to its clients. Furthermore, Tourby also gives its clients the possibility to help in the designing of the wristwatches by offering to build watches on request. As a client, you can choose from a wide range of parts and components to create a truly unique and personalized timepiece. In 2010, the company created its first watches with automatic movements.
FineWatchesBerlin

Last but not least, we have FineWatchesBerlin. FWB makes contemporary yet timeless watches with a Bauhaus/German-inspired design language. The company was founded as a collaboration between a father and daughter and was founded in 2017. The watches are priced in the mid-level segment at just under 1000 EUR, but seeing that they are higher priced than the most affordable alternatives, they also have the quality and craftsmanship to back them up. FWB uses mechanical movements and limits its production to relatively low numbers, making them great for anyone who wants to stand out and wear something unique. And despite their minimalistic designs, they still feature just enough details to remain interesting. We are proud to be an authorized dealer of FineWatchesBerlin, see the collection here. 
Bonus tips – more German microbrand watches
Stowa

Hanhart

Dekla

Temption

Limes

Damasko

Mercure

Guinand