It took me a while before I started to write this review about the Formex Essence Chronometer Blue, simply because I couldn't take it off my wrist; It was love at first sight and the more I paid attention to the details, the deeper I felt in love with this watch. First I've decided to write about my experiences with this watch in form of "a week on the wrist" review, but then it became rather "a month on the wrist" and finally I've decided to call it simply "a love confession", because that's truly what it is. As so often if you're about to confess something, it's hard to figure out where to start, so let me just start with my first impression when I switched watches on my wrist.
First impression of the Formex Essence Chronometer
Excitement of some new bought watch, or whatever item, usually flattens after the magical three months and I experienced it myself with a lot watches already; But not with the Formex Essence. Allow me to say, that I truly know what I'm talking about when it comes to watches. Besides several other great micro brands I also own some pricy time pieces and I'm lucky that I can call a Rolex GMT Master II one of my daily rockers. My versatile GMT will always be my grail watch, the dream I've fulfilled years ago without getting tired about it, but I have to admit (and I'm truly surprised) that the Essence and GMT-Master meet on eye level in this comparison.
It may be a bold comparison (and I should have taken a blue dial Rolex Datejust for it), but it just so happens that I have a GMT-Master II to compare; A Rolex watch has with no doubt a huge prestige in general, not only through the brand, but also through the presence of the watch on your wrist and the "shiny", well finished elements of it. Even a steel sports model has a lot of "bling" when the light hits it right.
After wearing the Formex Essence Chronometer for a couple weeks in a row without taking it off, I have to admit that I haven't missed any of the "prestige watch feel" that I know from wearing my Rolex GMT. The wrist presence of the Formex Essence is just right, comfortable and the mirror polished indices and bezel play so nicely with the light (the subtle "bling" I talked about earlier), that you can see and feel the value it stands for. For a person that isn't into watches it would be hard to believe, that there is a price difference of more than 7000€ at retail and even more for the now discontinued 116710LN on the grey market between these watches. Leaving collector's value and value stability of Rolex aside it once again shows, that the fact of high quality is not always a question of price or brand.
Furthermore this direkt comparison shows, that you don't need to be afraid of the diameter of 43mm of the Essence; I'm used to 40mm watches and it's my favorite watch size. The Formex Essence Chronometer doesn't feel like a 43mm watch at all and it is moreover comparable slim for its diameter. Formex sets a benchmark in craftmanship, finish and technical refinement in its price class. Let me sum up some of them: Patented case-suspension-system, COSC certified movement with glucydur balance wheel, ceramic balls in the deployant clasps of the stainless steel bracelet and of the carbon-fiber-composite clasp of the leather strap, both with quick release and patented micro-extension function…
Formex Case Suspension System
The patented case suspension system is pretty genius; It works by integrating four springs between the upper and lower watch case. Formex and other blogs write, that it has a "shock absorbing" function, but this can be a little misleading in my opinion, when you don't know the source or direction of this shock. First we need to understand how it works: The animation below shows the case suspension in action; The starting position is when the inner watch case is down (springs decompressed) and the ending position is when it's up (springs compressed) – Imagine you're pushing the case from below out of the case that frames it.

So if your wrist bends or it swells during the day (especially on hot summer days), the case suspension compensates the resulting size difference of the wrist, especially when you move. This results in high comfort, but it isn't really protecting it from "external shocks", nor "absorbing" them, when you hit the door handle again. I just want to clarify, that this is not the kind of shock-absorption a Casio G-Shock can take without turning a hair. But in fact, if the "shock" comes from under the watch (from your wrist in most cases) the suspension system is compensating it. – However, it's a great, very unique feature and you really feel it working when you wear the watch in daily use.
Formex Essence Dial & Case
Dials, cases, buckles and clasps of Formex watches are made at Dexel SA in the Swiss Jura. The company, which specializes in the design, conception and production of cases, watch straps and their folding clasps also supplies extremely famous Swiss watch manufacturers.
The mesmerizing blue dial shines from bright- to deep blue with its CNC machined horizontal cut lines and is countered with vertical brushed finish. The mirror polished indices are complimented by the faceted hour and minute hands, which are all filled with SuperLuminova BGW9 luminous mass.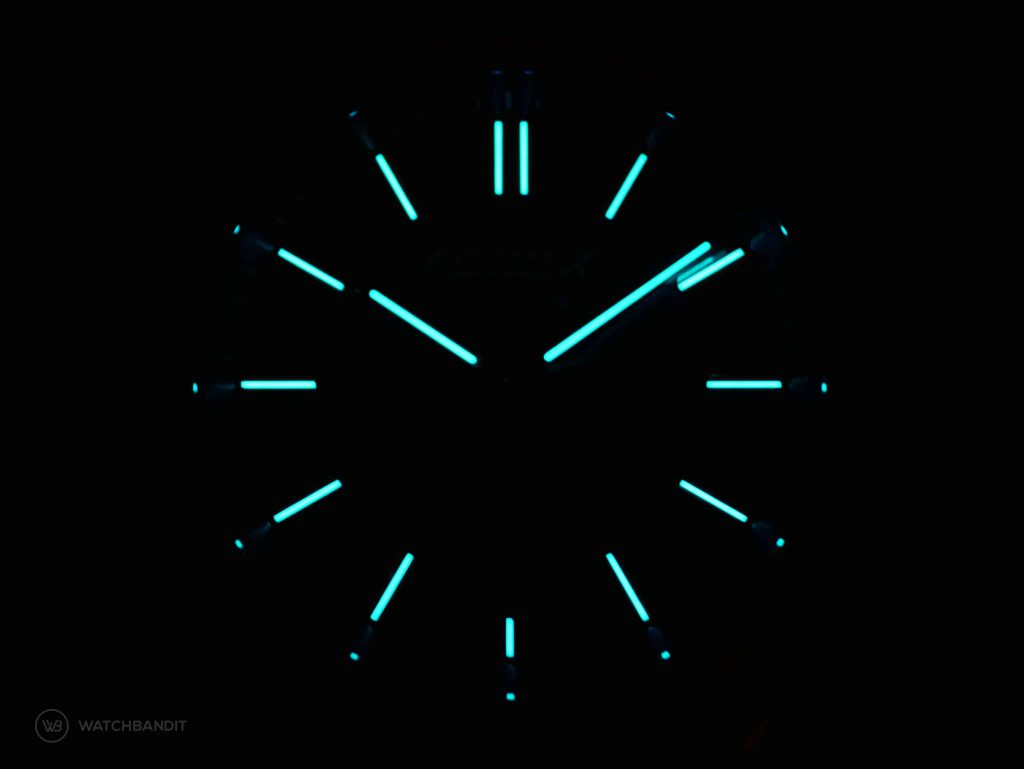 The case of the Formex Essence measures 43mm in diameter and only 10mm in height, which makes the watch wear very comfortably on the wrist. As I've mentioned before, the Essence doesn't seem so large, as you can see in comparison with the 40mm Rolex. Case and bezel have a very nice brushed- and mirror polished finish, even behind the lugs! The Essence offers a 100 ATM water resistance, but I have to admit, that I was suspicious to get it close to water without having a screw down crown, that I'm used to from all my water proof watches.
With a water resistance of 100 meters you can safely shower, swim and take bath, even if the watch doesn't have a screw-down crown. First and foremost, the function of a screw-down-crown is prevented pulling it out when the watch exposed to water. In everyday use a non-screwed crown is much more comfortable, because the watch can be easily wounded up and only with a simple pull out time and date can be changed. I'd prefer a screw-down crown, even if it's just for the feeling of more safety. Just keep your fingers off the crown when you're swimming and everything will be fine.

COSC Certified Movement
Through the unique shaped rear cover of the Formex Essence Chronometer and its sapphire crystal you can enjoy the view on the highly decorated, COSC-certified Sellita SW200 with its custom skeletonized rotor and blued screws. COSC stands for Contrôle Officiel Suisse des Chronomètres, which is the official Swiss institute responsible for certifying the accuracy and precision of Swiss watches. Only 3% of all produced Swiss watches are certified by the COSC, which may be due to the fact that each movement must be individually tested in five positions and at three different temperatures during the time span of fifteen days, non-stop. Within this time, it must specify a daily rate of −4/+6 sec to get honored with the certification. This accuracy is, without doubt, major league.
Bracelet, leather strap and clasps
Many microbrands seem to neglect the bracelets of their watches and just fall back on well- or less known component suppliers. But not Formex; Raphael Granito, CEO of the brand, has a background in the conception, development and production of high-end watch components, particularly buckles and clasps. With their in-house engineering capabilities and long-standing manufacturing partners, not surprisingly I'm unafraid to compare it with other top-notch stainless steel bracelets, like the Rolex Oyster- and its younger brother the Rivet bracelet by Tudor.
It might get some time to get used to the butterfly deployant clasp, when you're used to a deployant clasps with a single release mechanism. On the other hand it virtually covers the whole buckle when it's closed, which makes the bracelet look very elegant compared to the other, rather bulky clasps.
The straps and bracelets can be taken off by hand and without the use of any tools due its quick release mechanisms in a blink of an eye. All clasps, stainless steel bracelet and carbon fiber composite, feature small ceramic balls in their closing mechanism, which will never wear out. Besides the Tudor- and Rolex Oyster clasps, only the Tudor features this little extra.
The Italian calf leather strap features curved spring bars and an ultra-strong and light-weight folding clasp, made of carbon fiber composite and a stainless steel or titanium buckle. The gradual fine adjustment system allows you to tighten or loosen the strap length when the wrist size varies due to temperature and activity. The Lug width of the Formex Essence Chronometer is 22mm.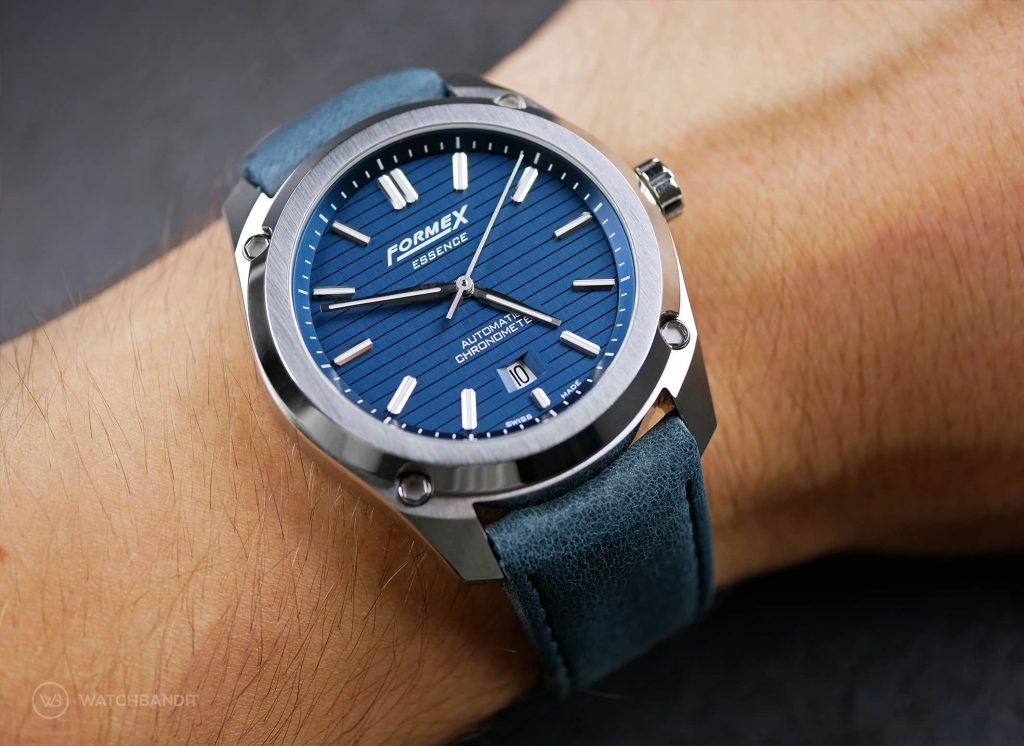 Conclusion
I've confessed a lot affection with little criticism in my review already, so there is not much to say more. In my personal opinion, knowing and owning a lot of different watches in different price classes, the Formex Essence Chronometer is the best what money can get you around $1000; The price of the Essence Chronometer on stainless steel bracelet is 1350€ incl. 19% VAT and. shipping, which is almost ridiculous for the amount of technical refinement, precision, quality and feel you get with this watch. I could even imagine, that this would be my one and only watch. It's the Exit watch, when you're tired of branding and excessive prices.
The Essence Chronometer comes with five dial options: Blue, Green, White, Dégradé and Black and in two sizes of 43 and 39mm 
Do you want to try on this watch right now? Print out your QR bracelet and get the App!