Besides the Rolex Submariner, the Rolex GMT-Master is one of the most liked Rolex watch within the watch community. The watch was originally designed for professional use to help airline pilots with flights between different time zones. GMT means "Greenwich Mean Time", which marks mean solar time "0" at the Royal Observatory in Greenwich, London — the location of the original meridian used for calculating longitude and determining different time zones around the world.
However, its combination of peerless functionality and instantly recognizable aesthetics has attracted a wider audience of world travellers and watch enthusiasts. Designed to show the time in two different time zones simultaneously during intercontinental flights, the GMT‑Master has come to be recognized for its robustness and versatile appearance. The GMT-Master II is a must have tool-watch for intercontinental travellers across time zones.
The Rolex Oyster stainless steel bracelet is with no doubt one of the most perfect bracelets on the market – but it can be very shiny with it's polished center links and wouldn't it be nice, to match your GMT with your outfit from time to time? For this case, we have collected some strap recommendations for you in our Rolex GMT-Master II Strap Guide:
Bond, James Bond: NATO Strap
In 1962, James Bond aka Jean Connery, was wearing a Rolex Submariner Ref.: 6538 in the movie "Dr. No" on a black/green/red striped NATO strap. Besides Breitling, TagHeuer and even digital Seiko watches, agent 007 was wearing a Rolex watch in 8 Bond movies until 1989. The first close-up of James Bond's watch was seen in the movie "Goldfinger" and remains the definitive "Bond watch" to many watch fans even decades later. Today this kind of strap is called: The Bond NATO strap.
Until today, Rolex watches look super cool on NATO bands, especially on vintage Rolex watches. The best NATO band thickness for the Rolex GMT master II is 1,2 mm, because the spring bars sit very close to the rough watch case, which we will explain closer at the end of this post. Our WB Original NATO watch bands are made from high quality, flat and durable seat-belt nylon and comes in two thicknesses: 1,2- and 1,4 mm. In the pictures above, you see that the Bond NATO is a 1,4 mm thick band (also available as 1.2 mm Bond NATO) and the PVD Black, Green and Khaki are 1,2 mm thin.
Modern Bond: Two-Piece NATO
The WB Original two-piece NATO strap is the latest creation by WatchBandit Original. For those who aren't a fan of the classic NATO band, but enjoy the comfort and style of the seatbelt-nylon-fabric, we designed a strap which matches exactly these expectations. It dries fast, keeps in shape and is very robust. In the end of this blog post we explain to you, why the two-piece NATO is the best choice for your Rolex GMT-Master. The buckle made from 316L stainless steel and has the same brushed finish, as the GMT watch case. Even the Bond NATO strap is available as two-piece NATO as well!
If you want to learn more about NATO straps, make sure to check out our Blog-post: All you need to know about NATO-Straps!
Modern Casual: Cordura® Strap
Our latest strap innovation is the WB Original Sailcloth strap. The special Cordura® nylon is very durable, waterproof and has a look and feel similar to canvas. To increase the comfort we chose to have an inner layer of genuine leather. While the Canvas strap is the ideal summer strap, the sailcloth watch band is perfect for the colder times of the year and suits the GMT with its thicker watch case just right. Please note: When the strap is new, it's hard and stiff; Just massage and twist the strap a little before the first wear to soften it, then it will go around your wrist perfectly.
Military Style: Canvas Strap
You're a fan of military movies and the casual military fashion style, the WB Original Canvas Strap is a must have for your GMT-Master. It's robust, light, comfortable and has the perfect thickness to fit between springbar and watch case. WB Original Canvas Straps are made of superior cotton and viscose and has 10 adjustment holes for the perfect fit, even for larger wrists. (Example: With a 18 cm / 7 inch wrist, you close the strap in the 5. hole). The buckle is as well made from 316L stainless steel and has a brushed finish, which matches the brushed case of the GMT perfectly.
Summer style: Perlon Strap
The famous Perlon Strap fits very well to the GMT-Master II as well. Especially green and blue fits the models 116710LN and 11-/126710BLNR, also known as Rolex "Batman", perfectly. The perlon strap is the perfect summer strap: Thin, light and it dries very quickly after you took a swim. The synthetic nylon fibers are water resistant and are sturdy enough to not fray or tear. A sleek adjustable buckle is included in the design and fastens securely. They are available as a single- or two-piece strap. ("Haters will say it's fake": As it's impossible to get a new 11-/126710BLNR at the moment, @gmtfanatic helped himself with photoshop a little and turned his LN to a BLNR in the second picture 😉 )
The Classic: Suede- and Vintage Leather
Suede- and Vintage Leather bands on a Rolex sports model are not everyone's cup of tea, but it can look very casual, especially on 5-digit Rolex GMT-Master II and vintage models. But there is one thing you should know, when you want to put your Rolex on a strap, especially when you choose a soft strap made from leather.
A thing you should to know about Rolex watch cases
Most Rolex watch cases have a heavily brushed, or rather not finished, case surface behind the lugs. This rough surface is a stress test for every watch strap and maybe it was the intention of Rolex engineers *conspiracy theory intensifies*.

ORIG. ROLEX DESIGN 116710 – Case engravement on the inside between the lugs of a Rolex GMT Master II ref.: 116710LN
For that reason, we can't really recommend vintage leather straps, if you don't have curved spring bars (currently we work hard on it to source high quality curved spring bars for you). The leather surface will be scratched and damaged by the rough surface of the rough oyster case surface. Another reason for that is, that the space between case and spring bars is quite narrow. Suede leather straps are rough already, and it doesn't make such a big difference, if the case will rough it up more.
The most resistant straps are with no doubt NATO- and Two-Piece NATO bands. Because of the mentioned narrow space between spring bars and case, the double layered two-piece NATO strap sits very tight, but that's no problem from our own and @gmtfanatic personal experience; It's even better, because the two-piece NATO strap can't move a lot and so it won't scratch off so easily. NATO bands should have a thickness of 1,2 mm like our Premium NATO bands to fit best between spring bar and case, while pulled through them.
On the second place of durability is the Canvas strap, because we made it thinner and without leather, if fits quite perfectly between spring bars and Rolex oyster case.
Life hack: If the strap might scratch off a little after a long time of use and it looses some nylon- or canvas fabrics, you can easily remove them with a fabric shaver.
Which strap size does my Rolex GMT-Master 2 need?
The Rolex GMT-Master II lug width is 20 mm, which is the most common Rolex lug width. More about how to find out which strap size your watch needs here.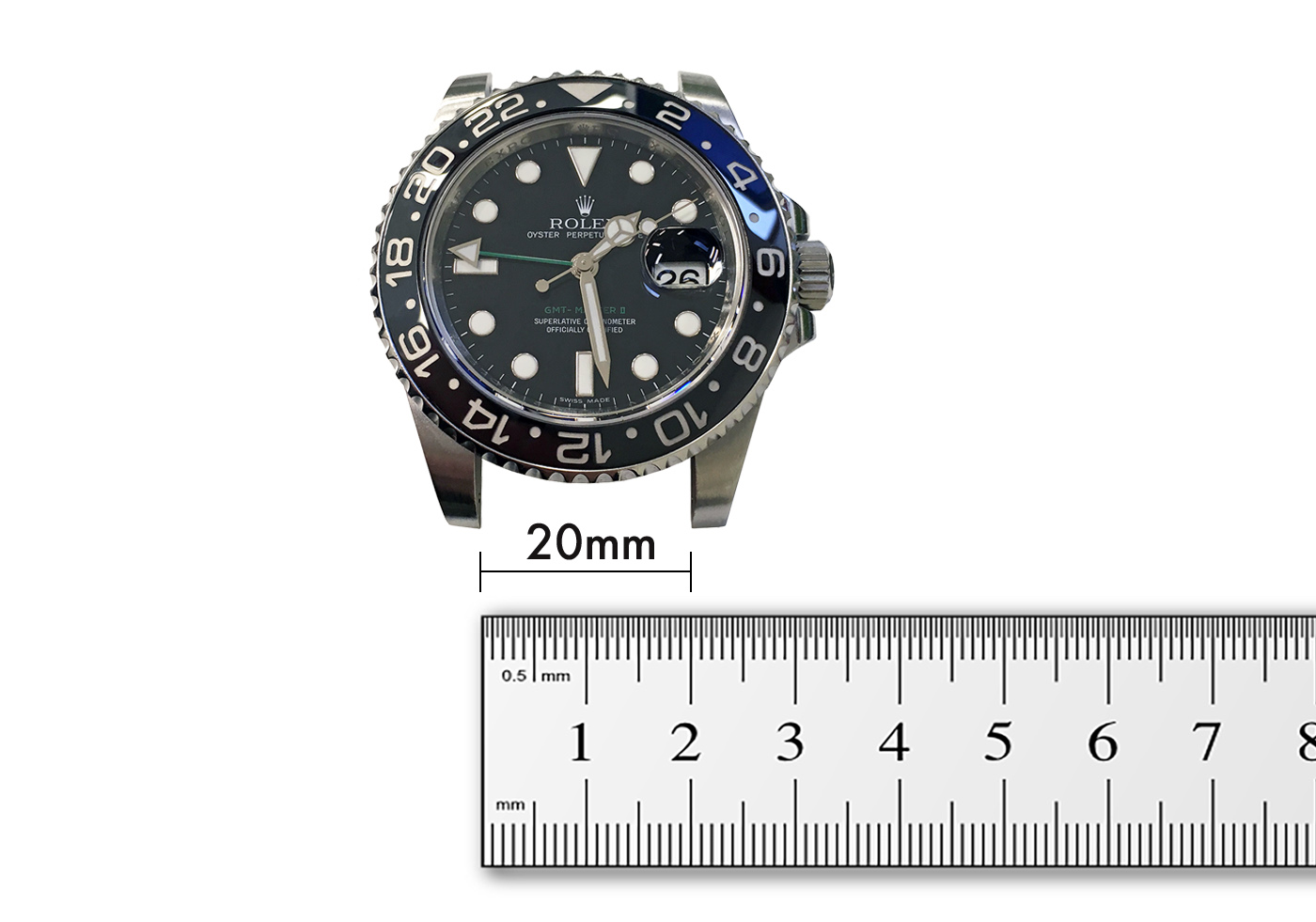 The lug width of the Rolex GMT Master II 116710LN is 20mm
How do I change the bracelet or strap on my Rolex?
To change the bracelet of your GMT, you'll need a spring bar tool with a special 1 mm fork that fits in the openings of the Oyster bracelet, for example the Bergeon 6767 spring bar tool. If you want to know, how you install a NATO strap on your Rolex watch read our article All you need to know about NATO straps.
Thank you for reading!
Photos were taken by our brand ambassadors @gmtfanatic and @0liiviier Thank you for the awesome pictures of our straps on your Rolex GMT-Master 2!
Please note: Any watches pictured in this blog post are for illustration purposes only and the watches are not included in our strap offers. Straps may vary slightly from those pictured.