Spinnaker Fleuss
The Fleuss series of vintage style timepieces by Spinnaker watches are inspired by the work of Henry Fleuss. He was the inventor of the first Scuba diving apparatus in 1878 and he took early dive missions, which helped to develop the mechanics of deep-sea discovery. Spinnaker timepieces pay tribute to the world and lifestyle of yachting, with a flair and style that makes each timepiece wearable on land and on the waves.
The Spinnaker Fleuss is are also inspired by vintage diving watches, with superluminova illuminated indices, one-way turnable bezel and a well readable typography. The dial surface reminds on the rough sea surface, this all gives the watch a maritime touch and the hands appear like sailing ships on the dial.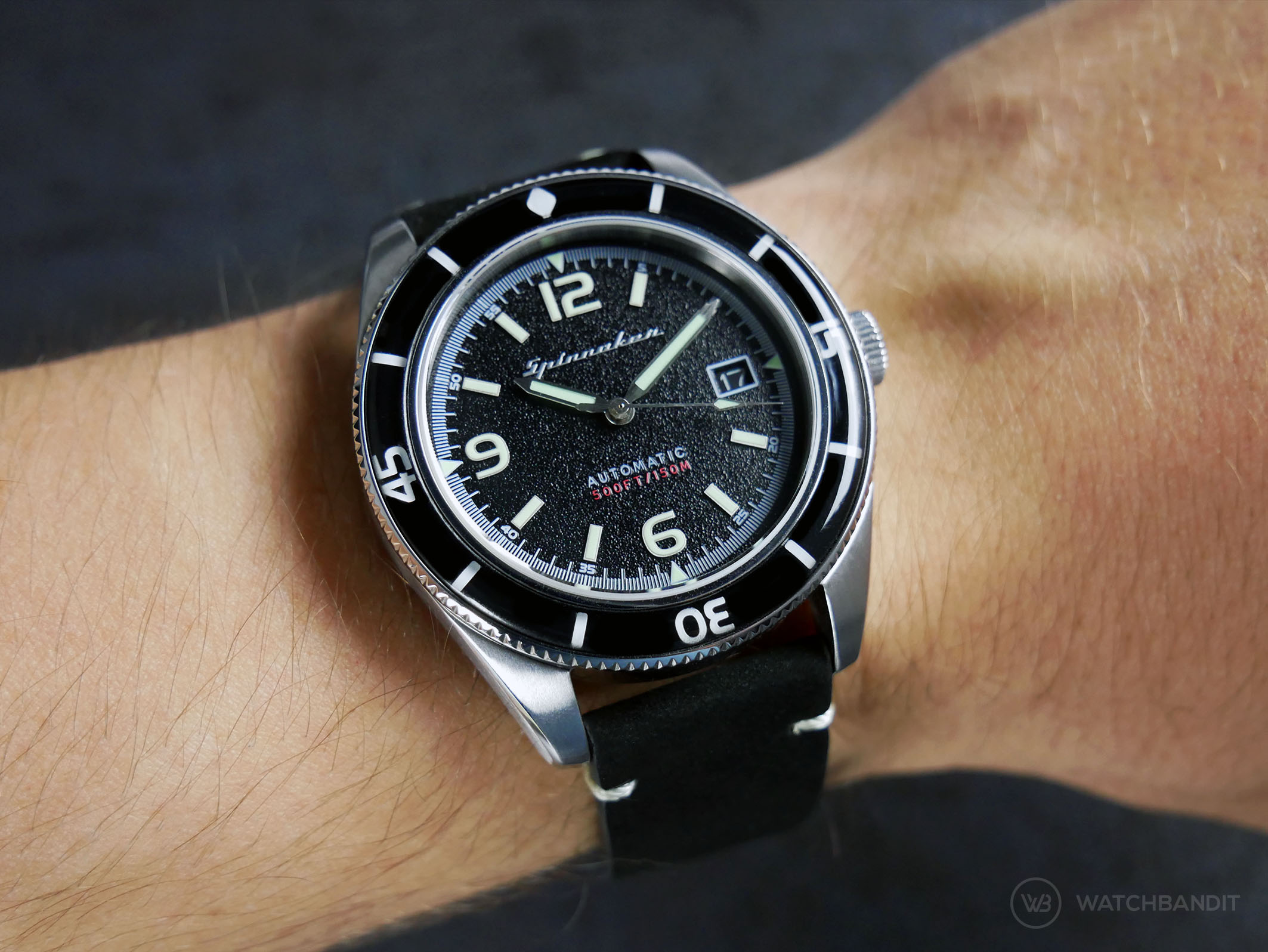 Spinnaker Fleuss SP-5055-02 (wrist circumference 18cm / 7″)
Spinnaker watches with a case size of 43 mm wear surprisingly well on an average 18 cm / 7 inch wrist! Reasons for this are the compact lugs and the big bezel, which lets the dial of the watch appear rather small. The whole haptic of the watch is fantastic for its unbelievable price point at 285€ / $337. Spinnaker watches offer an incredible price-performance ratio and are perfect if you want to start with mechanical watches.
In addition the bezel is made of a vintage bakelite inspired C5 acrylic bezel, which is treated with luminous color; And the lume is fantastic! One of the most important thing of modern sport watches, is the scratch resistant sapphire crystal glass. In addition to that, the fascinating mechanical movement can be seen through a glass bottom.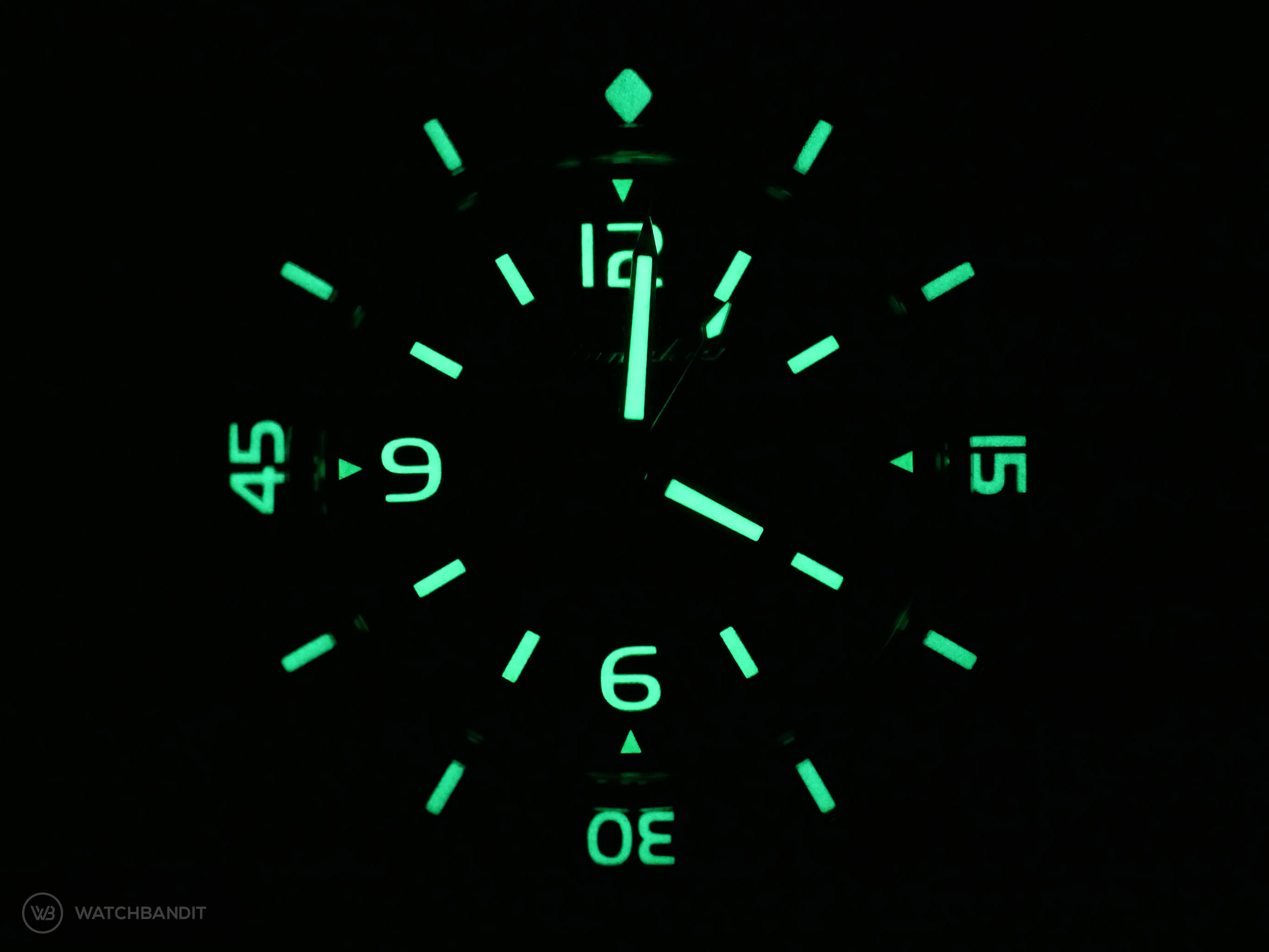 Lume Shot of the Spinnaker Fleuss SP-5055-02
The watch is driven by a Japanese Seiko TMI NH35 movement, which is known for its reliability and precision. It's a movement that many watch manufactures like to use for their watches; It's precise, tough and easy to repair. A 41 hours power-reserve, bi-directional winding rotor and a diashock shock-system makes it one of the world's most popular automatic movements. It is widely used in many microbrand watches. The case is made of solid 316L stainless steel.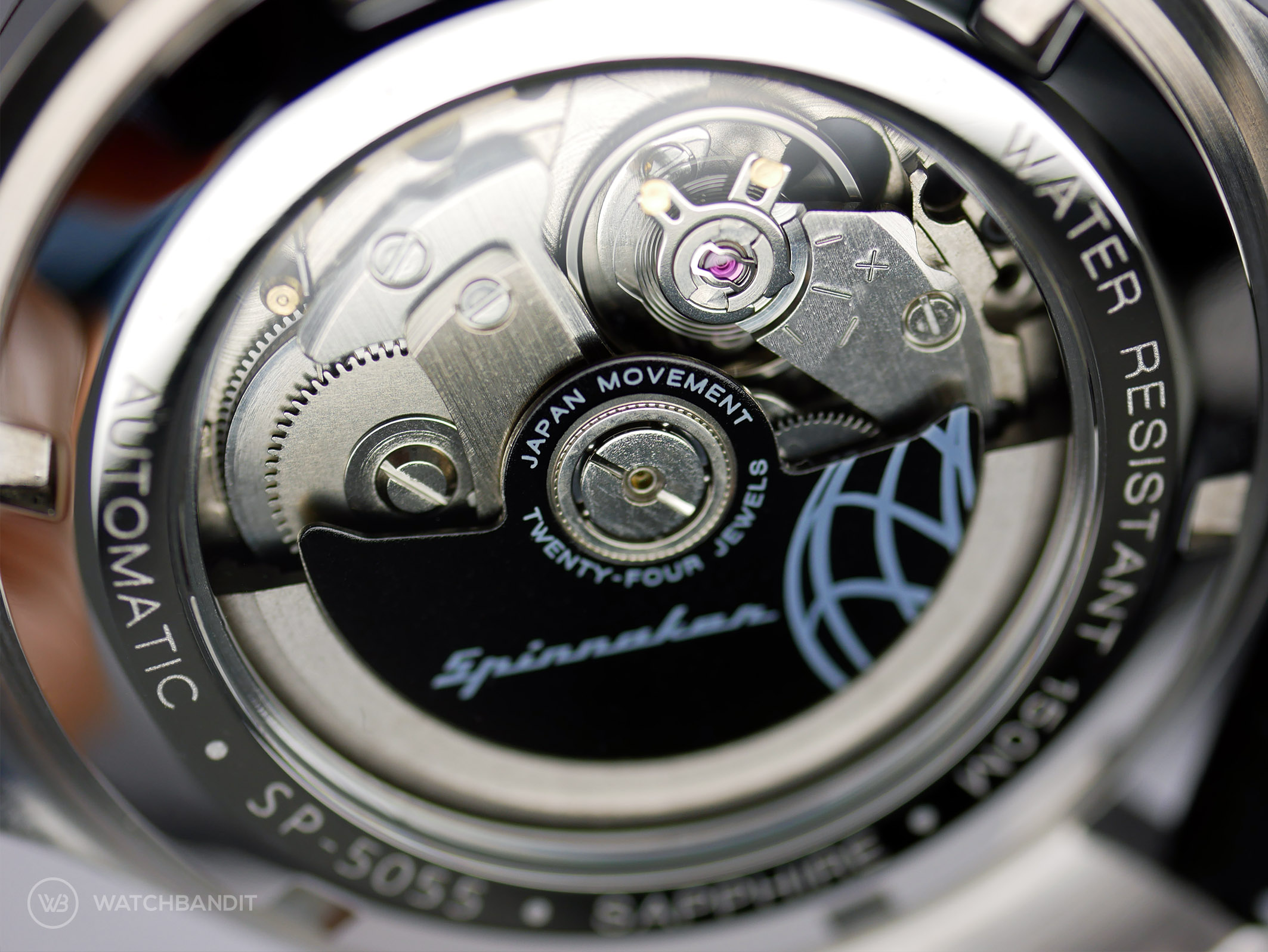 Japanese Seiko TMI NH35 movement of the Spinnaker Fleussü
Spinnaker Watches Strap Guide
The vintage style of Spinnaker watches is supported by a vintage leather strap, but it can be also perfectly combined with other WB Original straps. Spinnaker watches are true strapmonster, all kind of  If you want to give your Spinnaker the perfect look for every day and every occasion, we have collected some strap recommendations for you in our Spinnaker Watches Strap Guide:
Leather Straps
You can turn your Spinnaker watch from a very sporty, into a very elegant dive watch with a Vintage- or Suede Leather Strap. It's not only very soft and comfortable, it also provides the perfect casual look. Our WB Original leather watch straps are handmade in Italy, with genuine leather from Tuscany and are naturally tanned. As the whole process is handmade, each strap is unique. This strap will bring out the best look for your watch and age well with time.
Two-Piece- and Classic NATO Straps
The NATO-Strap is one of the most known after market straps for watches. The NATO strap is the easiest- and fastest way, to give your Spinnaker watch a new look within seconds, because the spring bars don't need to be removed during the strap change.
Canvas Straps
A Canvas Strap gives your Spinnaker watch a cool military style touch and feel, especially in green and khaki. The colors can compliment the colors on the watch very well. Our WatchBandit Original Canvas Straps are made from high quality and durable cotton (90%) and viscose (10%). Our Canvas strap can be perfectly adjusted, even for big wrists, due it's 10 adjustment holes. With an 18 cm / 7 inch wrist, you're in the 5th hole of the strap when the watch is on your wrist.
Perlon Straps
The famous Perlon Strap fits very well to Spinnaker watches as well. The perlon strap is the perfect summer strap: Thin, light and it dries very quickly after you took a swim. The synthetic nylon fibers are water resistant and are sturdy enough to not fray or tear. A sleek buckle is included in the design and fastens securely. They are available as a single- or two-piece strap.
Which strap size does my Spinnaker watch need?
Spinnaker watches have a lug width of 22 mm in general. More about how to find out, which strap size your watch needs here.
How do I change the bracelet or strap on my Spinnaker watch?
To change the bracelet of your Spinnaker, you'll need a spring bar tool, for example the Bergeon 6767 spring bar tool.