The Seiko Prospex Diver 200M SRP777 (or SBDY015 JDM (Japanese Domestic Market) is lovely nicknamed "Turtle" due to it's case, which is reminiscent of the shape of a tortoise shell. The original Seiko "Turtle" reference 6309 was manufactured from 1976 to 1988 and stood for one of Seiko's most enduring models. It was used among sportsmen, divers and has also found admirers in the military thanks to its robustness and technical design.
With the advent of the return to vintage watch designs in the mid-2010's, Seiko made its fans dreams come true and reissued the famous "Turtle". Enthusiasm in the scene was great and to this day the turtle represents the basic values of Seiko: technical and functional design, good price-performance ratio, robustness and timeless appearance.
The brushed turtle shell shaped stainless steel case comes in at 44.3 mm in diameter with a thickness of 14 mm and a 48 mm lug-to-lug measurement. Due to its specially shaped case that gives the watch its widely known nickname, the short lugs are also the reason that leads the watch to wear a little smaller than those dimensions would suggest.
Functional and Balanced Tool-Watch
The whole watch is what you would call the "perfect tool-watch". To increase the readability during a dive or bad visible conditions the dial is kept incredibly simple. This is something that Seiko is well known for with all their watches, without too much imitation of the other most famous diving watch in the world, the Rolex Submariner. Seiko stays true to its even more technical look and this is something Seiko has dominated in for decades.
Prospex stands for a professional sports watch range from Seiko. It features sports watches for the 3 collections of land, air and sea. The land series features land travel type of sports watches, the air series features radio frequency professional aviation watches.
Seiko Divers look good on almost any strap
Seiko does not only make great watches, they also make decent straps for them, keeping the low prices in mind. But with a mass-produced watch and a mass-produced bracelet, individuality is missing. You don't want to wear a standard dive watch at the beach club. It's better if you give your Seiko Prospex Turtle an individual look, maybe even one that matches your clothes, with a new bracelet. Since the watch is designed so simply and classically, this task is very easy. Below are our suggestions for the best watch straps for your Seiko Turtle:
Seiko Turtle on NATO strap
You can't go more "military style" as with a NATO Strap and the Seiko Turtle looks best on a rough heavy-duty- or ribbed NATO strap in our opinion. Especially subtle colors like olive green and dark grey make the watch look cool and versatile. It compliments the rough and technical design of the watch.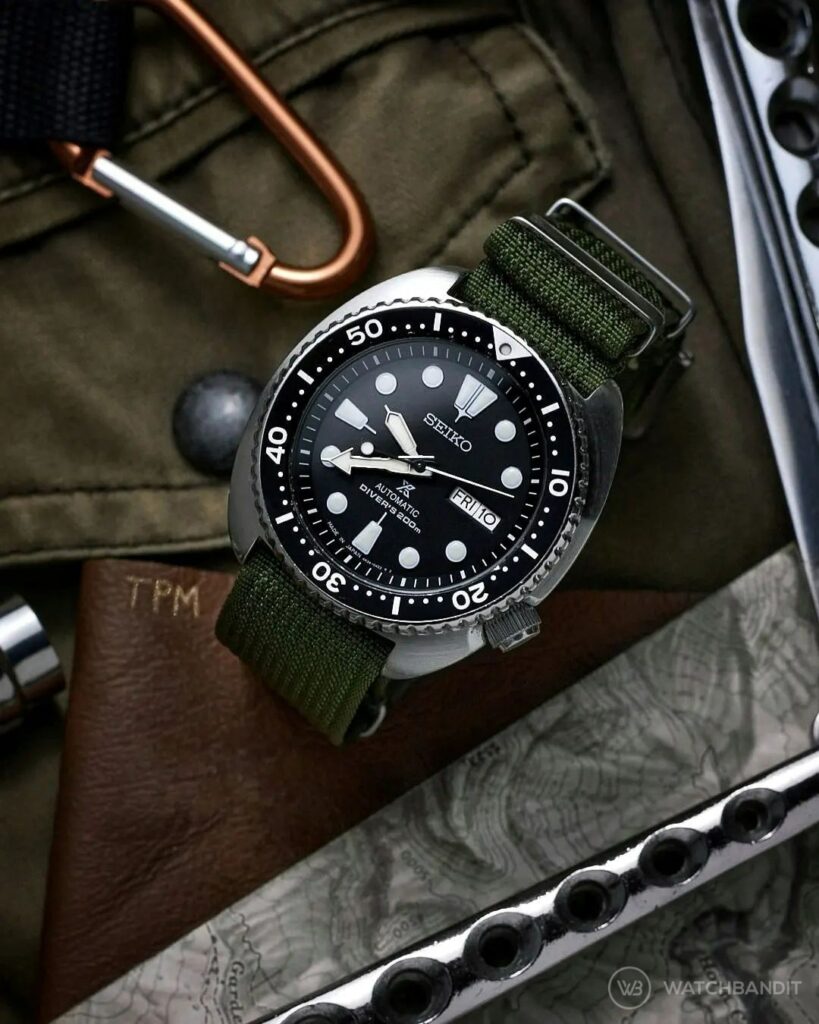 Seiko Prospex "Turtle" paired with a Green Ribbed NATO Strap by WB Original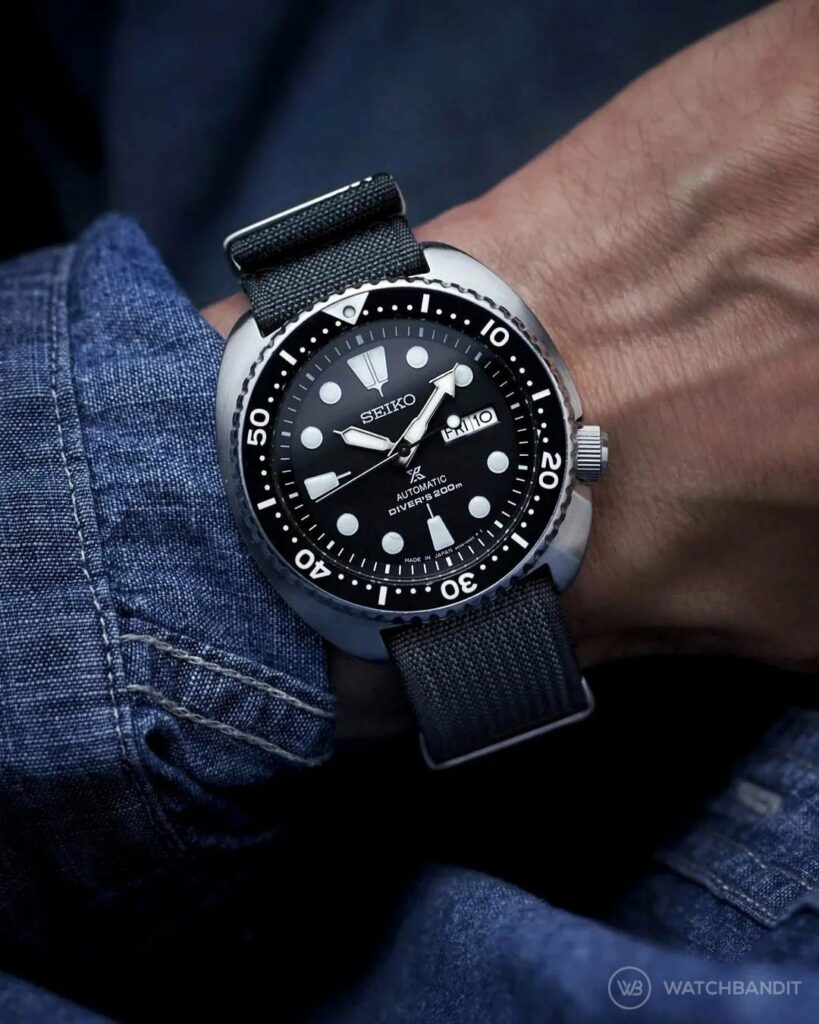 Dark Grey Ribbed NATO Strap by WB Original
Sailcloth strap for Seiko Turtle
Our Premium Sailcloth strap gives the Seiko a more modern look, without loosing its technical and military style. Due to genuine leather on the underside it raises the comfort for every day wear, but it is also a reason why it is not water-proof and rather meant for desk diving only. The strong sail nylon fibers and the extra protected holes of the strap compliment Seikos values of functionality, robustness and timeless appearance.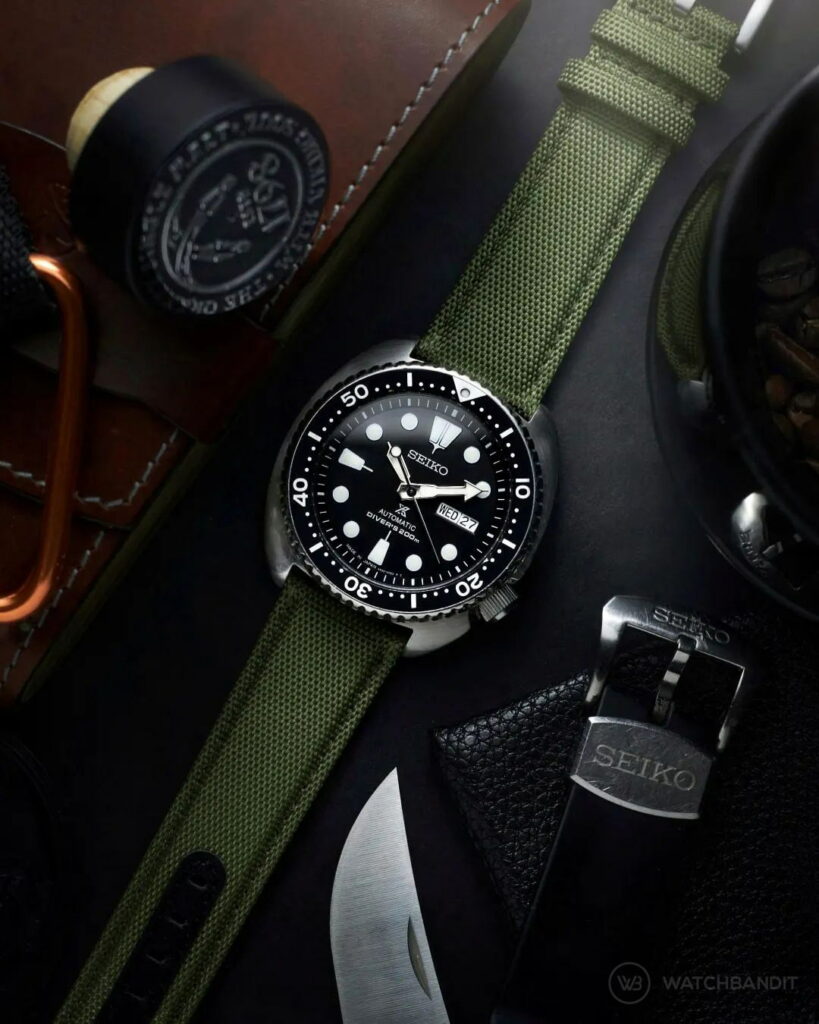 Seiko Prospex "Turtle" paired with a Green Premium Sailcloth Strap by WB Original
Rubber Straps for Seiko
Rubber straps have become increasingly popular amongst Seiko dive watch owners in recent years. And for good reasons of course.
Rubber straps are closely associated with dive watches due to the water-resistant properties of rubber straps. Rubber straps have been used by manufacturers and professionals for their dive watches for a long time and their look and design tend to pair really well and give them a sportier, purpose-driven style.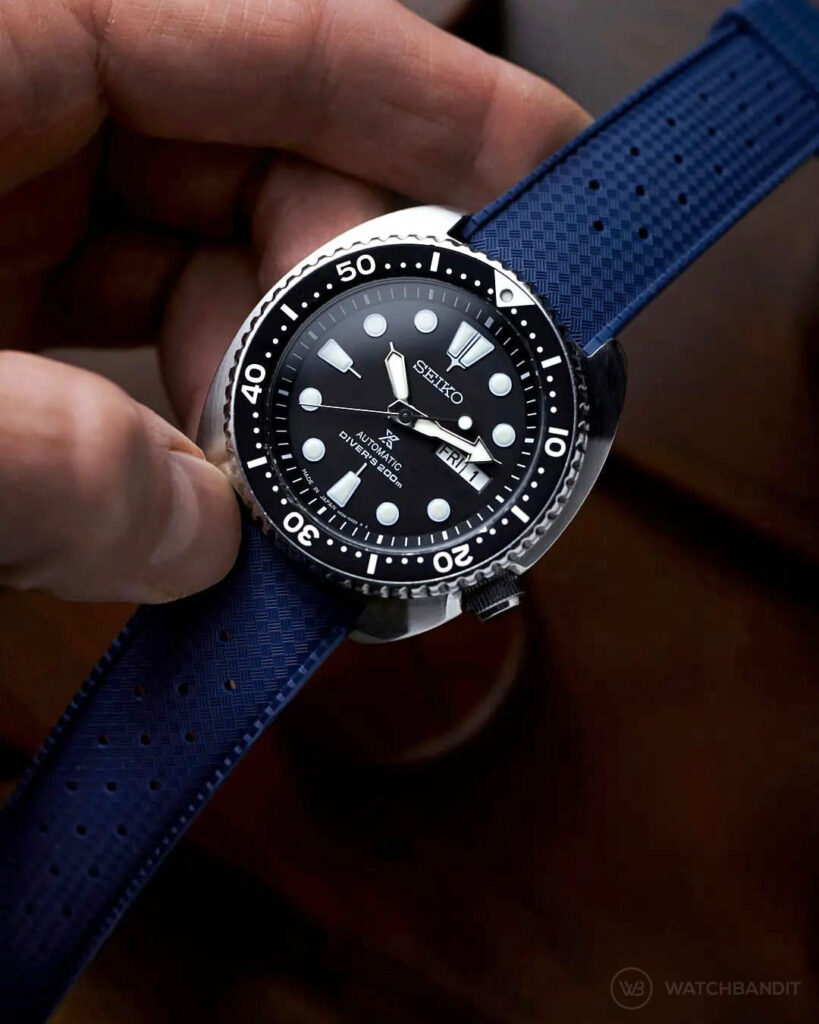 Seiko "Turtle" paired with a Blue Tropical Style Rubber Watch Strap by WB Original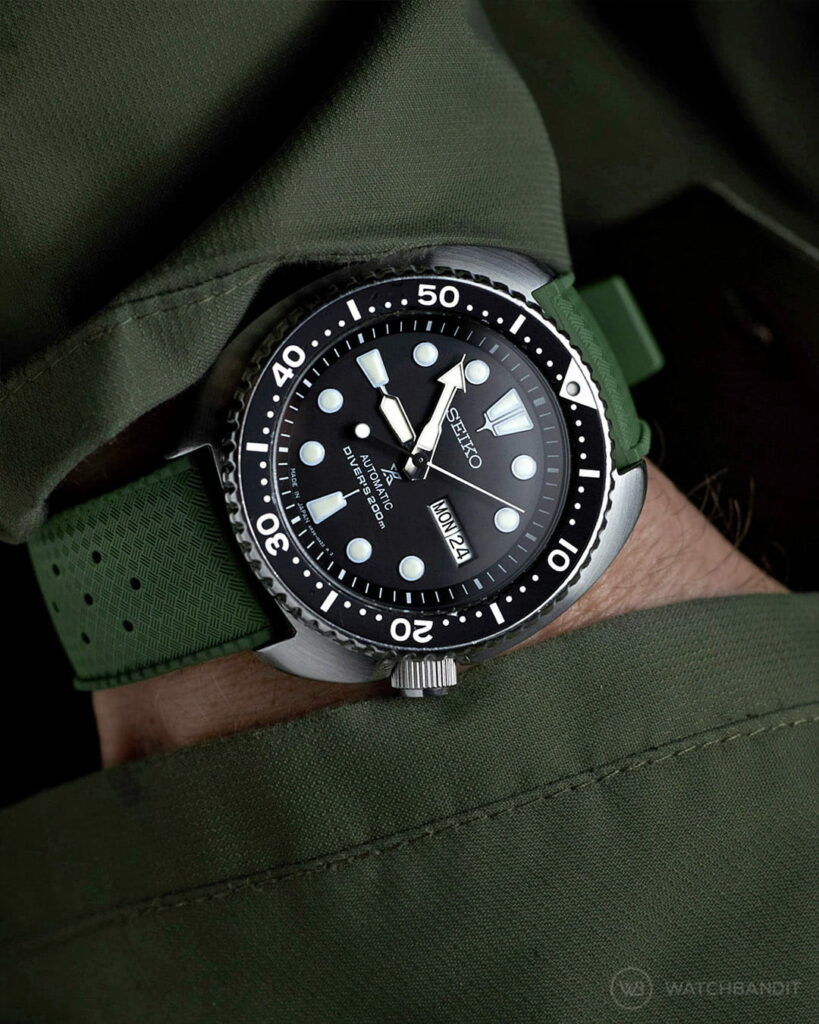 Green Tropical Style Rubber Watch Strap by WB Original
Dive watch on leather strap
The next option when it comes to straps for the Turtle are leather straps, you can choose for example between smooth- and suede leather.
This type of strap naturally gives the watch a more casual look. With that said, it can be a good option when you want to make your Seiko more suitable for formal or casual occasions. Naturally, leather straps are not to be subject to water, but again, that's not the type of occasions you'll choose a leather strap for anyways.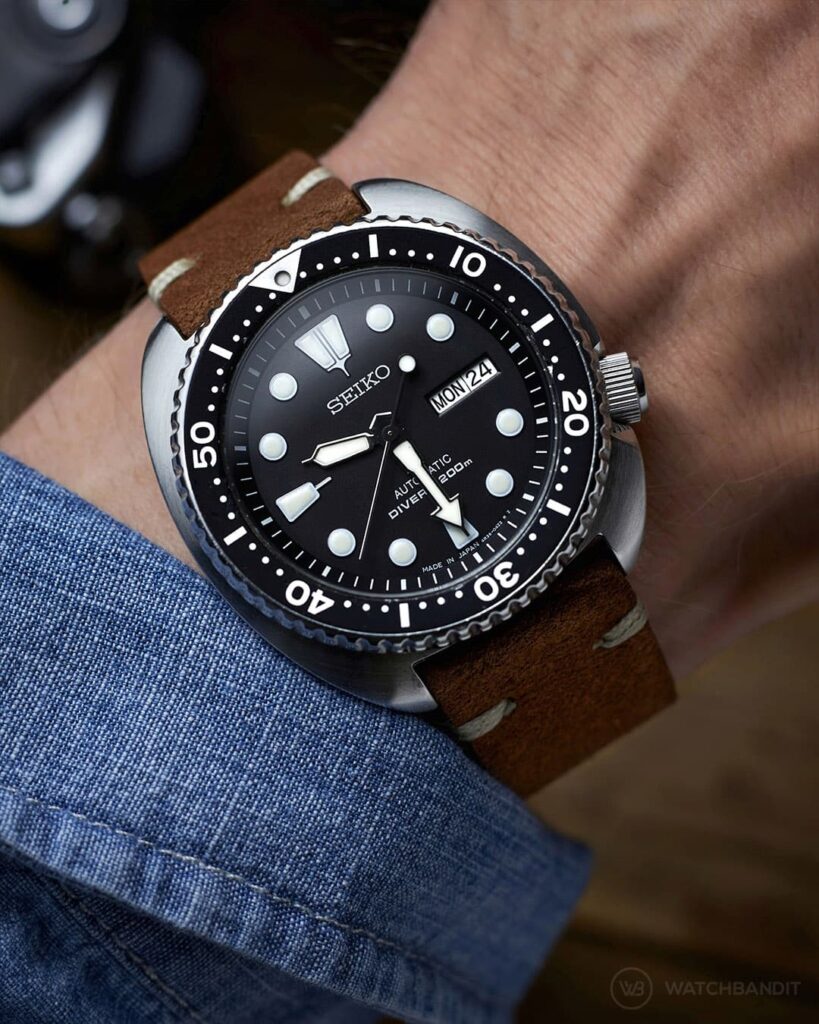 Seiko Turtle dive watch paired with a Brown Vintage Suede Strap by WB Original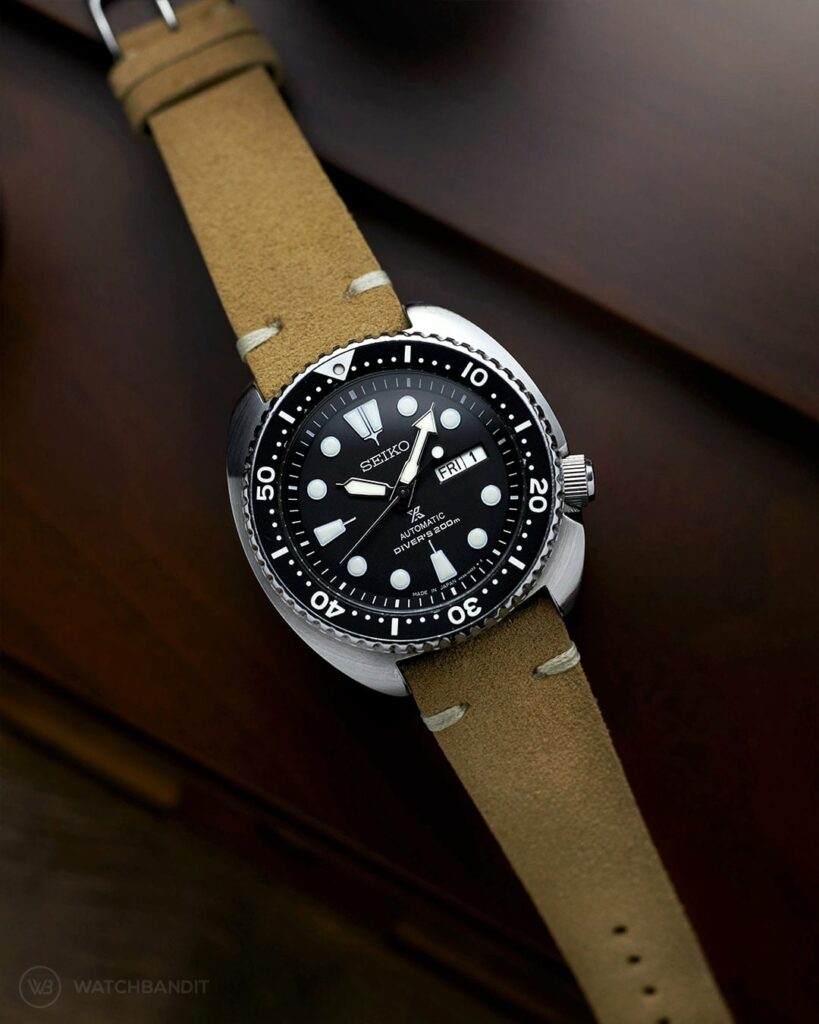 Beige Vintage Suede Strap by WB Original
Which strap size does my Seiko Turtle need?
The lug width of the Seiko Turtle is 22 mm, which is a common lug width at watches this size. More about how to find out which band size your watch needs here.
Seiko Turtle Specifications
Case Dimensions: 44.3mm x 48mm x 14mm
Lug Width: 22mm
Crystal: Seiko in-house Hardlex
Movement: 4R36 automatic
Water Resistance: 200m / 20 ATM

How do I change the bracelet or strap on my Seiko?
To change the bracelet of your Seiko watch, you'll need a spring bar tool with a special 1 mm fork, that fits in the openings of the bracelet. If you want to know, how you install a NATO band on your Seiko watch read our article All you need to know about NATO straps.
Note of thanks
Photos were taken by our brand ambassadors @outriderwatches Thank you for the awesome pictures of our straps on your Seiko Turtle!
–
Please note: Any watches pictured in this blog post are for illustration purposes only and the watches are not included in our strap offers. Straps may vary slightly from those pictured.