The Tudor FXD is a high-performance dive watch made of titanium, that was first introduced in 2021. It's part of Tudor's Pelagos collection, which is known for its modern and technical designs. The FXD, however, takes things to the next level with its cutting-edge technology and innovative features. Let's take a closer look on this new diver from Switzerland in this article.
What is the Tudor FXD?
When Tudor officially introduced the Tudor Pelagos FXD Ref. 25707B, the watch-fam and Tudor fan-base were frantic. After a lot of speculation, what the manufacturer will come up with next, Tudor presented a special dive watch, which has been designed with direct input from the Italian Marine Nationale's combat divers. An important and enjoyable fact is that it is not a limited edition.
One of the most striking things about the Tudor FXD is its overall design. The watch has a bold, technical look, with a darker blue dial than the regular Pelagos, that's sure to turn heads of every dive enthusiast. Its case is made from high-grade titanium, which is both lightweight and incredibly durable. The dial features bold, luminescent markers and hands, making it easy to read even in low-light conditions and during a deep dive.
Furthermore, and probably the most important fact, the watch features integrated lugs, which are important for our strap choices we present you in this article. That's also why it's named "FXD", which stands for the "F(i)X(e)D" strap (bars).
In this article, we'll take a closer look at what makes the Tudor FXD such a special timepiece, explore some of its key features and present you the best WB Original strap options.
---
Tudor Pelagos FXD Strap Guide
As we have now learned, the Tudor FXD has very special bars for the strap, as these are firmly integrated with the lugs and case, "made of one piece" so to speak. This means that only pull-through straps, such as classic- or single-pass NATOs can be used on this model and no two-piece watch straps. The low-set integrated lug-bars keep the strap very close to your wrist, and the strap is not bulking out much, like on a watch with conventional lugs. This makes the watch wear nicely flat and very comfortable.
Now, what is the best strap for the Tudor Pelagos FXD? We show you some of our favorite combos in our Tudor Pelagos FXD Strap Guide by WATCHBANDIT:
---
Key Features
Chronometer Certification – The Tudor FXD is certified as a chronometer by the Swiss Official Chronometer Testing Institute (COSC). This means that it has been tested to ensure that it meets strict accuracy standards.
Anti-Magnetic balance spring – The watch is equipped with an anti-magnetic silicon balance spring, which protects the watch's most delicate part from the harmful effects of magnetic fields.
Water-Resistance – The diver is water-resistant up to 200 meters, making it suitable for a variety of water-based activities.
Power Reserve – The watch has a power reserve of up to 70 hours, which means that it can keep running for up to three days without needing to be wound or recharged.
Integrated lugs – A possible loss of the watch due to the failure of a spring bar is impossible, as the FXD does not use spring bars, but has solid/integrated lugs
Strap Options – It comes with a variety of strap options, including a titanium bracelet, a rubber strap, and a fabric strap. This makes it easy to customize the watch to suit your individual style and needs.
Tudor Pelagos FXD Specifications
Case Dimensions: 42mm in diameter, 52mm lug-to-lug, and just 12.75mm thick
Lug Width: 22mm
Movement: Tudor MT5602 COSC-certified, automatically-wound, 4Hz, 70h of power reserve
Water Resistance: 200m / 20 ATM
Retail price: 4140€ /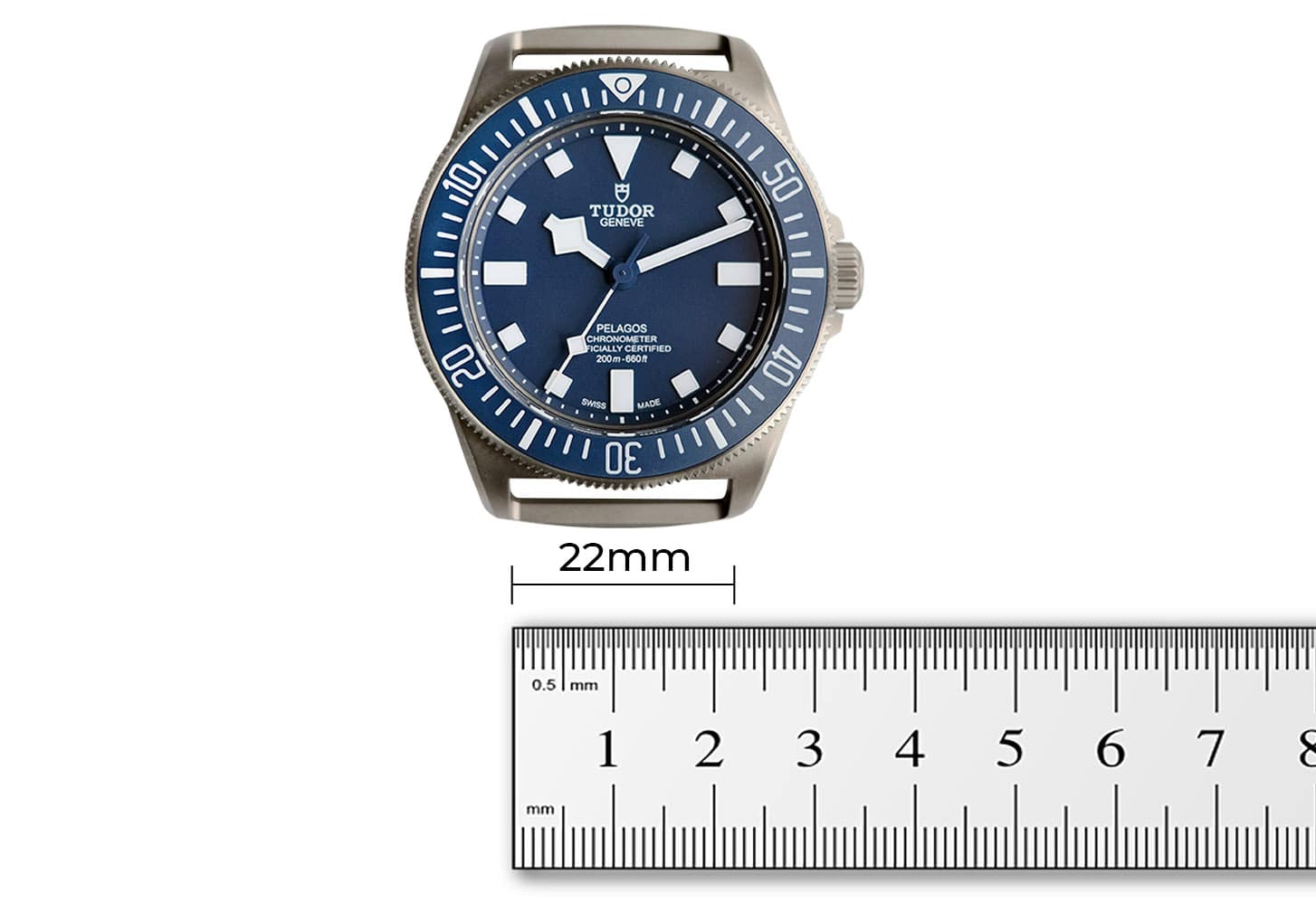 How do I change the bracelet or strap on my Tudor FXD?
Luckily it is pretty easy to change the strap of your Tudor FXD watch. As the lugs are connected and the watch does not have any spring bars, it is only possible to install one-piece straps. Those straps can be simply pulled out and in again. If you want to know, how you install a NATO band on your Tudor watch read our article All you need to know about NATO straps.
---
Conclusion
The Tudor FXD is a remarkable light-weight titanium diver that's well-suited for hobby adventurers and professionals alike. Its high-performance features, durable design, and customizable strap options make it a watch that can be tailored to fit your individual style and needs. The solid lugs and bars make this watch staying super safe on your wrist, as no spring-bar can possibly fail. If you're looking for a timepiece that can keep up with your active lifestyle, then the FXD is definitely worth considering.
---
Note of thanks
Photos were taken by our brand ambassadors @timepieceswede – Thank you for the awesome pictures of our straps on your Tudor!
–
Please note: Any watches pictured in this blog post are for illustration purposes only and the watches are not included in our strap offers. Straps may vary slightly from those pictured.