The most famous watch model of the Swiss brand Omega is, with no doubt, the Omega Speedmaster Professional. Besides that the fictitious character James Bond led the Omega Seamaster to fame, the Omega Speedmaster Professional was on the wrist of real Astronauts and made it to the moon! That's why the watch also has the nickname "Moonwatch". When Buzz Aldrin stepped on the lunar surface in 1969, he was wearing a Speedmaster Professional, the chronograph that has been known as the Moonwatch ever since.
But there is one more nickname for the Omega Speedmaster and its "strap monster". Why such an unusual nickname? Because it looks good on almost every strap you put it on! With its black and white dial, narrow bezel, and fine printing, the Moonwatch is a very versatile and casual watch. The Omega Speedmaster comes with a steel bracelet, a re-creation of the velcro-fastener-strap that Apollo astronauts wore in space, and a classic black NATO-Strap. Will you wear your Omega Speedmaster on a bracelet or strap? If you want to give your Speedy the perfect look for every day and every occasion, we have collected some strap recommendations for you in our Omega Speedmaster Professional Strap Guide:
The Classic: NATO Strap (1.4mm)
The classic NATO-band is the most known- and probably most worn strap combination for the Omega Speedmaster Professional. The NATO strap is the easiest- and fastest way, to give your Speedy a new look within seconds because the spring bars don't need to be removed during the strap change. Omega offers a wide range of NATO straps themselves, but for the price of 1 NATO strap with an Omega branded buckle, you could get 5 classic WB Original NATO bands. Our NATO band quality is on the same premium level and our brushed or polished stainless steel buckle and elements match the case finish of the Omega Speedmaster perfectly.
The Premium: NATO Strap (1.2mm)
We also offer Premium NATO-Straps with polished clasps – We call them premium because they're thinner (1.2mm instead of 1.4mm) and finer woven than classic NATO bands. The touch of the strap is much softer,  comfortable, and doesn't sit so high on your wrist, so it gives a more premium feel. If you want to learn more about NATO bands, make sure to check out our Blog-post: All you need to know about NATO-Straps! If you want to check more Omega Speedmaster Professional strap combinations, go on reading!
WRISTPORN™ NATO strap: F**k 'em if they can't take a joke
In celebration of hashtag number 3 million on Instagram, the well-known media platform WRISTPORN™ has partnered up with WatchBandit to bring this high-quality premium NATO straps to life, which has a WRISTPORN™ branding on the brushed 316L stainless steel elements. Hidden on the inside of the buckle is the famous saying "fuck 'em if they can't take a joke" engraved, a general catchphrase meaning "who cares?" or "get over it". Join the #wristporn movement with our Black/Grey Premium Nato Strap Trilogy today!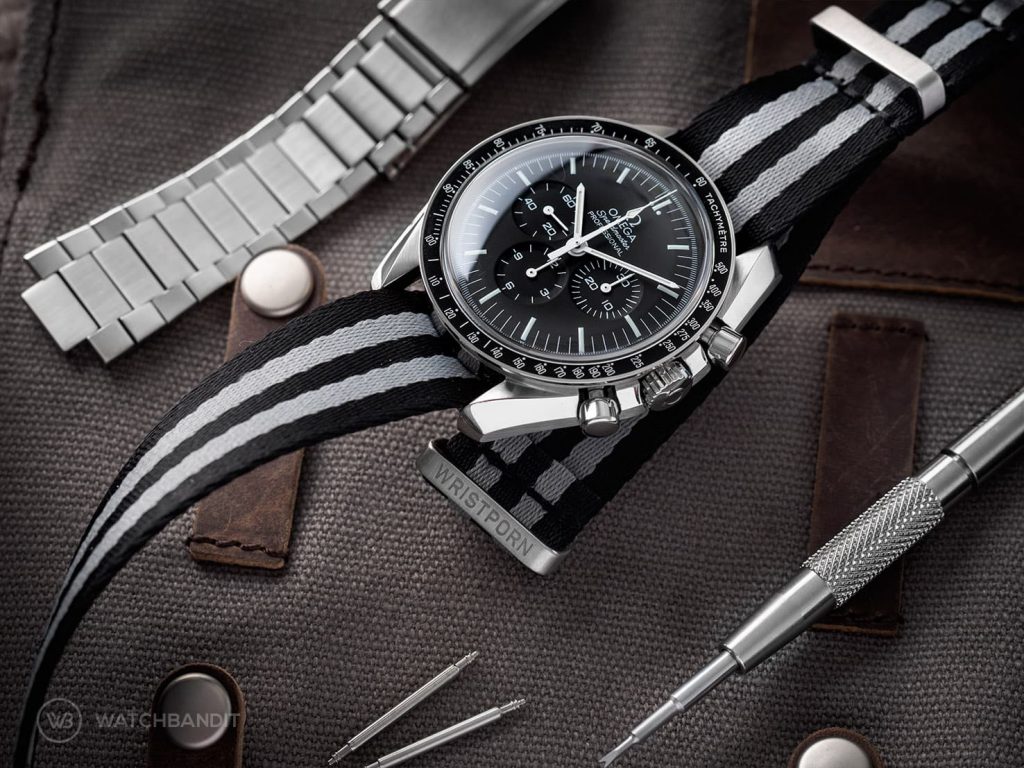 The Explorer: Canvas Strap
A Canvas Strap gives your Omega Speedmaster a more military touch and feel, especially in green and khaki. Our WatchBandit Original Canvas bands are made from high quality and durable cotton (90%) and viscose (10%). Our Canvas watch band can be perfectly adjusted, even for big wrists, due its 10 adjustment holes. With an 18 cm / 7 inch wrist, you're in the 5th hole of the strap when the watch is on your wrist. Most canvas straps have a layer of leather on the inside of the watch band, but we have renounced it because leather won't last as long as canvas, when it's exposed to sweat and water. Still, you better shouldn't go swimming or diving with your Omega Speedmaster 😉
The Modern Explorer: Sailcloth Strap
The WB Original Sailcloth Strap is a little similar to the Canvas Strap, but it's made of extremely durable Cordura® Nylon. It is a little thicker and has an inner layer of genuine black leather, to raise the comfort. The Sailcloth watch strap is a little stiff in the beginning, due to the very durable special nylon, but after a gentle massage and some time wearing, it will merge with your wrist. The Sailcloth watch band has 8 adjustment holes for your perfect fit. The buckle is made from 316L stainless steel and has a brushed finish, with a WB engraving. Stand out from the crowd with our WB Original Sailcloth Straps.
The Classy: Classic Suede Strap
The WB Original Classic Suede Strap has casual and fine side stitching in strap color. Like all our leather straps they are carefully hand-made in Italy, made from genuine Tuscan leather, which goes well with the as well by  hand assembled Omega Speedmaster. It brings out the best classy casual look on your Speedy
The Casual: Suede Strap
You like to wear boots, jeans and checked shirts? Then your Omega Speedmaster needs to be worn on a Suede Strap. It's not only very soft and comfortable, but it also provides the perfect casual look. Our WB Original suede leather watch bands are handmade in Italy, with genuine leather from Tuscany, and are naturally tanned. As the whole process is handmade, each strap is unique. This suede watch band will bring out the best look for your watch and age well with time.
The Elegant: Vintage Leather Strap
The "Moonwatch" is a chronograph made for space, but it can be very classy too. You can turn it into a dress watch easily with a Vintage Leather Strap easily and can make it match your shoes and belt, which you're wearing to your suit. Our vintage leather band not too sporty and yet not too elegant – it's just perfect from Monday to Friday and after you can go explore your backyard with your speedy on a Canvas- or NATO Strap.
Elegant & Casual: Textured Calfskin Leather Strap
Which strap size does my Omega Speedmaster need?
The Omega Speedmaster lug width is 20 mm (19 mm for Speedmasters made before 1966 and 18 mm for "reduced" models), which is the most common lug width. More about how to find out which band size your watch needs here.
How do I change the bracelet or strap on my Omega?
To change the bracelet of your Omega watch, you'll need a spring bar tool with a special 1 mm fork, that fits in the openings of the bracelet, for example, the Bergeon 6767 spring bar tool. If you want to know, how you install a NATO band on your Omega watch read our article All you need to know about NATO straps.
Video Review
Note of thanks
Photos were taken by our brand ambassadors @gulenissen, @rolopalooza @swisswristshots @watchddicted, @taf_watches, @timepieceswede and @watchstylo Thank you for the awesome pictures of our straps on your Omega!
–
Please note: Any watches pictured in this blog post are for illustration purposes only and the watches are not included in our strap offers. Straps may vary slightly from those pictured.