The lug width or lug size of a watch describes the space between the two lugs of a watch case. Between the lugs, the strap is fitted to the watch case with the help of spring bars. Single pieced Perlon- or NATO- and Single-Pass-NATO Straps are just pulled through the lugs and don't have spring bars inside them; Nevertheless, they need to fit through the lugs and spring bars to hold on the watch on the wrist. The most common lug width is 20 mm, but they can range from 16 mm to 24 mm. Some vintage- or ladies watches have even smaller lug widths.
When you want to buy one of our watch bands you need to know, which strap size you should select for your watch. Your watch can look bad with a too small or too big watch strap. The correct fit of the strap is very important. In the following article, we like to show you how to determine the correct strap and lug size of your wristwatch.
Measuring the correct strap size and lug width for your watch
Check your old strap
If your watch has a leather strap already, you can just check the size of your old strap and measure the width of it between the watch lugs. Most leather straps have an imprinted number which stands for the lug width/strap size.
The imprinted "18" stands for a strap width of 18mm between the watch lugs.
Measure your watch
In some cases, the watch strap doesn't offer you information about its size. Then you can just take the old strap and hold it to a ruler, or measure the watch itself. This way you can easily measure the lug width by yourself and select the correct band size for your watch.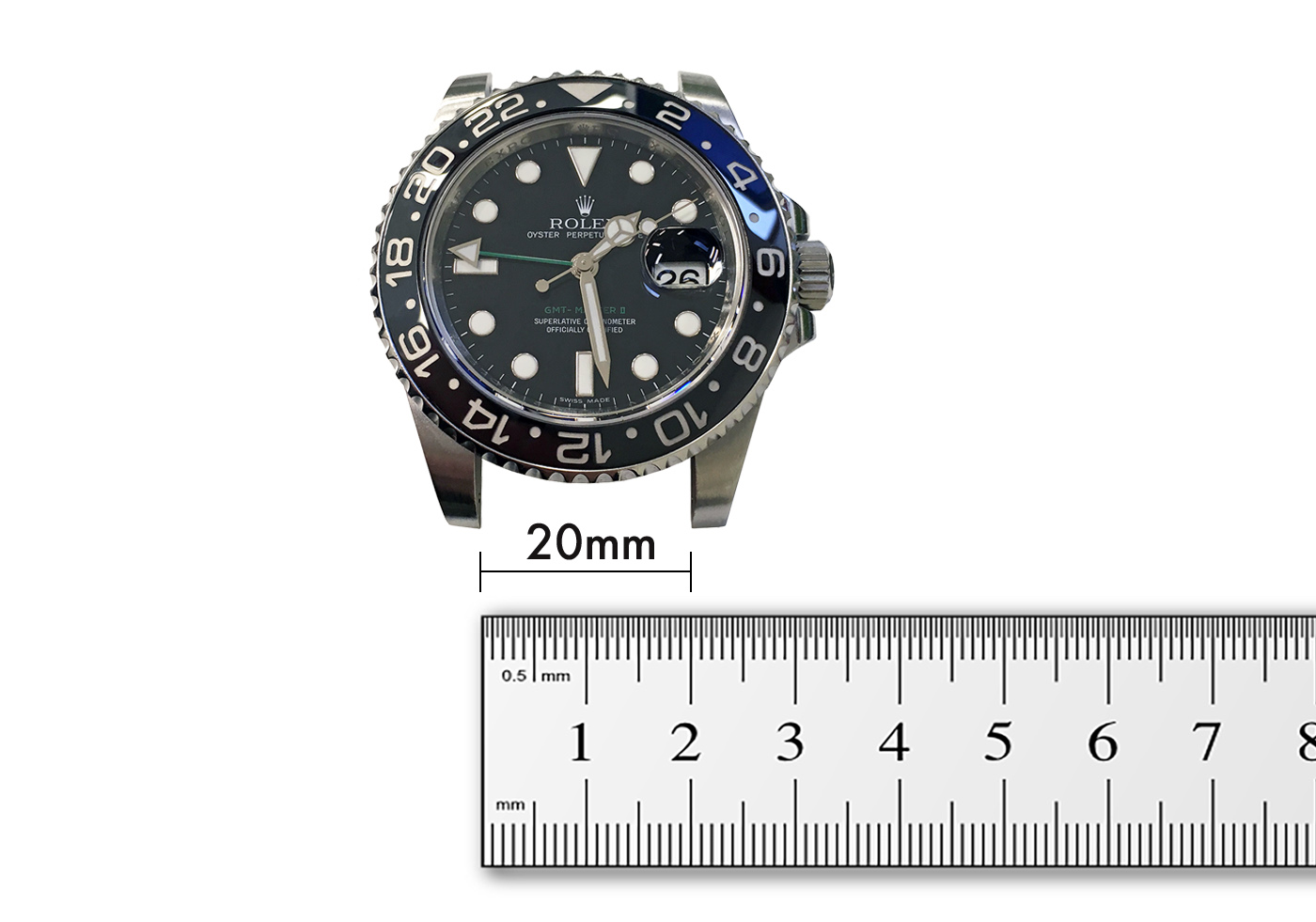 The lug width of the Rolex GMT Master II 116710LN is 20mm
Check in the world wide web
The homepage of the manufacturer of your watch may offer details about the lug width of your watch model. If you can't even find it there, then you can check the watch database called WatchBase.  There you can check the lug width and other interesting details of your watch.
Ask us!
And if all of the mentioned methods don't work for you, you can always contact us via email or DM us on Instagram. We are happy to help you to choose the right strap with the correct size for your watch!