Louis Erard is a Swiss brand of which you might haven't heard much yet, but which you definitely should know: A watch manufacturer that focuses on creating original and authentic Swiss watches, with strong horological content while embodying today's essential call for affordability, instead of focusing on big marketing. A true Made in Switzerland – value proposition. Their latest watchmaking and design are dedicated to the sports spirit, that is embodied in the new Louis Erard La Sportive timepieces. This new Swiss chronograph stands for the ultimate proposition for anyone who wants it all in a chronograph watch: precision, reliability, readability, technical achievement, elegance, and exclusiveness.
Let's begin with the materials
The new watches come with a smoked neo-vintage dial, extra-domed sapphire crystal, a ceramic bezel, and a grade 5 titanium– or bronze case. Grade 5 titanium is the material of predilection in the most demanding fields of application: aeronautics, medicine, and sports. Wherever there is a pursuit of an optimal rapport between lightness and solidity and between comfort and durability; and the need for resistance against shocks, chemicals, and corrosion. 30% harder and 60% lighter than steel, it is both an allergic and anti-magnetic. And let us mention its aesthetic qualities, emphasized by the contrast between satin-finished and polished surfaces. But few watchmaking brands seek to attain this level of excellence.
Bronze also offers flawless resistance to wear, but it has the particularity of oxidizing and taking on a patina that brings a unique character to each watch, imprinting the surface of each one with the memories of irreplaceable moments in life.

"A Love of craftmanship in
the finest Swiss tradition could 
well be louis erard's motto. 
Or perhaps, quite simply, excellence." 
Alain Spinedi, Director of Louis Erard


The watch cases are topped with an extra-domed sapphire glass coated with an anti-reflective treatment, emphasizing the neo-vintage character of the smoked dials available in four shades: earth, fir trees, sky and mist, four hues that evoke the Jura, the birthplace of Louis Erard. The brown and green versions are nestled in bronze cases. The blue and black versions are coordinated with grade 5 titanium.
All the timepieces are equipped with an insert bezel featuring a tachymeter crafted in fade-resistant, scratch-resistant black ceramic to match the black minute, hours, and small seconds counters.
Movement: Swiss Valjoux 7750
Technically speaking, each one is driven by a Swiss Valjoux 7750 caliber, the most tried-and-true movement of all traditional Swiss chronograph watches. The back of the watch is transparent, revealing the inner movement and self-rewinding weight, which have been redesigned and skeletonized in a resolutely sporty spirit.
The space between the lugs has been slightly enlarged, reinforcing the contemporary character of these watches. The straps are crafted in vintage calfskin and topped with a new clasp, an innovative titanium folding buckle that does not require the leather to be punctured.
A unique concentration of technical and aesthetic advantages for prices that are just as competitive: CHF 2,950 for the bronze version and CHF 3,250 for the grade 5 titanium version. Take a closer look at the La Sportive collection here.
History of Louis Erard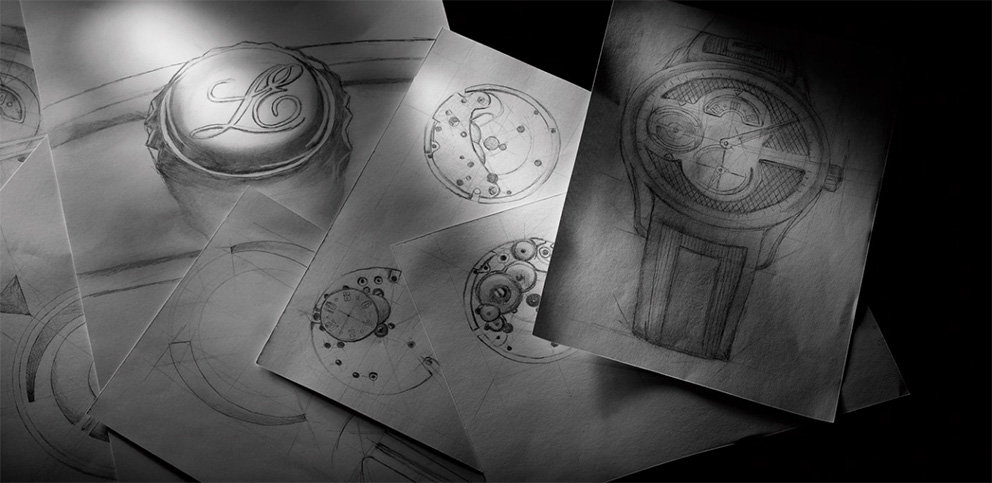 The Swiss watch manufacturer Louis Erard is based in the Swiss Jura, the heart of the Watch Valley, in the city of Le Noirmont. In 1929 Louis Erard founded a watchmaking school and a casing company "Louis Erard & André Perret" in La Chaux‑de‑Fonds (Neuchâtel, Switzerland), which started the production of the first watches under the Louis Erard brand in 1931. In 1956 the watch manufacturer obtains authorization to manufacture its own movements, which is a huge privilege exclusively reserved for the top players.
After decades of silence, the brand is purchased by private investors in 2003; it is ready for the relaunch of Swiss watchmaking. After more than 200.000 produced watches, Louis Erard is writing the next chapter of the brand's story and stands out from the competition once again today. Inspired by high-end watchmaking, the brand is strengthening its collection of mechanical timepieces believes that great brands aren't just about big marketing campaigns and huge production capacities, but about passion, dedication, and transparency too. They focus on their timepieces to reach unmatched levels of quality, content and finish in their price category.