The crew over at WatchBandit were also sweet enough to send some suede straps my way. The WB Original Suede, that is in Navy Blue and Rusty Brown, and despite the blue being the natural choice for my Nomos Club Campus (you know, the 38,5 version with the orange and blue accent colors that scream out quirky prep and laid-back days in a hammock out in Amagansett) it was the honey-esque color of the latter that had me put my hands up in a mental "Eureka".
Which is totally natural, for a dude with a slight obsession with picture-perfect 60-70s aesthetics (who watches Tom Ford's A Single Man in an almost religious fashion), as the coloring along with the thick, smooth leather provides a feeling of almost being back there – in the glory days of wicked shades, casual Oxford shirts, and cigarettes that were not yet harmful (that's how it works, right?).
In fact, it gives a similar feeling to running in the Botanical Garden in Kuala Lumpur, where there is a steep slope of houses and paths where, I imagine, George Falconer himself could very well be found taking his Sunday stroll. Meaning I get to wear that feeling on my wrist, in a manner not unlike carrying a bottle of sand in one's pocket to keep summer close by.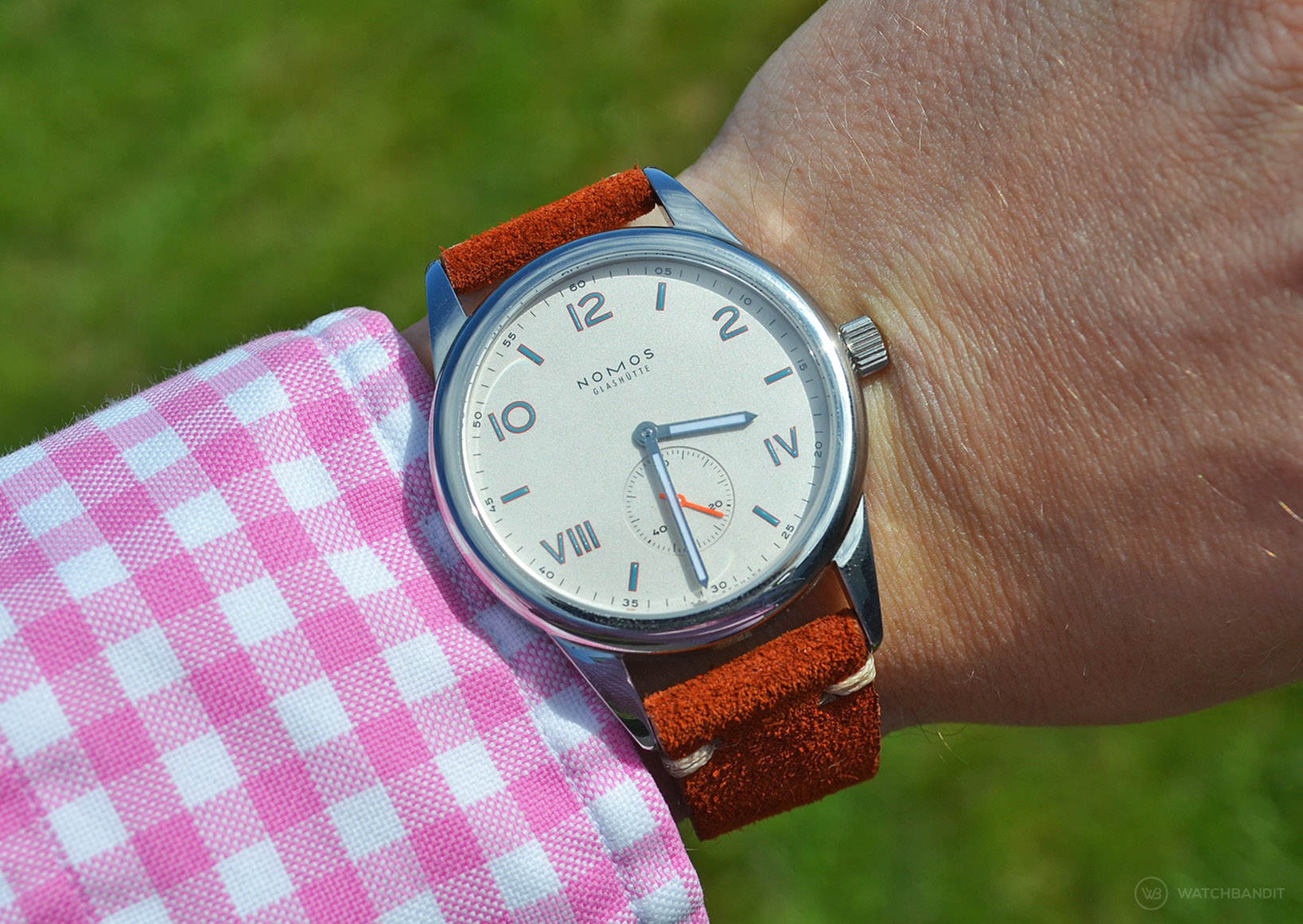 Are you imagining that feeling? Cool. Then let's dig into the physical characteristics
The material is naturally tanned and, as previously noted, extremely rich and thick (for a 39 euro strap, it's honestly pretty crazy), with contrasting, beige stitches and a polished buckle. In fact, the material is so thick that it's a bit hard to push the strap through the keeper, though this is a good "problem" to have and one that I (as the aforementioned I-prefer-my-denim-thicker-than-lard-and-harsher-than-the-winds-over-in-Winterfell type) actually see as a positive feature. Which isn't to say that it's an extreme thickness (about 2-2,5 mm) – in fact it's just right and speaks to the awesome quality of this here strap – but it's something to keep in mind and know going in.
Made in Italy, it measures 11,5 and 7,5 cm (as compared to the canvas strap at 12/7,5) and should fit a great variety of wrist sizes (if I had a bit of trouble with the tail on the canvas strap, this isn't something I experience here as a result of the slightly shorter length and thicker material). And, as the cherry on top, it isn't completely ruined by a bit of liquid – even if I wouldn't propose any singing-in-the-rain or free-diving-down-gnarly-depths with this guy.
How I know this, you may want to know? Well, changing straps, I accidently spilled a cup of coffee all over it. Figuring that it was long lost and would go the way of Jerry Seinfeld's suede jacket with the polka lining (ok last Seinfeld reference, I promise), I was super stoked when I noticed it had survived this adventure brilliantly, and that the coffee hadn't even left a mark. Which is not to say that I advise you to go all Dunkin'-Donuts on it, but at least it offers a hint of comfort knowing that a few drops of coffee won't hurt it in any substantial manner.
Cool? Cool. So let's then end this little review with the only downside I found
Namely the signed buckle, which, while not being bad in any way, doesn't really do this strap justice. Also, I'm not married to its 16 mm width, which is a bit too narrow for my taste – at least for the 20 mm strap I received and have used – as I find myself wishing for an 18 mm buckle that would look more symmetric.
That said, this width also applies to the 18 and 19 mm versions, where it would probably be just the right width, and at 39 euros a perfect buckle would make this strap, not a great find but a d*** steal. Meaning it's definitely not something I'd expect, and that the price leaves room to source a different buckle. That would probably cost more than the strap itself to satisfy my, somewhat peculiar, demands on buckles (I'm pretty demanding, there), but still.
Conclusion
So, in conclusion, this sweet little strap let me wear the 60s on my wrist, is of a quality that widely surpasses the price, and will probably look mad decent in the long run as well. Not to mention the most important test of it all – it did go through the coffee challenge and lived to tell about it. It's currently available on WatchBandit.com (in sizes of 18-22 mm depending on the color) they also have some mad sweet Eulit's, as well as a couple "micro" brand watches that have me stare at the screen with just a slight glaze on my eyeballs (looking at you Ocean Crawler).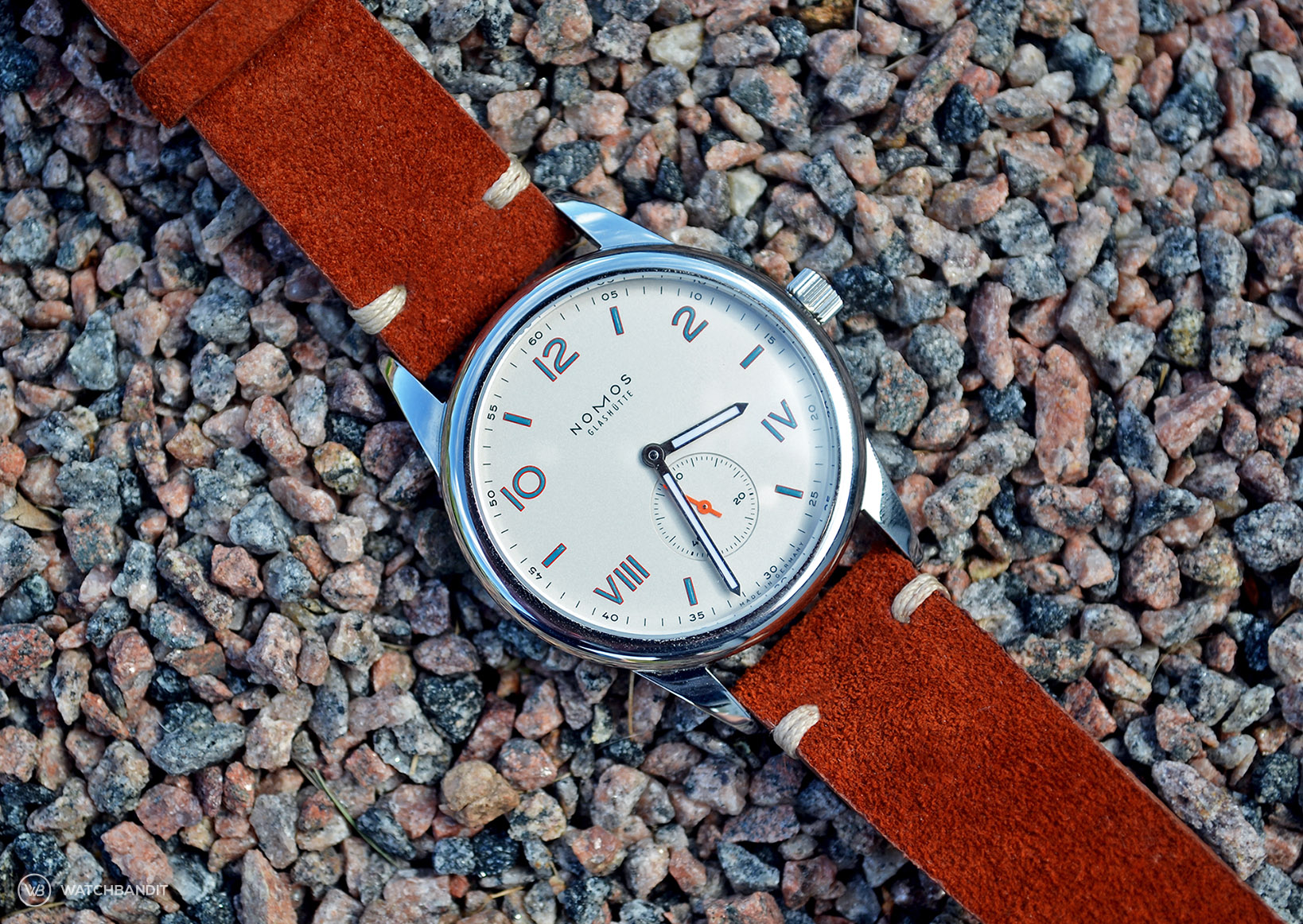 Disclaimer: These suede straps were given to me free of charge by WatchBandit. Other than the inherent bias that this sweet act creates, they did not direct/dictate what I wrote. So it's subjective, but transparently; Much like most of the things I write.
Thank you for reading!
Rasmus
About the author
Rasmus is a passionated writer and watch enthusiast. He posts his hilarious and yet profound reviews on medium.com/@themetaland and beautiful watch pictures on his Instagram account @themetalandthetwisted.