From 22.-24.03.2019 we have visited the famous watch fair in Basel, the "Baselworld – The World Watch and Jewellery Show". We would like to give you an impression about our visit and stay in Basel. Besides visiting brands like NOMOS Glashütte, H. Moser & Cie., Squale, Zeppelin and others, we met incredibly nice and interesting people, with whom we had one thing in common: The love for watches. The last day ended with a watch enthusiasts dinner, where a lot of great watch lovers were brought together. I tried to keep this blog as short as possible and we present you a mixture of wristshots and photography. First we'd like to give you a short introduction of the history of the Baselworld and whom we met at our arrival and during our stay. Then we present you novelties of the brands mentioned above and finish the post with a great series of photos of our watch enthusiast dinner. We hope you will have fun reading!
History of the fair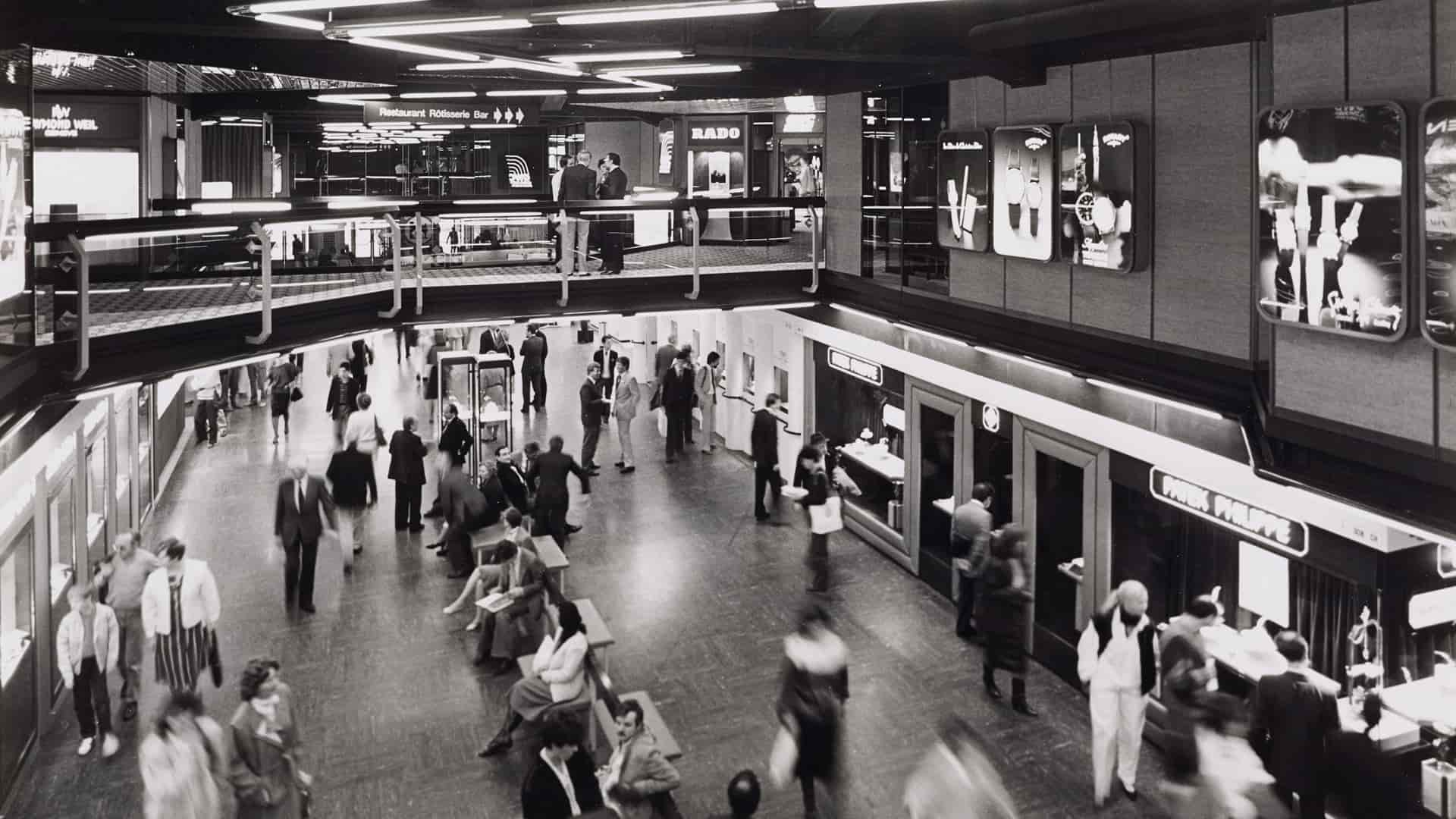 Baselworld 1986, Source: Baselworld
The history of the Baselworld reaches back to the foundation of the "Basel Mustermesse" (muba) in 1917. The fair presented what the Swiss industry had to offer and the Swiss jewellery industry was an important pillar of the Swiss economy at that time already. In the year 1931 this part of the fair had grown, so they were given their own pavillon which was called "Swiss Watch Fair". European manufacturers were invited to take part in the year 1973 for the first time.
Due this internationalization it was renamed to "BASEL". The year of independence of muba for BASEL was in 1984, where the trade show has taken place independently. In 1986, the fair opened it doors for global manufacturers, which also reflected in the new name the "Baselworld". This step forward into globalization made it the world's most important international show for watches and jewellery – a status it still enjoys today.
Arriving at Baselworld

Last year Nick Hayek, CEO of the Swatch Group, announced that none of its brands will take part at the Baselworld anymore. With eighteen individual brands and the multi-brand retail companies Tourbillon and Hour Passion, the Swatch Group is the world's largest watchmaking group. Of course you could feel the emptiness of Omega, Blancpain and other brands missing the fair. On the other hand, the new free space was used to set up a press area, where you could relax with some free drinks, snacks and high speed WiFi to upload all the wristshots.
Here, where the worlds most known watch bloggers band together in one place with some coffee and cake, we had great talks and greater wrist shots. The following pictures show some of them.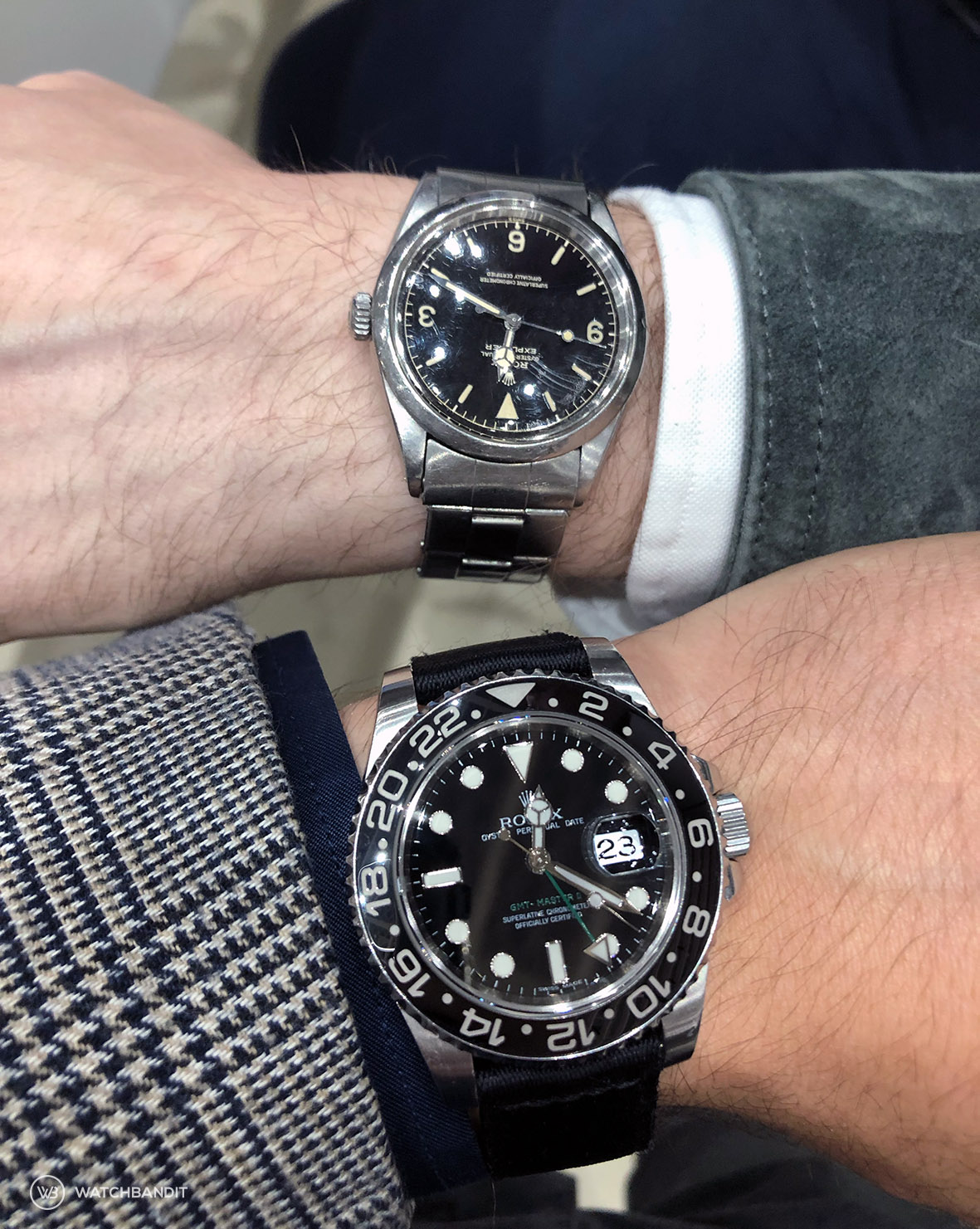 We met Stephen Pulvirent, managing editor and director of operations at the well known watch blog HODINKEE. While he was removing dust corns from his close up pictures in Photoshop (daily watch bloggers work), I interrupted him for a second to get a closer look on his personal vintage Rolex Explorer ref.: 1016 – what a grail vintage time piece! It was great meeting you and thanks for your time Stevie!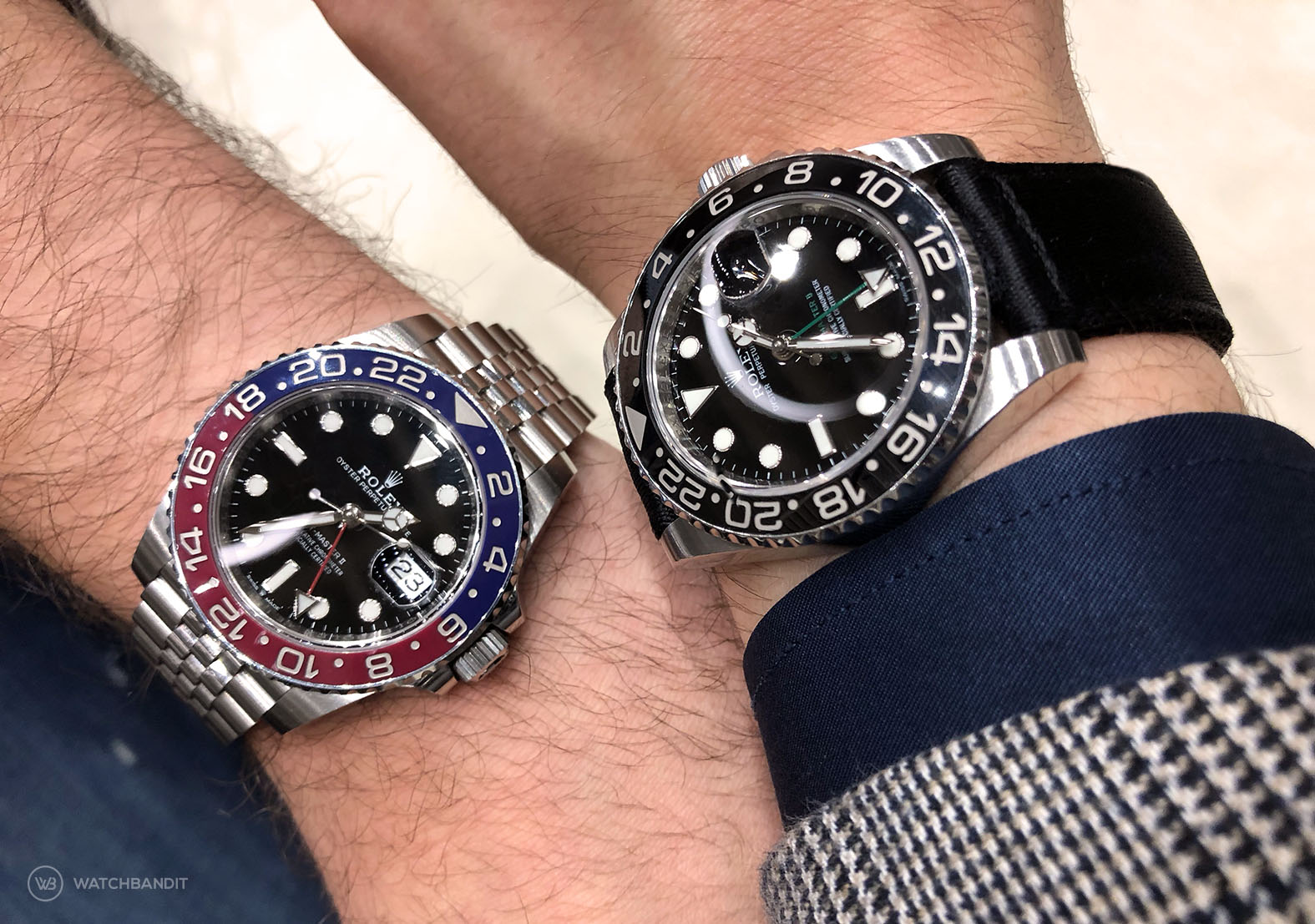 Later on we spotted Flo from Flomp89, editing his Videos and wearing his Rolex 126710BLRO "Pepsi" GMT-Master II – one of the most desired Rolex sport models at the moment. In this wristshot I added the now discontinued big brother; The Rolex 116710LN GMT-Master II, paired with our black WB-Originals two-piece NATO strap. It was great to meet you Flo and we're looking forward to more of your videos and reviews of our straps!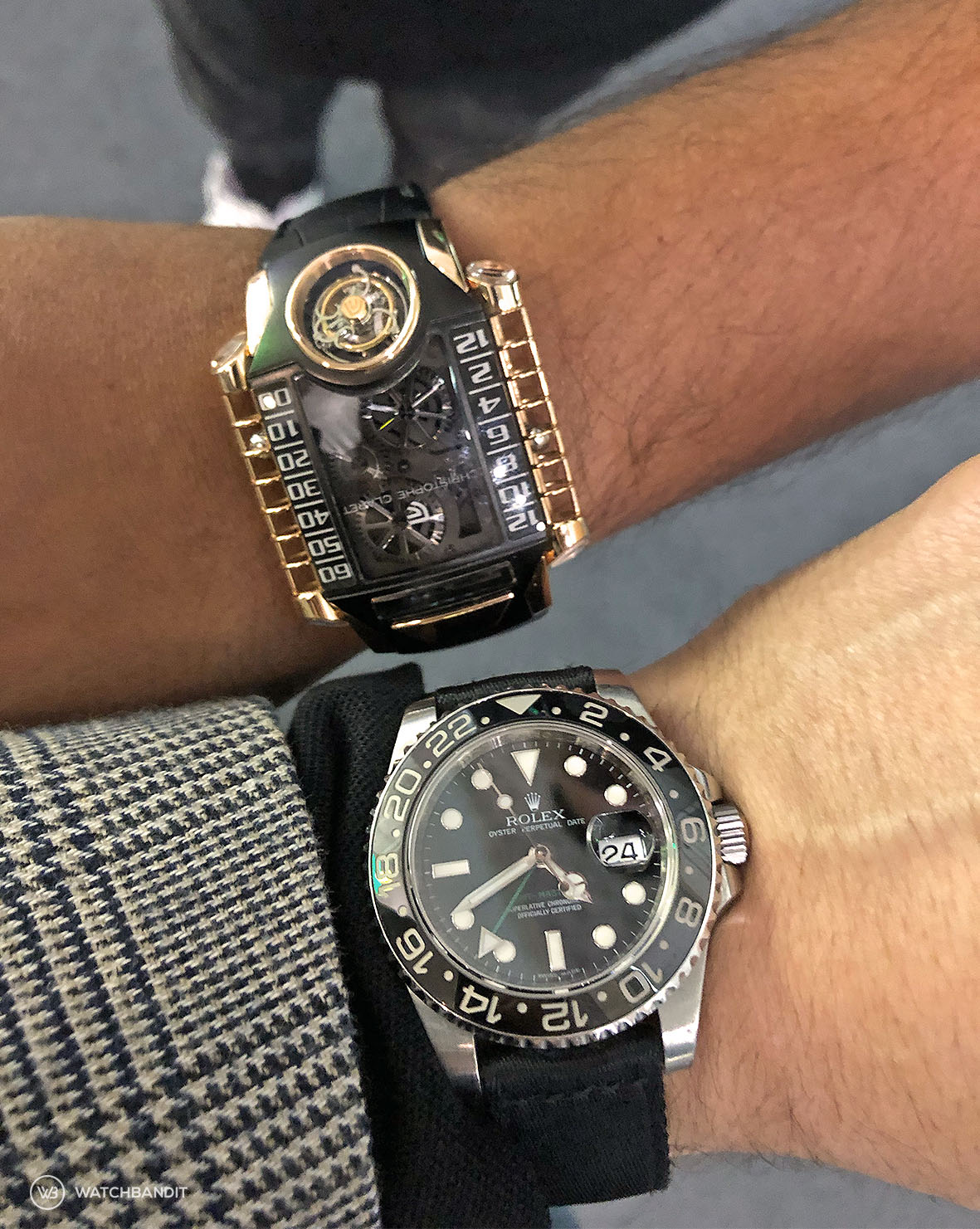 A great surprise for us was to spot Anish Bhatt from the famous blog Watch Anish. As he wasn't surrounded by media, I asked him for a quick wristshot with his stunning Christophe Claret Phenomenal Xtrem-1 and we had a little chat about the Baselworld. Suddenly some important looking guy in a suit literally jumped on Anish and pulled him away. I know that Anish is an asked and busy blogger, so I was ok with the interrupting and I just tried to at least wave him good bye, but then something really nice happened:
Anish ignored the guy for a moment, came to me, we shaked hands, introduced ourselves properly and said good bye. He could've just ignored me, some random guy from WatchBandits asking for a wristshot; But he didn't. That showed me something about Anish Bhatt: A guy with 1,7 million followers on Instagram, who runs an extremely successful luxury blog and gets spoon feed by models with caviar on SIHH wearing a million dollar Jacob & Co. Astronomia Tourbillon Baguette Watch, is a polite and down-to-earth guy in the end of the day. Thank you for your time, it was great to meet you Anish!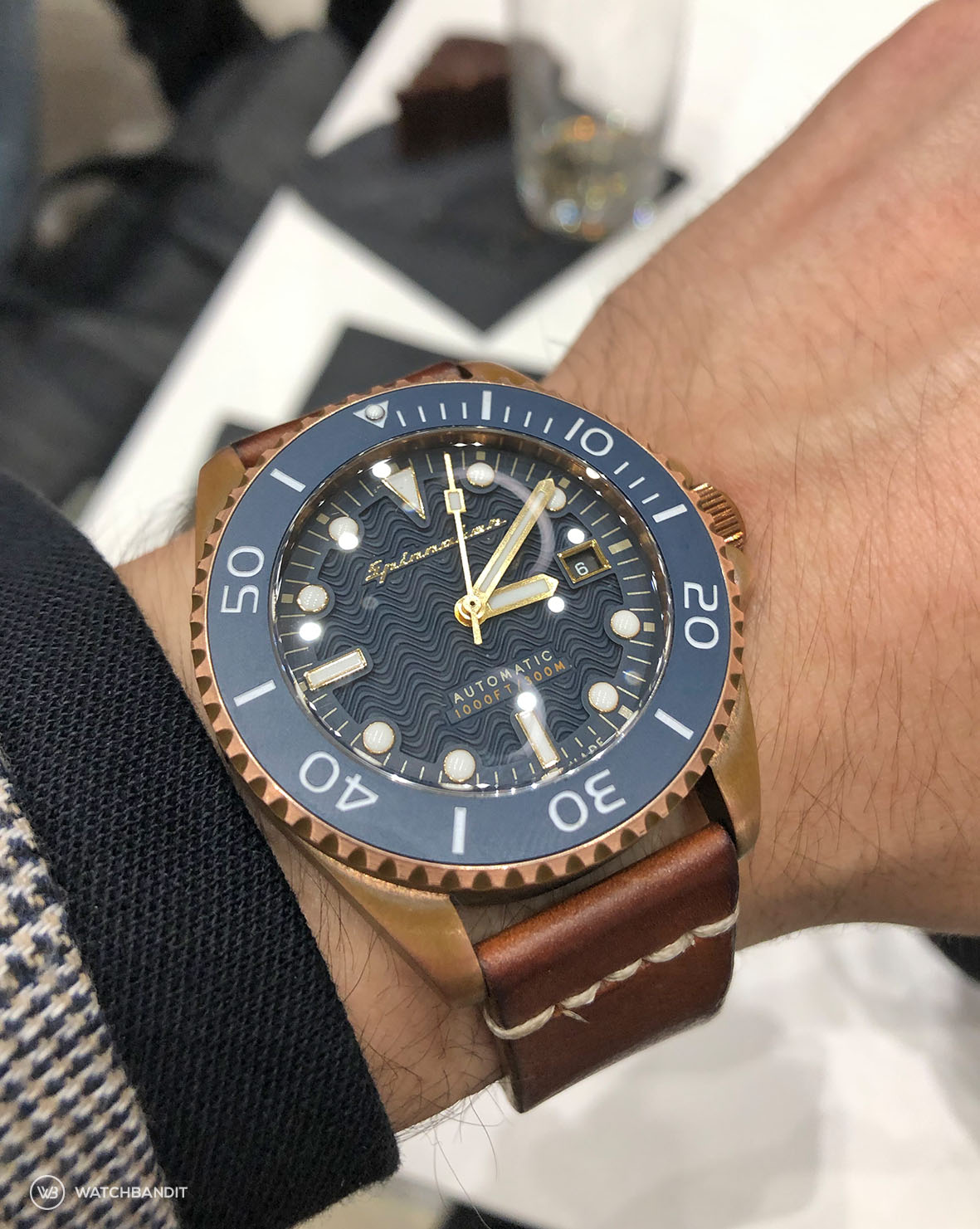 Then we met our friends from Wristrockers for a little coffee & cake break. We shared our thoughts on the current event and, of course, checked out our watches. I tried the Spinnaker Tesei SP-5060-03 with its nice bronze case, which was surprisingly comfortable to wear for a 43 mm watch. The watch has an overall great quality and the slight patina on the bronze case gives it a greater touch over time.
Between all our appointments, we met our dear friend Kristian Haagen and catched some sunlight. He's famous for his Haagen Bracelets and is a Passionate, nostalgic, Barbour-clad middle-aged watch collector, as he describes himself. Kristian is a cool, down to earth guy and true watch enthusiast, collecting the watches of his dreams. He took my GMT and felt in love with our WB Original two-piece NATO strap and as a fair deal, I stole his stunning Rolex GMT Master 1675 from the year 1975 for a moment. Later I tried on his Patek Philippe Aquanaut, which looked way better with his outfit than with mine. It was a pleasure to meet you Kristian, hope to see you again soon!
Visiting the NOMOS Glashütte booth
In the name of NomosWatchClub I had an official press appointment at NOMOS Glashütte. I had a great stay with the people from NOMOS and surprisingly, one of them ordered a strap from WatchBandit Originals lately – because NOMOS watches just go perfect with them. As it was a longer and more intense appointment, I'll write about it in detail in another blog post. Here we'd just like to give you a quick overview about the most important novelties.
The German brand from Glashütte came with two new model lines: The new Sport line, consisting of the Tangente Sport neomatik 42 Date (available with a white and black blue dial) and the Club Sport neomatik 42 Date (black dial). Furthermore they introduced a 33 mm womens watch line consisting of the Tangente, Ludwig, Orion and Tetra (all with a white dial, golden hands and velours leather strap).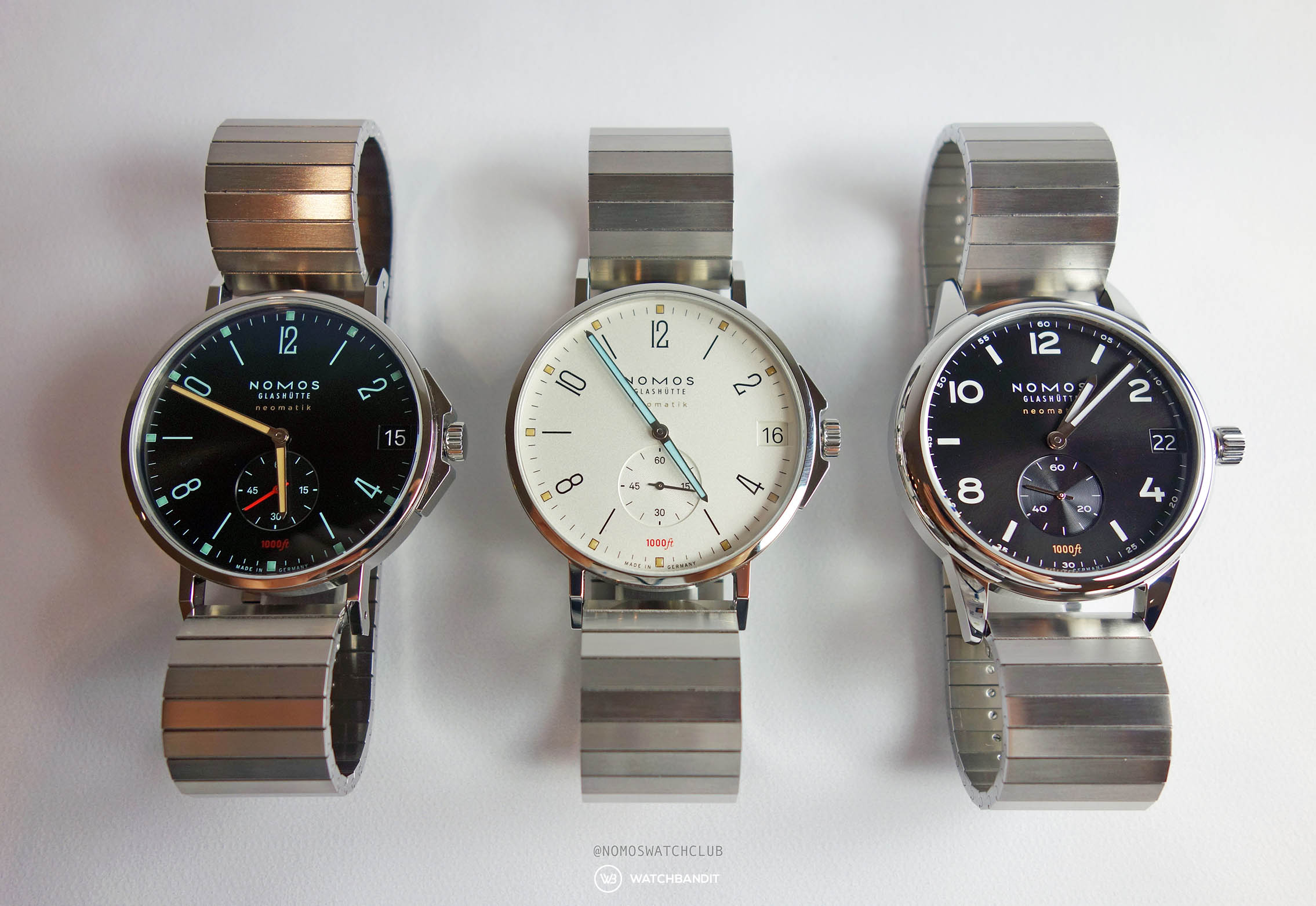 From left to right: Tangente Sport neomatik 42 Date black blue, -white dial and Club Sport neomatik 42 Date
But the highlight at NOMOS this year, was the introduction of their first stainless steel bracelet. A lot of NOMOS fans screamed for a stainless steel bracelet and finally the brand designed their own interpretation of a bracelet. As the brands image, it is minimalistic; 145 fine brushed stainless steel elements are screwed together and complimented by an in-house developed polished clasp. So far it's only available for the new sports models. On my Ahoi Atlantic Date I'm wearing our grey two-piece perlon strap, because I always loved the perlon strap on the previous Ahoi model. My watch is the updated Ahoi with the in-house DUW 5001 movement, which comes with a (as well good looking) NOMOS two-piece nato strap.
The new size of 42 mm is disappointing some of the NOMOS fans, or "purists", who like the classic tradition of smaller and minimalistic NOMOS watches. My personal perfect watch size is 40 mm, especially when it has a bezel and die dial is smaller anyways. So 42 mm didn't felt that much bigger, or wrong, when I tried the new models. Even though I'd consider 40 mm as my personal maximum size. The Ahoi, the new Tangente and Club neomatik Sport don't have a bezel. Besides that it's excluding them from being a true dive watch, it gives the watches a dial that almost spread over the whole diameter. This let the watch appear bigger than a similar sized watch with a bezel. Take a more depth look at the NOMOS visit at NomosWatchClub.com!
Join the NomosWatchClub Facebook group to see all the pictures I've made at the Nomos booth! Please don't forget to answer the entering questions.
Rolex novelties 2019
Baselworld without Omega, bad, but Baselworld without Rolex? Unimaginable! This year Rolex released a couple new models and the showcases at their booth were crowded: A white-gold Yacht-Master I with 42 mm diameter on Oysterflex bracelet ref. 226659, a yellow-gold bi-color Sea-Dweller ref. 126603, a new 36 mm Day-Date and 31 mm Datejust line. We dedicated our post to the new GMT Master II models.
The most discussed model was the new GMT Master II; It's the (kinda updated) 126710BLNR "Batman" with the new 3186 caliber and a Super-Jubilee bracelet. People went crazy and often really negative like "Rolex isn't innovative", "boring", "unimaginative", "uncreative", "same watch different bracelet". I was pretty annoyed of those voices, call me a Rolex fanboy (which I certainly am), but in my opinion people are sick of sensationalism.
They want a sensational new release, or a completely new model every year, but that's nothing you can expect from a giant like Rolex. This artificial shortage by Rolex increases the desire for their watches in the immeasurable. Even if they loose customers, who don't want to wait 5 years for their watch, but it seems that they can afford these few. In the end of the day, they may buy another watch and wait for their new Rolex still. The only thing which is worrying, is the behavior of grey market dealers. Prices of discontinued models go through the roof and suddenly, all of those dealers stockpile brand-new 126710BLNR on oysters and asking 100% over retail for them. Rolex should ensure somehow, that new watches don't end up like this. Because this is what honestly and patiently waiting people annoys the most.
H. Moser & Cie. – Make Swiss made great again
It was our first visit at H. Moser & Cie. and we did not get disappointed; Moser is famous for its original marketing and hilarious spots, but we should honor this with an own and more detailed blog post, because it would take too much space in this post. After launching the Swiss Mad Watch (which was made 100% Swiss, including a case made of hardened cheese (no joke)) and the Swiss Icons Watch (which was a mixture of all famous Swiss watch designs, that brought some companies blood to a boil), they introduced the Moser Nature Watch this year. This watch catched our attention on our way to sit down with Olivier – It was shown in such a nice way, the watch was lying on a stone and was growing out of the showcase. #MakeSwissMadeGreenAgain
The Moser Nature watch was made for a worthy cause; The protection of our environment. This watch actually "lives", not only by it's mechanism, there are plants living on this watch, which are native to Switzerland. The dial is made of natural stone and lichen, and the strap from grass, which is constantly growing.
In April this year, NASA presented the first picture of a black hole, which is groundbreaking for science. Well, we took a picture of it in March already: The Moser Venturer Concept Vantablack. This material literally sucks the light, but not with super massive gravity like a black hole. Vantablack is made of carbon coated nanotubes, which absorb 99.9% of virtually all incident light. Black is not black and Vantablack is a black of its own kind. You can see the difference with a black painted Rolex GMT dial besides the Moser Venturer Concept Vantablack. Furthermore it's a challenge for the watchmaker to service this watch, Olivier told me. The dial with its fine nano tubes can't be touched while disassembling the hands of the watch. Otherwise there is a risk, that the dial surface get's destroyed and the light absorbing effect is gone at this point.
Moser is already famous for it's beautiful shining fumé dials. In our picture you can clearly see three main types of dials: Matte (NOMOS Ahoi Atlantic), Sunburst (Rolex Datejust) and Fumé (Moser Endeavour perpetual calendar). Oliviers personal Endeavour perpetual calendar is beautifully minimalistic, which you can see in comparison to a NOMOS Ahoi. The Moser perpetual calendar is way more complex than the NOMOS, but it's not screaming it. Besides the Moser typical big date window, the month is indicated just by a tiny hand. Thanks to the Moser Flash Calendar system, the date change happens instantaneously at midnight. Perpetual calendar movements are usually very sensitive in terms of adjusting. At the Endeavour perpetual calendar the time can be adjusted forwards or backwards at any moment, without any risk to damage the movement.
Squale watches
We had a great time visiting Squale watches, one of our favorite micro brands. They introduced their new collection of dive watches, with new bronze and carbon-glass-fiber cases. The greatest surprise was that the salesman was not only a Squale, but also a true WatchBandit fan! In the gallery below you will find a picture of him wearing our WB Original black/orange NATO strap on his Squale squalematic 60 atm. It was a perfect match with the watches details!
The new Squale 1521 Bronzo features a 42 mm marine bronze case and stunning sunburst dial. As the name may suggest, marine bronze is widely used in the maritime sector, because of its resistence against the harsh environmental influences on the sea. It is water resistant up to 500 meters / 50 atm and is driven by a Swiss made ETA 2824 automatic caliber. There are two available versions, one with a blue and with a green sunburst finish dial and ceramic bezel, each with a leather strap. In the picture above, we combined the blue dial 1521 Bronzo with our WB Original midnight blue vintage leather strap; A perfect match! Did you notice another little detail? The date window is at the 2 o`clock position, a rather unusual but yet unique position for the date window.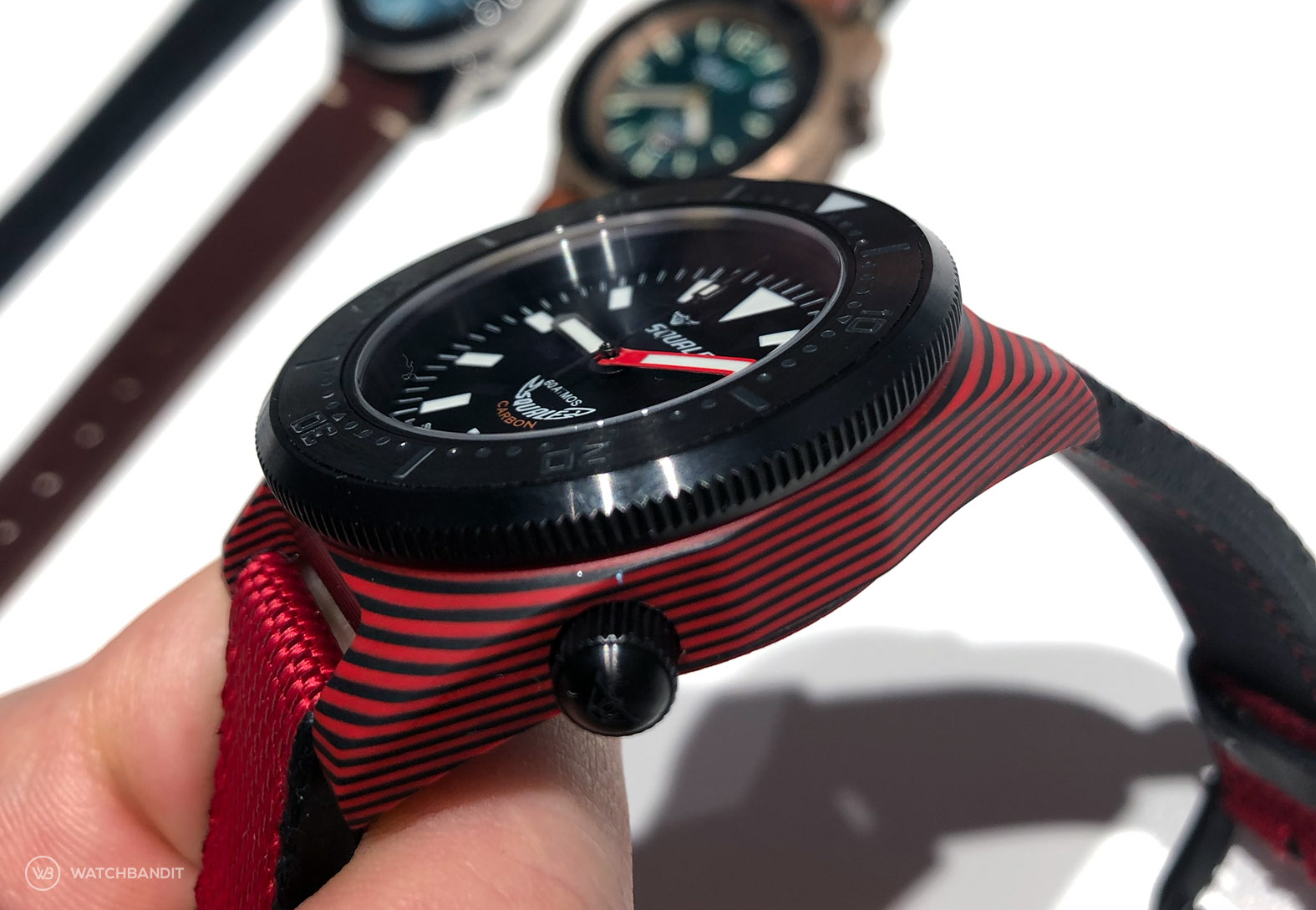 The new Squale T183 features a very unique and impressive case: It's made of carbon fiber (black version) or carbon fiber layered with fiber glass (red and blue version). The T183 is built to be extremely resistant. This is supported by a scratch resistant ceramic bezel, that features a SuperLuminva at 12 o'clock. Even the strap is made out of a special ballistic synthetic material, which is used in bullet proof vests. On top of that, it features a 600 meters / 60 atm water resistance. It's a really cool, robust and light new release by Squale, that will find it fans for sure.
Zeppelin Watches – Flieger made in Germany
The famous Zeppelin logo was an eye catcher for us, because of its widely known pilots chronographs. We asked for a spontaneous appointment, which was luckily granted to us for the afternoon. We had a pleasant stay at the Zeppelin booth, which also housed the brands Junkers, Iron Annie and Rosenthal and we received an interesting insight to Zeppelin watches. For more than 30 years it belongs to the POINTtec electronic GmbH, which is a medium-sized company that is still independent and owner-managed. This independence provides them with the necessary decision-making autonomy and flexibility. We could feel, that the management of Zeppelin is serious about every detail in their watches during the presentation of the latest automatic watch models.
The famous zeppelin is an icon of aviation. Ferdinand Graf von Zeppelin was a German pioneer of aeronautics and constructed  the world's first steerable rigid airship "LZ 1" in the year 1900. Today Zeppelin watches stand for iconic pilots watches, continuing to use the "LZ" model designations. They revive the elegant, classic style in retro design, with roundish watch cases, domed and delicately drawn dials made in Germany. They remind of the elegance in zivil airship aviation of the early 20th century and bring its heritage on the wrist of tradition-conscious watch lovers.
Watch enthusiasts dinner
The watch enthusiasts dinner was organized by our dear friend, passionated watchmaker and HaagenBracelets lover Olivier. Besides the love for watches, we all had one important thing in common: Almost everyone of us knew Olivier through Instagram. I guess that besides for cat videos, Instagram is the most important social media platform for us watch lovers nowadays and it brings people together.

Now there were about 20 watch enthusiasts in a restaurant, wildly mixed in age, profession and origin and yet everyone was on the same level: Bent over a watch, smiling, talking. It was so great to see, how the love and passion for watches connects people. One of them was Giacomo Travaglione, a young student, watch lover and photograph (gtphoto.ch – gtphoto on Instagram) who made the following great shots of this evening.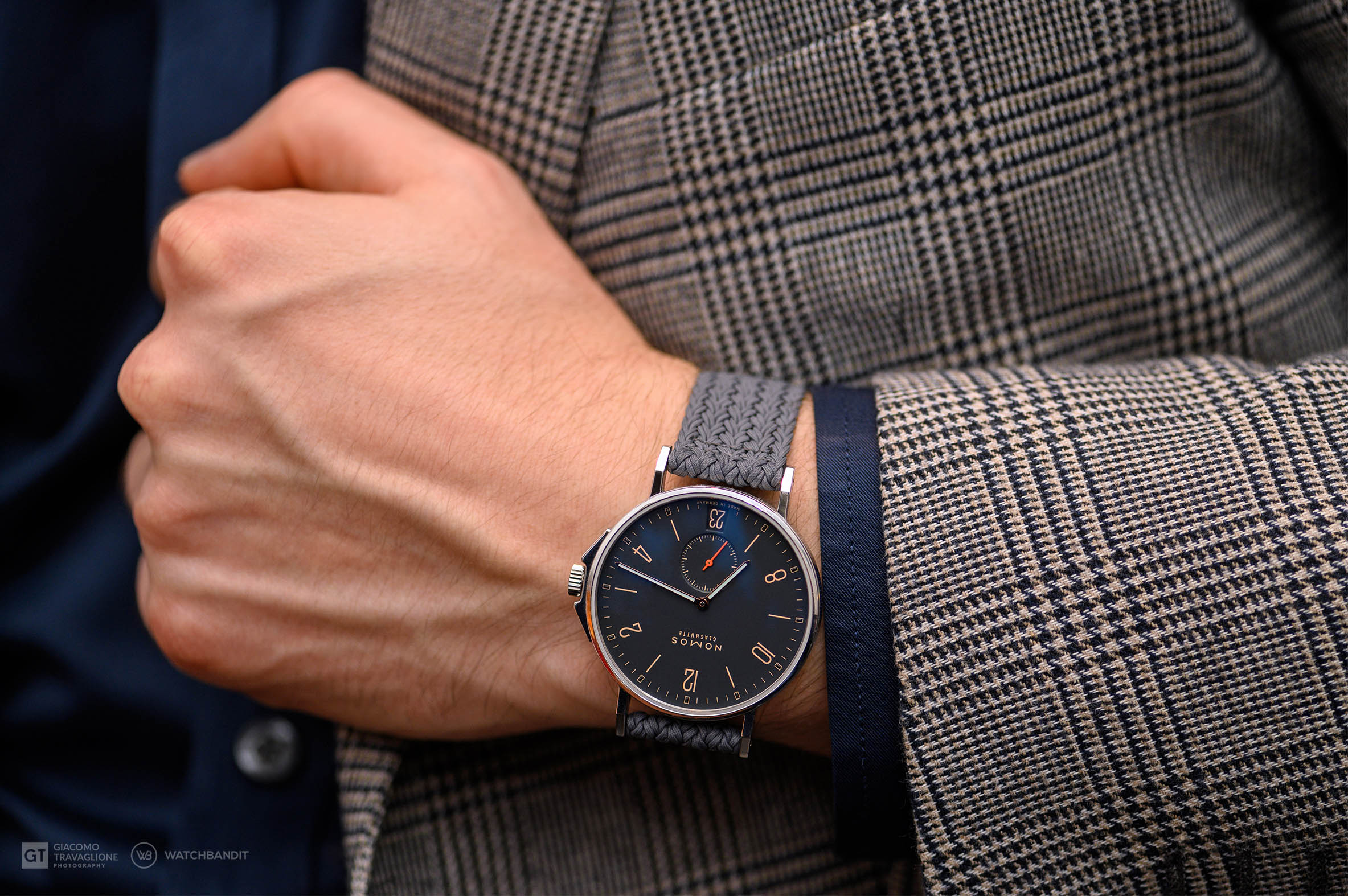 Watch enthusiasts dinner participants Instagram pages: @gtphoto.ch, @0liiviier, @gmtfanatic, @jacopo_corvo, @blckcb, @nomoswatchclub, @piadechef, @henn_adam_watches, @sir_stalter, @jandegriff
Thank you for reading!
Share your thoughts on the Baselworld 2019 novelties and this blog post in the comments!