The Marathon 41mm Arctic Edition Large Diver's Automatic, commonly known as the Government Search and Rescue (GSAR) watch, has a rich history and a dedicated following among warfighters and watch collectors. In this review, we'll dive into the details of this iconic timepiece and uncover what makes it a must-have for those who demand precision, durability, and a touch of military heritage in their wrist wear.
A Legacy of Excellence
The Marathon GSAR watch is part of Marathon Search and Rescue (SAR) Class of timepieces, which are trusted by search and rescue teams and military personnel around the world. Its storied history dates back to its introduction as the first watch of its kind in the mid-1980s. Over the years, it has earned a reputation for ruggedness and reliability, making it a go-to choice for those facing the harshest conditions.
Marathon 41MM Arctic Edition Diver's Automatic (GSAR) on the wrist
The Marathon Arctic Edition 41MM fits exceptionally well on my wrist, which measures 7 inches (18cm) in circumference. With a case diameter of 41mm, it strikes the perfect balance between size and comfort. Although the watch has a case height of 14mm and looks bulky, it doesn't feel bulky. In fact, its slight elevation adds to its cool and military-inspired design.
The extra height of the case serves a crucial purpose – accommodating the tritium tubes that provide the watch's luminescence. These tubes require enough space to ensure that the hands of the watch don't touch each other and compromise legibility. It's a thoughtful design feature that contributes to the watch's overall functionality and distinct military style.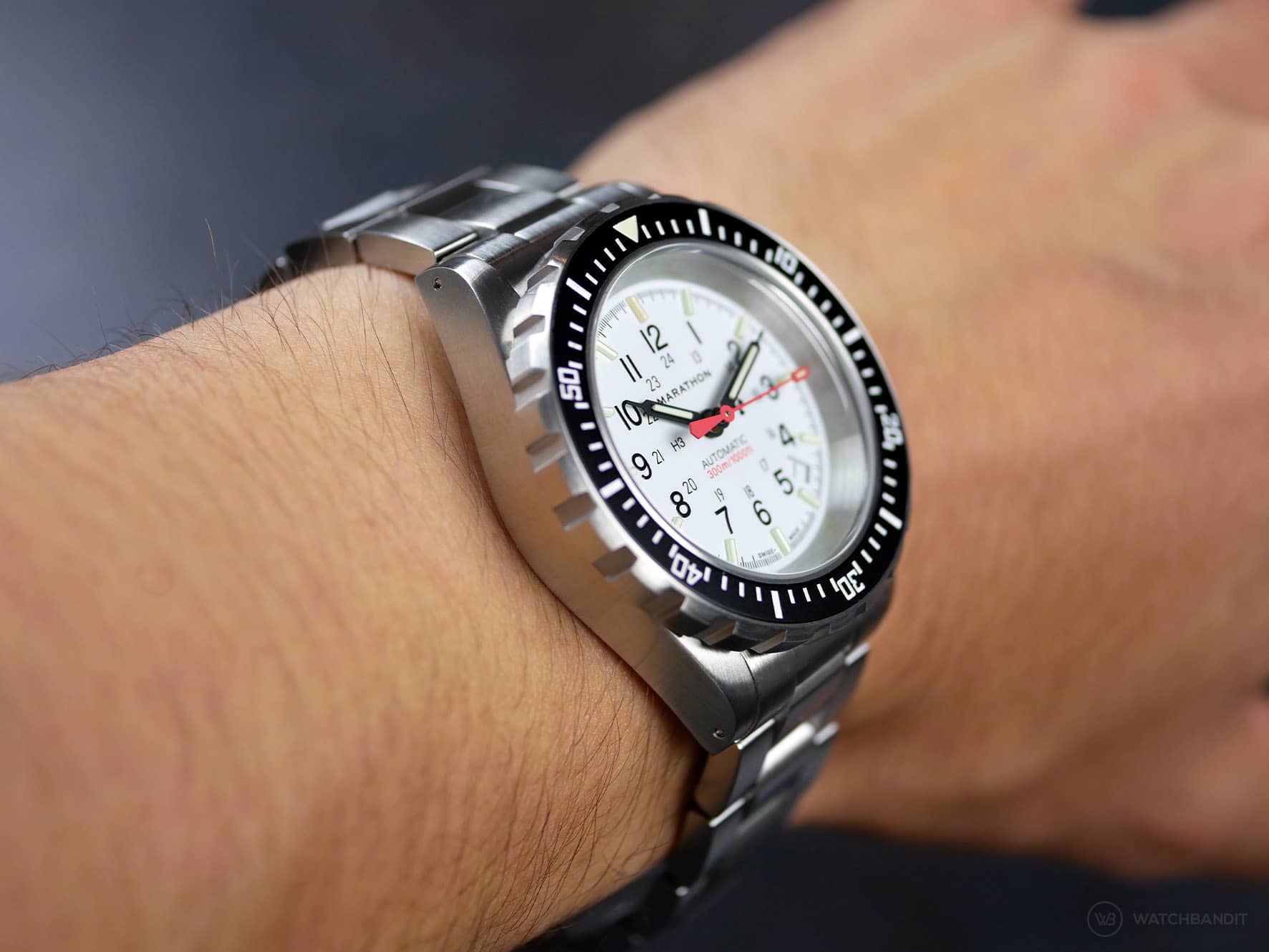 Exceptional Build Quality
One of the standout features of the GSAR (Government Search and Rescue) watch is its exceptional build quality. Crafted with meticulous attention to detail, this timepiece is designed to withstand extreme environments. It boasts a stainless steel case with a brushed finish, ensuring both durability and a timeless aesthetic. The 41mm case size strikes a perfect balance, making it suitable for a wide range of wrist sizes.
True to its name, the GSAR watch is built for aquatic adventures. With an impressive water resistance of 30 ATM (300 meters/1,000 feet), it can accompany divers on sea rescue mussions with confidence. The screw-down crown and case back provide an extra layer of protection against water ingress.
Illumination for Any Situation
When it comes to luminescence, the Marathon Arctic Edition 41MM doesn't rely on the typical Super-LumiNova or other traditional lume materials. Instead, it employs Tritium Gas Tubes, which offer a unique glow that may not be as intense as one might initially expect.
Tritium gas tubes, a secure and everlasting luminescent material, provide a distinctive and permanent luminescence that is particularly well-suited for low-light conditions. Unlike other luminescent materials that require external light sources to charge, tritium gas undergoes a natural aging process, emitting electrons that charge the accompanying phosphorescent material. This self-sustaining mechanism ensures a perpetual and dependable glow, making it the perfect choice for reliable timekeeping in various lighting conditions.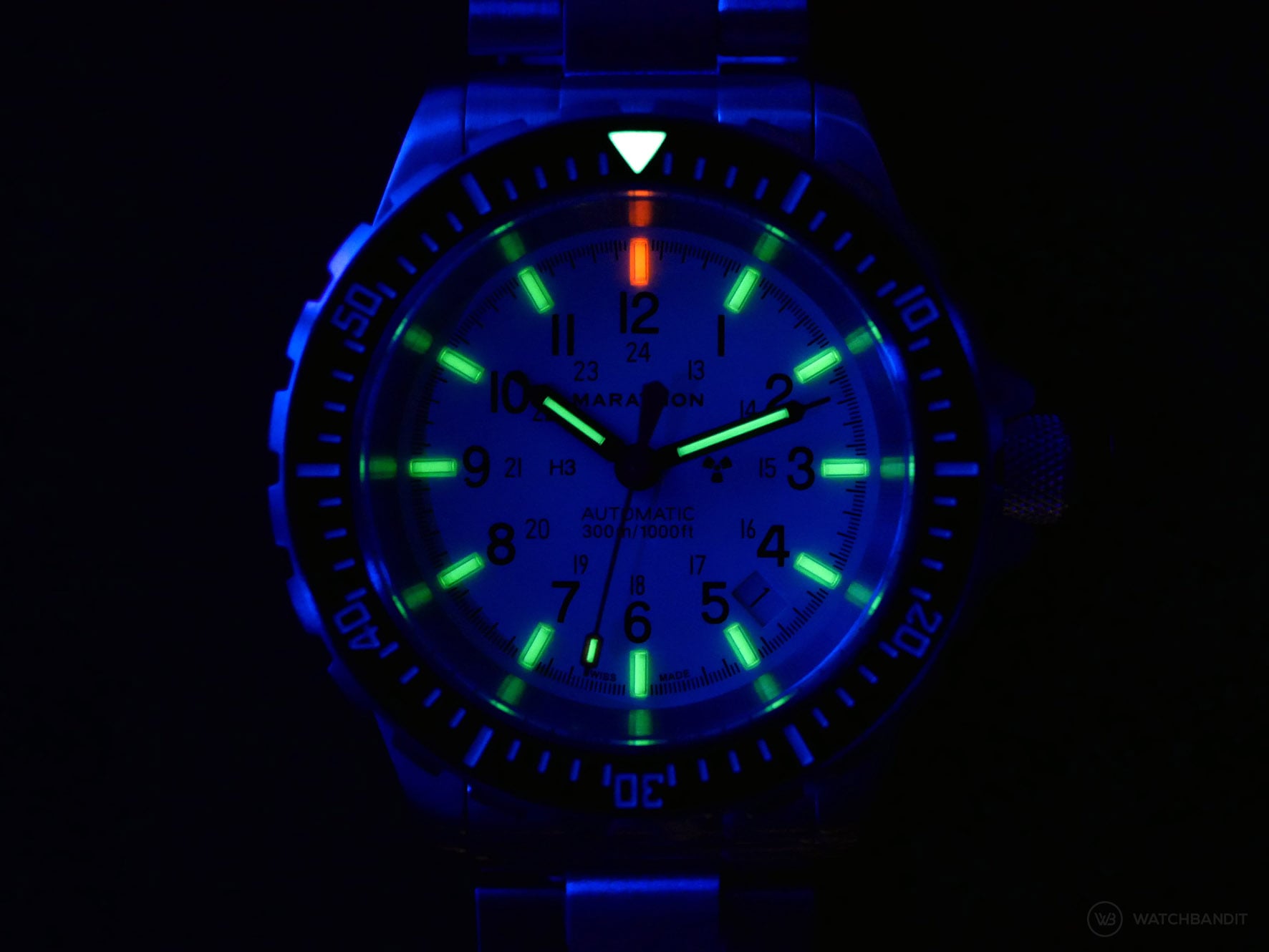 However, they don't shine as brightly as some other lume materials. The photos you see were taken with indirect UV light, which accentuates the glow and makes it appear stronger in the images. In real-world use, the Tritium Gas Tubes on the Marathon Arctic Edition provide a subtle, steady, and long-lasting glow that ensures you can read the time in low-light situations without the need for an external light source. This unique approach to lume is a signature feature of Marathon watches, adding to their allure and functionality.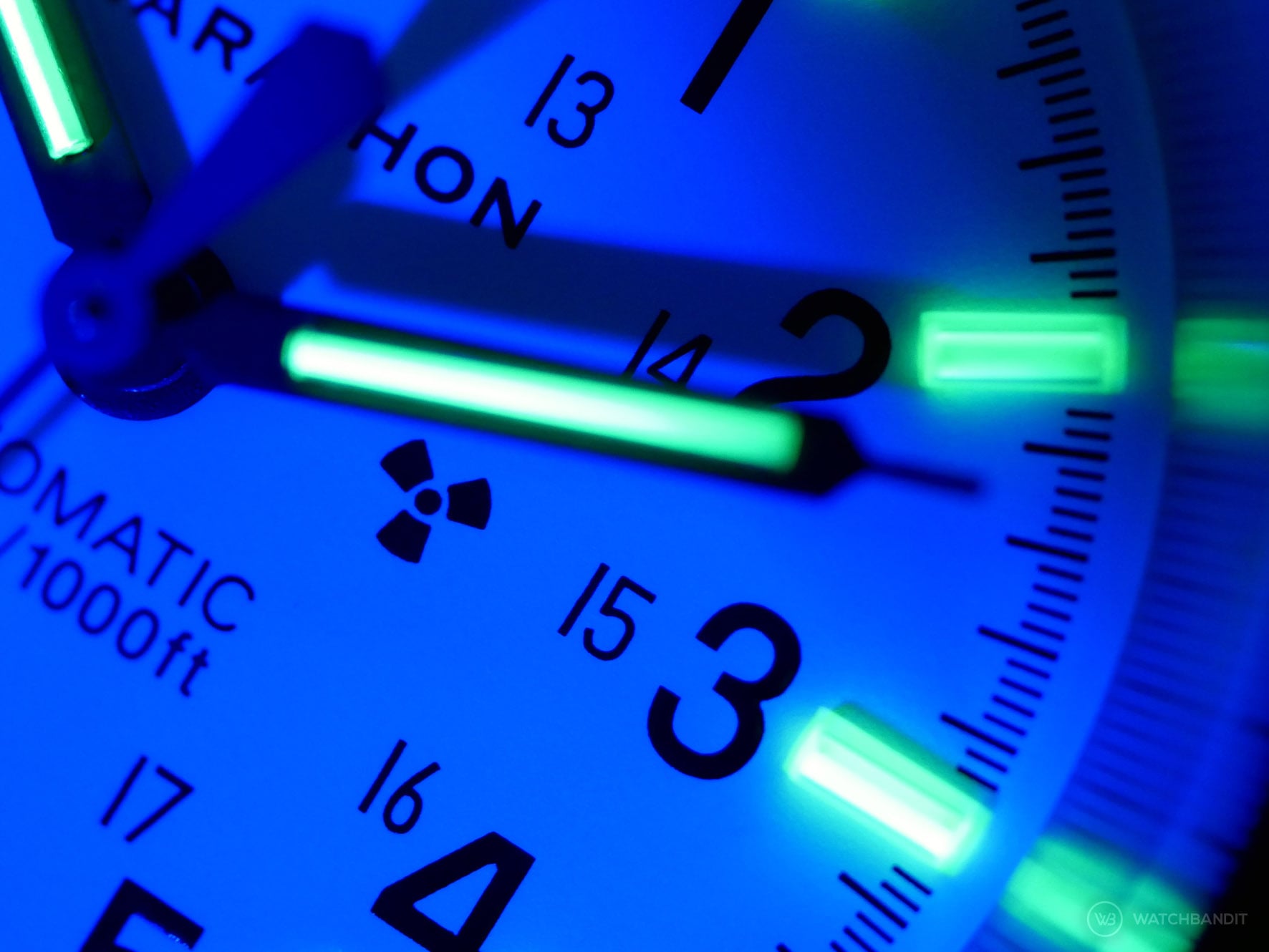 Strap Options
The Marathon Arctic Edition 41MM Diver's Automatic is available with different strap options, including a durable rubber strap and a traditional stainless steel bracelet. Choose the one that best suits your style and intended use. The rubber strap is perfect for diving, while the stainless steel bracelet adds a touch of elegance to your wrist.
Trusted Movement
At the heart of the GSAR watch beats a robust automatic movement. It keeps precise time and doesn't rely on batteries, a crucial feature for those in the field. The reliable Swiss Made Sellita SW200 with Incabloc™ Shock Absorber powers this timepiece, ensuring that it can stand up to the demands of any mission.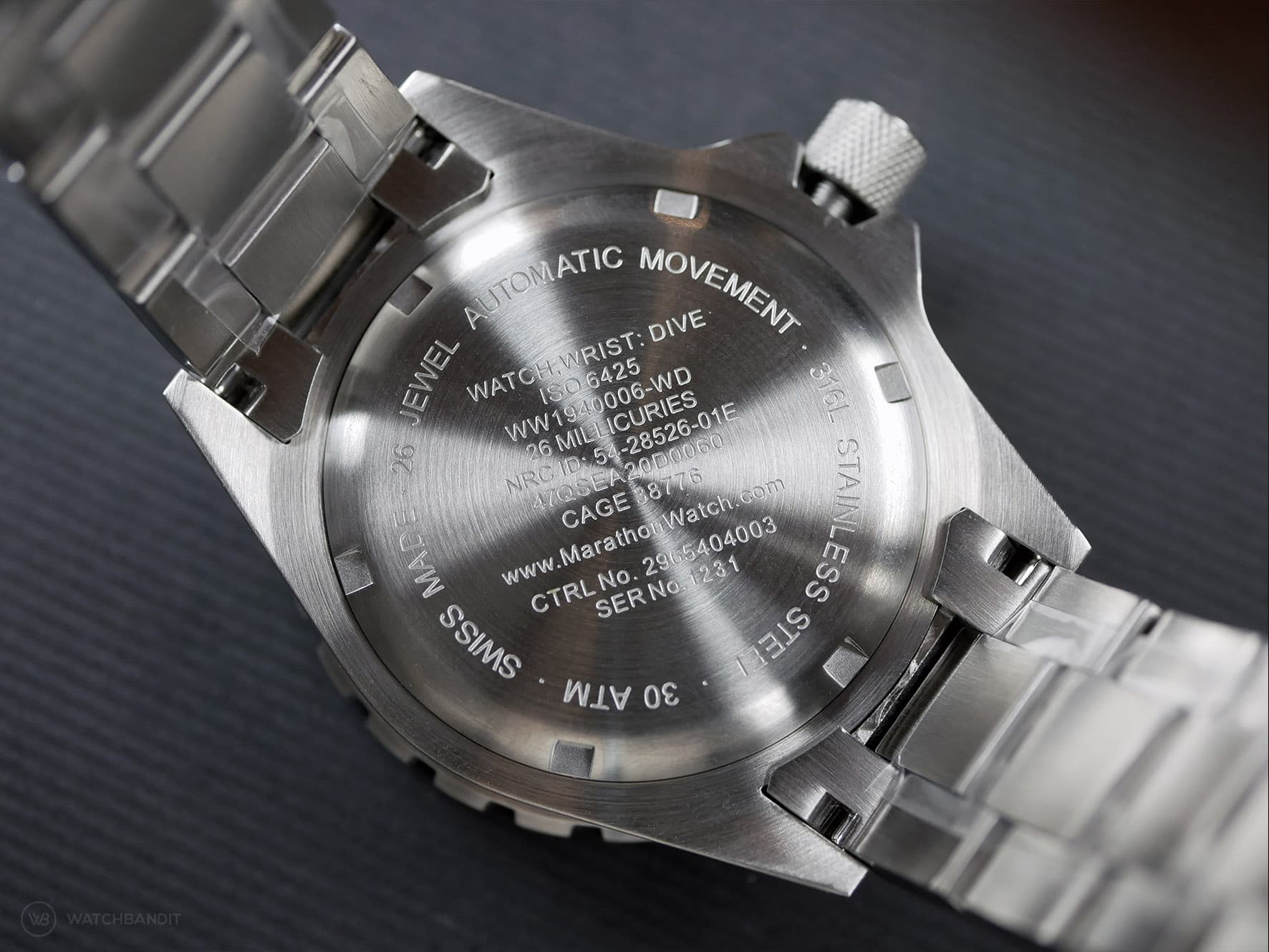 ---
Conclusion
The Marathon Arctic Edition 41MM Diver's Automatic (GSAR) is more than just a watch; it's a symbol of reliability, precision and a rich military heritage. Whether you're a seasoned collector or a professional in need of a timepiece you can depend on in the most challenging environments, the GSAR delivers. With its legendary durability, water resistance, and exceptional build quality, it's no wonder that the GSAR remains a sought-after watch in the world of horology.
If you're looking for a timepiece that can stand up to the harshest conditions and look great while doing it, the Marathon Arctic Edition 41MM Diver's Automatic (GSAR) is a top choice. Add this iconic watch to your collection and experience the enduring legacy of Marathon's search and rescue timepieces.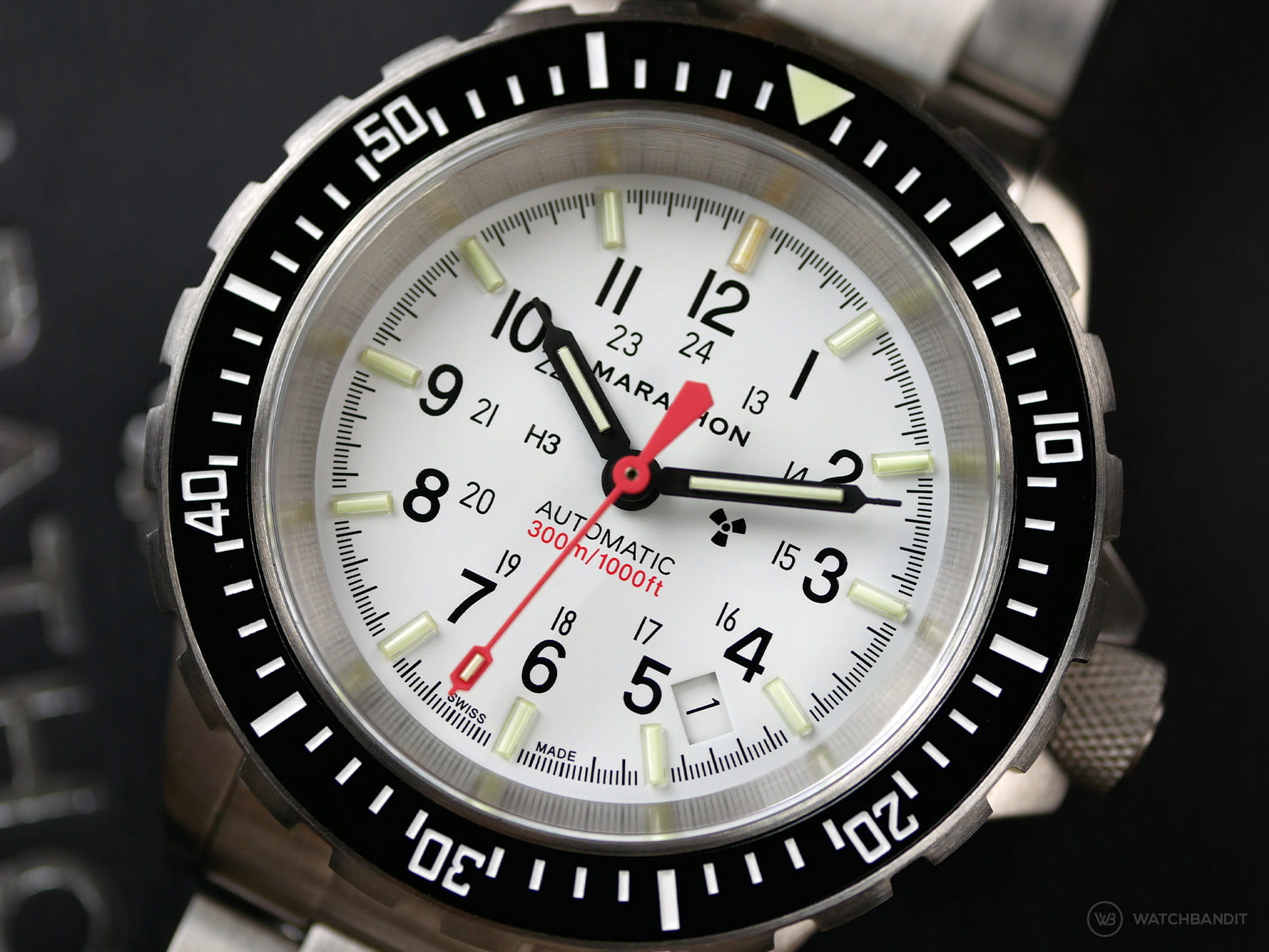 ---
Specifications
Movement: Sellita SW200 with Incabloc™ Shock Absorber
Jewels: 26
Scale Quantity: 2
Scale Range: 1-12 (13-24)
Calendar Type: Date
Luminous Features: Tritium Gas Tubes and MaraGlo™
Crystal Material: Sapphire
Case Finish: Brushed
Bezel Type: Uni-Directional
Bezel Scale: 60 Minute
Submersibility: 30 ATM
Case Diameter: 41mm
Case Thickness: 14mm
Lug Width: 20mm