When we think of Neil Armstrong's watch we immediately think of the famous Omega Speedmaster Professional, and we're right to do so: On 21st of July 1969, Neil Armstrong and Buzz Aldrin stepped off the Eagle to become the first humans to stand on the surface of the moon with Omega Speedmasters on their wrists. This watch is on everyone's lips, but wouldn't it be interesting to know, which kind of watch Neil Armstrong was wearing on his countless experimental flights as a NASA engineer and test pilot?
Recently, the Neil Armstrong owned and worn watch directly from the personal collection of Neil's brother Dean Armstrong was auctioned: A Douglas dive watch, a special tool-watch from the 1960s, nicknamed the SKINDIVER "WORLDTIMER" by its collectors. Douglas had a sister brand called WOLBROOK and both were founded in 1949. Now, more than 70 years later, WOLBROOKs rebirth and new adventure has started.
3… 2… 1… liftoff we have a liftoff!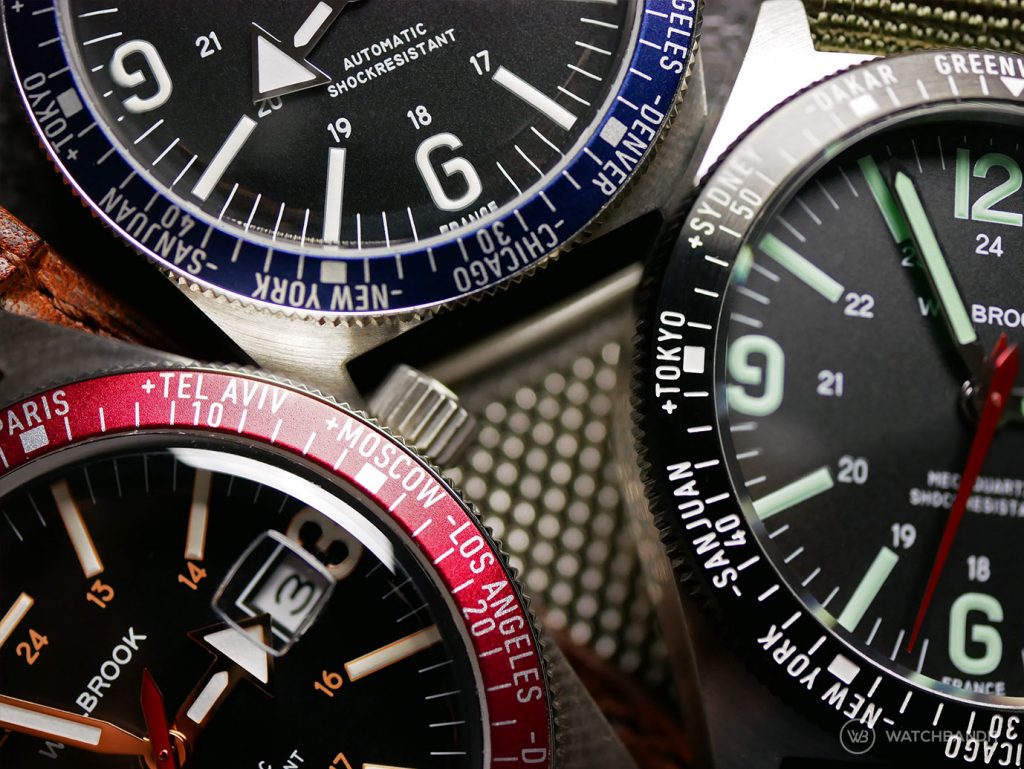 50 years after the successful liftoff of the Apollo 11 mission, WOLBROOK watches launched a successful Kickstarter campaign had a perfect start! (End: Saturday, 11. January 2020 at 14:26 CET) The Skindiver WT will be available in three versions with the same dial layout and characteristics (Automatic version: With date window – Mecaquartz: No date window), but each in many different strap-, hand- or case color (black PVD coated) combinations.
In this blog post we had hands on the WOLBROOK Skindiver WT Automatic with a brown polits leather strap and a stainless steel Milanaise bracelet and the Skindiver WT Mecaquartz on a green NATO style nylon strap with leather elements. The lug-width of 20mm makes it fit almost all our WB Original straps as well, the watch has huge potential for every kind of sporty straps like NATO and Canvas, but also vintage leather straps.
WT stands for "World Timer", different time-zones are indicated with city names on the turnable bezel, starting at Greenwich, the city that the Royal Observatory in Greenwich, London. In its inner circle, the dial shows 13-24 o'clock indices This kind of tool-watch would be the personal choice of a "a NASA engineer and test pilot": It was a solid, water resistant and highly legible timepiece with luminous markers and hands, large sweep second hand, distinctive hour and minute hands, time zone, elapsed time and 24 hours indicators.
The large arrow of the hour hand seems a little confusing at the first sight, but after wearing the Skindiver WT for a little time, you get used to the positive effect of clear readability at the first sight very quickly. You will start to feel the "tool-watch" feeling; It's not your ordinary sports watch, the style and feel takes you back to the early beginnings of exploring the world, the skies and the space!
Skindiver WT Automatic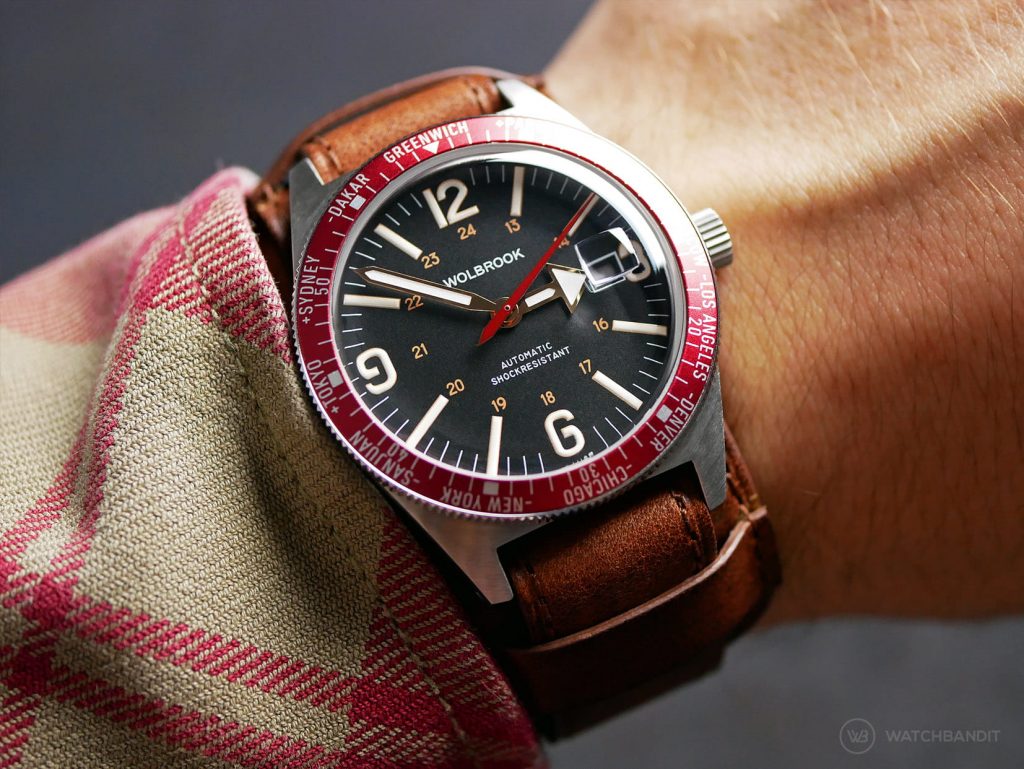 The WOLBROOK Skindiver WT Automatic is the perfect reincarnation of Neil Armstrongs DOUGLAS dive watch from 1960; It comes in 12 color combinations and houses a reliable automatic Citizen / Miyota movement. Furthermore it features with a double-domed scratch proof sapphire crystal with an outer cyclops lens above the date window and inside anti-reflective coating. The cyclops has a clear magnification and makes the date perfectly readable. This is the very best of watchmaking in terms of sapphire crystals.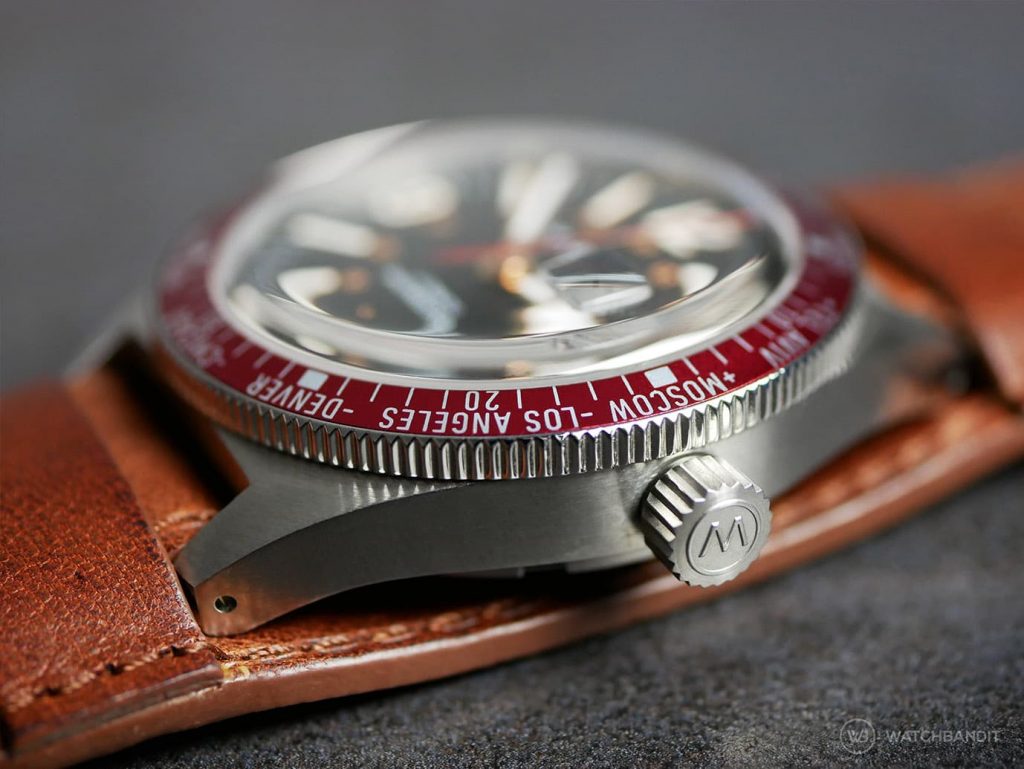 The watch comes on a soft leather strap with an additional so called "American-/Pilot Plate", that sits under the watch. It increases the wearing comfort and gives the watch a cool "explorer-look". The bezel and crown have a good grip and are easy to operate. The water resistance is 10 ATM / 100 meters, which is suitable for swimming and water sports, but not for diving. Each Combo is numbered and limited to 1969 pieces.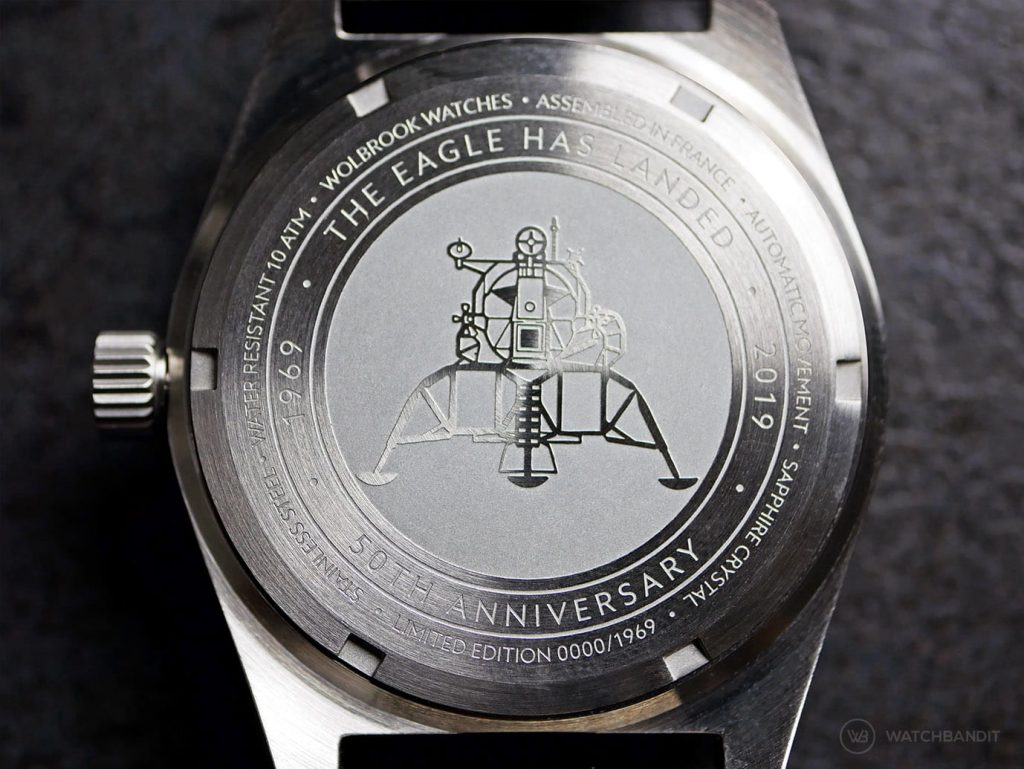 Skindiver WT Mecaquartz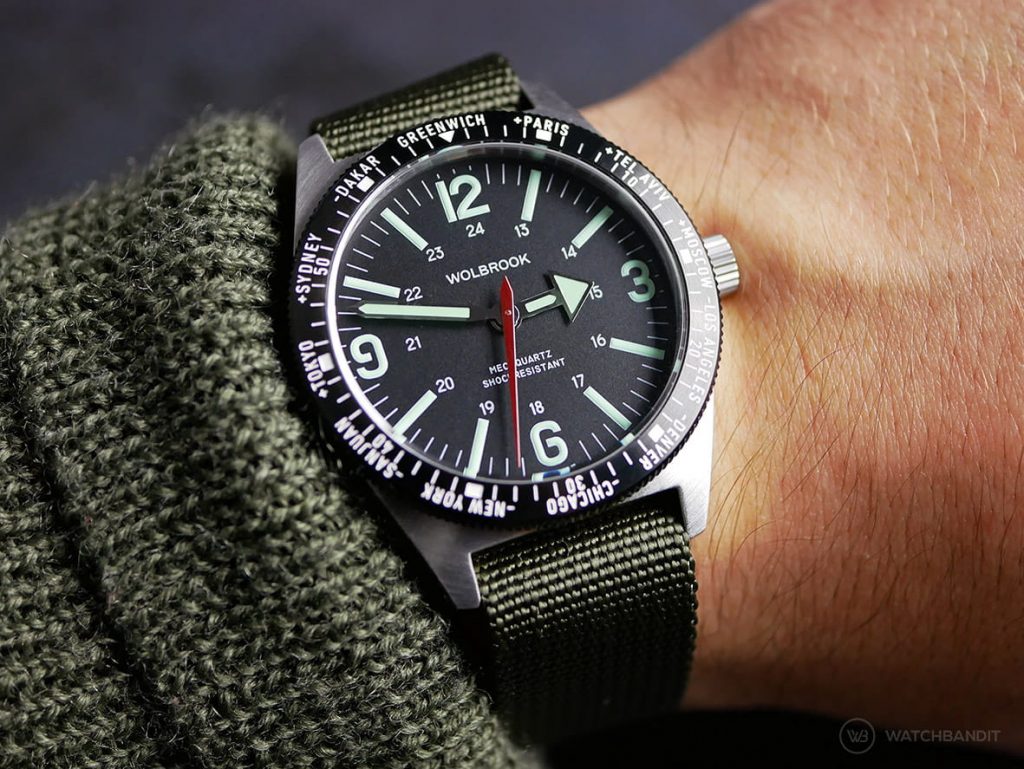 The WOLBROOK Skindiver WT Mecaquartz is the more "tough", light and at the same time low-priced version of the Skindiver watch. With a flat sapphire crystal, 6 color combinations and a sweep second Mecaquartz movement from Seiko, this version is the present-day interpretation for the daily adventurer. On dials using green indexes, three layers of pure C7 Super-LumiNova Lume are used, which assures good readability in the dark .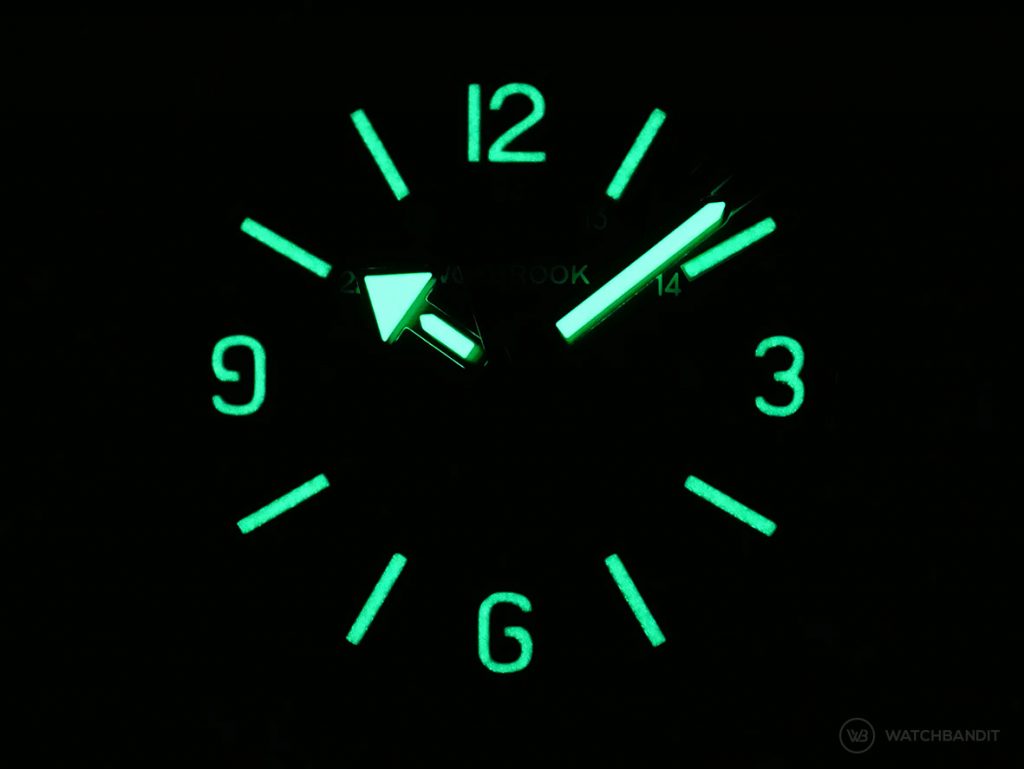 Seiko VH31 Mecaquartz Movement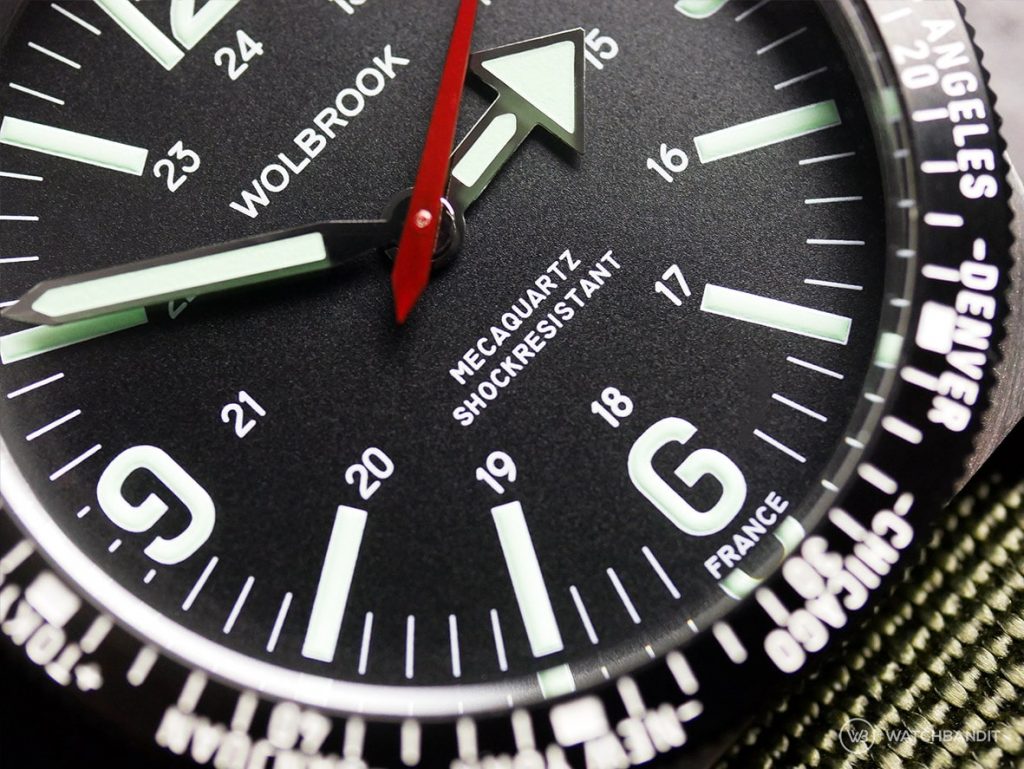 The Seiko VH31 movement is a quartz movement with a sweeping and central second hand moving in 1/4 of a second increments which is similar to the one of a mechanical movement. But compared to the fine mechanics in an automatic movement, a mecaquartz movement is much more shock resistant and furthermore accurate. The result is a combination of the best of both worlds: A highly accurate time piece with a sweeping second hand that won't stop for at least 2 years (Approximately 2 years of battery life). Each Combo is numbered and limited to 1969 pieces
Assembled in France
WOLBROOK and DOUGLAS watches were originally assembled in France and Switzerland. With the recent rebirth of the centuries old French watch industry and a proven industrial viability, it made total sense for WOLBROOK watches to be made once more in France. All the Skindiver watches presented as reward in this campaign will be assembled in France.
WOLBROOK
Skindiver WT specs
Case Material: Stainless steel
Dial: Black
Dimensions: 40 x 13 x 48mm
Crystal: Hesalite/Sapphire
Water Resistance:  10 ATM / 100 meters
Crown: Screw down
Movement: Seiko VH31, Miyota 8215
Strap/bracelet: Leather
Price: $166 (Mecaquartz), $467 (Miyota)
Reference Number: n/a
Expected Release: July 2020
959 people already backed the campaign and there is not much time left: The campaign stops its funding on Saturday, 11. January 2020 at 14:26 CET.