York & Front Watch Co. from Canada was founded by Henry & Eric, two watch enthusiasts who wanted to create the perfect classic-, vintage inspired modern wrist watch. What they came up with was the Burrard Series 1, available in two dial colors: Matte Black and Bright White. The watches remind on forgotten time-pieces from the 1950-60's with a dial language from the 30-40's, in form of a 2020 modern watch, without being oversized like most modern watches. Talking about its size, it was the first positive impression I had with the watch on my wrist: With its case diameter of 38 mm it's very calming and comfortable in days of 43+ mm wrist watches. Its vintage appeal and smooth bezel does the rest to complete exactly the type and style of watch that Henry & Eric wanted to create. Let's take a closer look to the two models in this review.
Burrard Series 1 – Matte Black
The matte black version is my personal favorite with the most classic/vintage appeal in the collection. Size, proportions, balance, color-play and many possibilities to combine it with vintage leather straps make it a perfect allrounder for a casual weekend. Its lance/squelette-shaped hour- and minute-hands (without separating the luminous mass) add a cool vintage touch, while the second-hand is shaped like a modern arrow-hand and the red tip underlines the sportiness in this watch.
As I already mentioned, the watch wears incredibly comfortable on the wrist and the thickness of 12 mm is perfect due to its small diameter. If it would be more flat, it would loose the certain presence that the watch needs with a relatively small diameter. A mix of polished and brushed case and bezel creates a nice play with reflections. Especially the smooth polished bezel is good for the wearability and casual appeal of the watch.
The brushed indices stand out from the matte dark dial and increase legibility tremendously. The finish is a bit rough, but it underlines the vintage character very well. A black and white outer minute ring stands out delicately from the matte black dial and helps to set and tell the time on the minute.
Burrard Series 1 – Bright White
Same watch, imagined 10-20 years later in time, modern fashion of the 1970's broke the dark and stiff times of the 50-60, yet the watches were small and classy. The Burrard with its white gloss dial has a more modern and fresh appeal as the matte black version. It's "panda-like" dial works good with the black minute ring on the dial and the red tip of the second hand.
The brushed stainless-steel numerals on the dial are less visible like on the matte black dial, but it depends on how the lights falls onto it. In the picture below you can see, that the hands are very good visible and they reflect rather dark, than bright silver. Nonetheless, black hands and black surrounded numerals would have been an improvement, both for readability and modern design.
Taking a closer look on the dial and especially the second hand, the roughly brushed numerals and the red tip of the second hand create a nice and sporty contrast. Furthermore the reflections improve the readability, even though the white dial with silver indices is a bit harder to read than on black of course.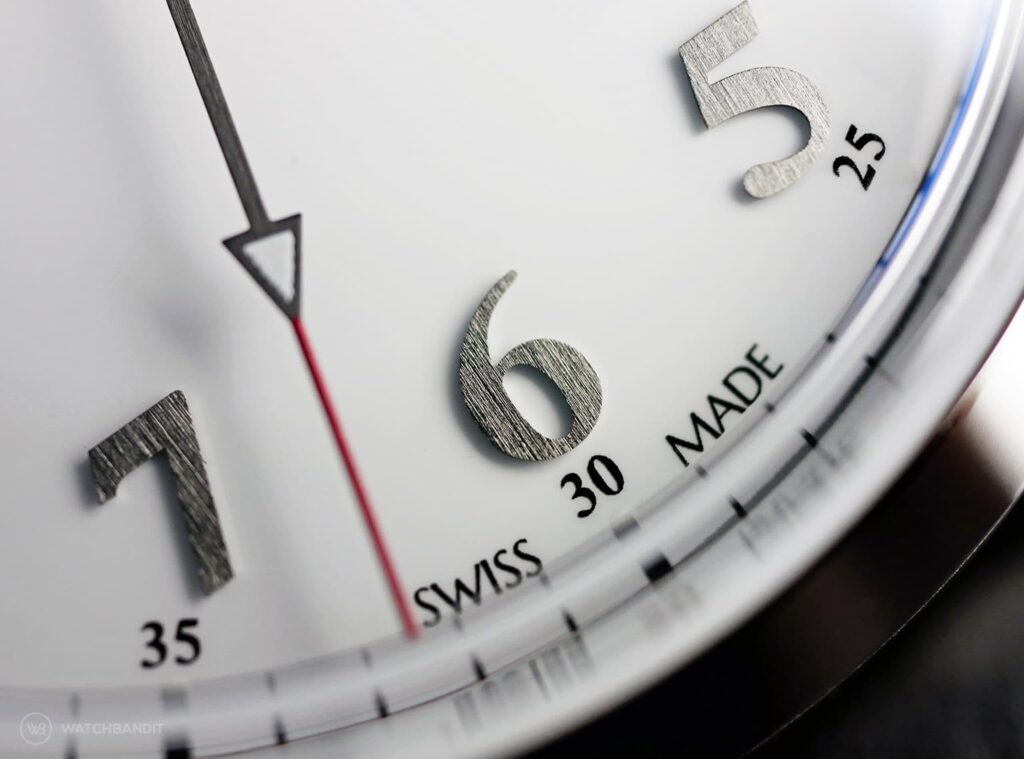 The profile of the watch is sporty and takes some of the classy appeal to make the watch more casual overall. The easy to use 6 mm logo engraved screw-down crown, drilled lugs and differently angled and finished lugs are well proportioned and have a nice shiny effect.
Covered by a decorated stainless steel case back sits a Swiss STP1-11 calibre (custom-made no-date wheel) with its 44 hour power reserve. The calendar complication has been removed from the movement (no phantom date position).
Subtle green lumed hands with Super-LumiNova BGW9 creates a good readability in the dark and the blue lume color gives the Burrard another modern touch.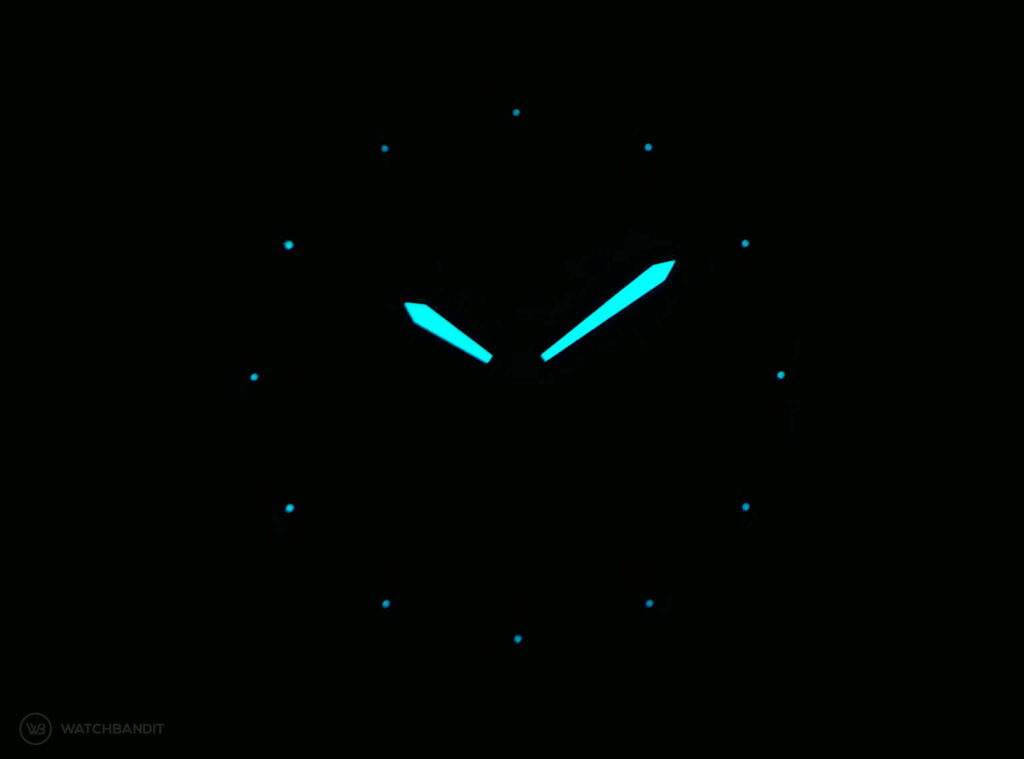 Conclusion
The Burrard is a great time piece to set yourself back in times of calm and casual watch design and fashion, especially in times when huge sports watches are common. It is praised as a tool-watch by York & Front and other watch blogs, but I personally think it doesn't need that kind of marketing, depending on how you define "tool-watch". For me it's not a tool- or military style watch at all, it is rather a casual vintage-style watch, that goes well with a suit, shirt or t-shirt on any occasion; While the matte black version is more autumn-time-dressy, the bright white version is more summer-time-sporty. Both are equally casual and modern with a classic fashion. The overall value proposition is great; You receive a casual all-rounder with a Swiss movement and leather watch roll for under $500 – this offer is second to none. It would be great to see a "starter-model" with a Japanese movement for maybe even less than $300 in the future. But if you want Swiss precision in a vintage designed, modern produced wrist watch, the Burrard Series 1 is your watch to go!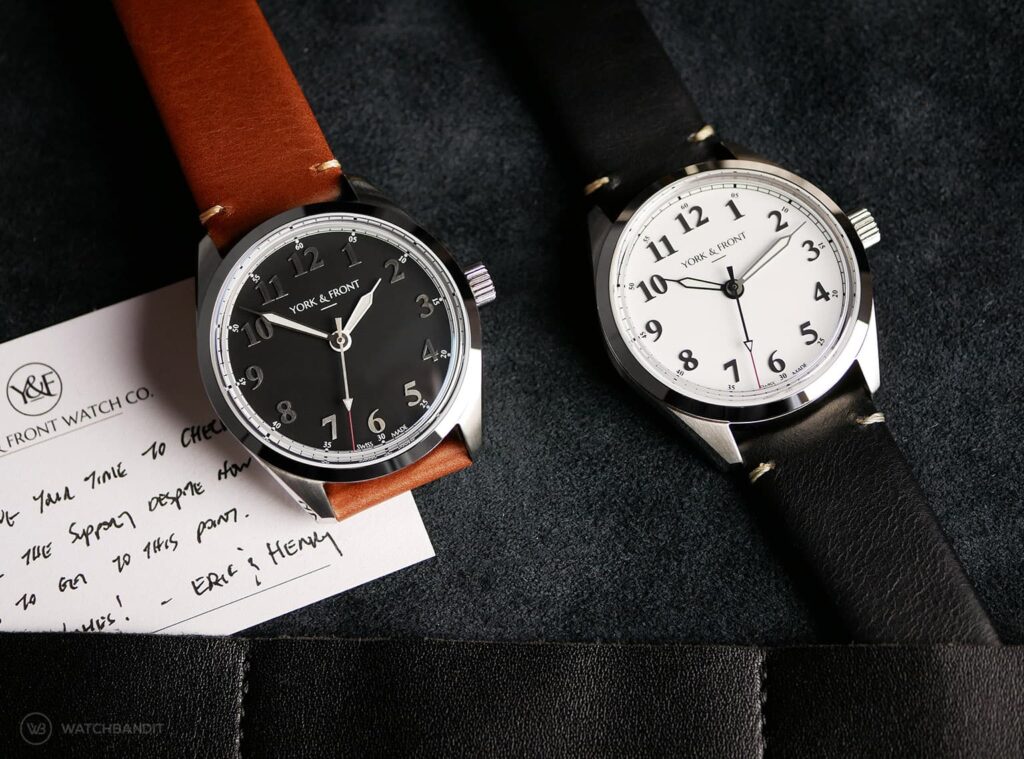 Specifications
Dial & Hands
Matte black- / Bright white dial
Brushed hands and dial markers
Minute chapter in white
Super-LumiNova BGW9
Movement
Swiss STP 1-11 Automatic movement
Calendar complication removed (no phantom date position)
28,800bph (4hz)
26-jewels
44-hour power reserve
Case
316L stainless steel
38mm diameter
44mm lug-to-lug
12mm thick including crystal
20mm lug width, drilled through
Screw-down crown, 6mm diameter
Crystal: Double domed, slightly boxed sapphire, anti-reflective coating
Water Resistance: 100m/330ft
What is Included
Y&F leather watch roll
Black Y&F minimally stitched vintage style calfskin strap
Brown Y&F minimally stitched vintage style calfskin strap
Warranty card
Manufactured in Switzerland with 2-year international warranty.