In February 2013 OOO – Out of Order Watches was founded near Venezia, Italy, the birthplace of Marco Polo. Their watches have very unique "hand made used look", a certain old vintage charm, without compromising on the watches quality. With their slogan "Please, treat me bad" they attract attention to their very unique microbrand which is obviously "Damaged in Italy". In this Blog post we take a closer look on their flag ship the Black Swiss Automatico, powered by a Swiss STP 1-11 movement. If you're a fan of very unique and used-look accessories, this is your time piece!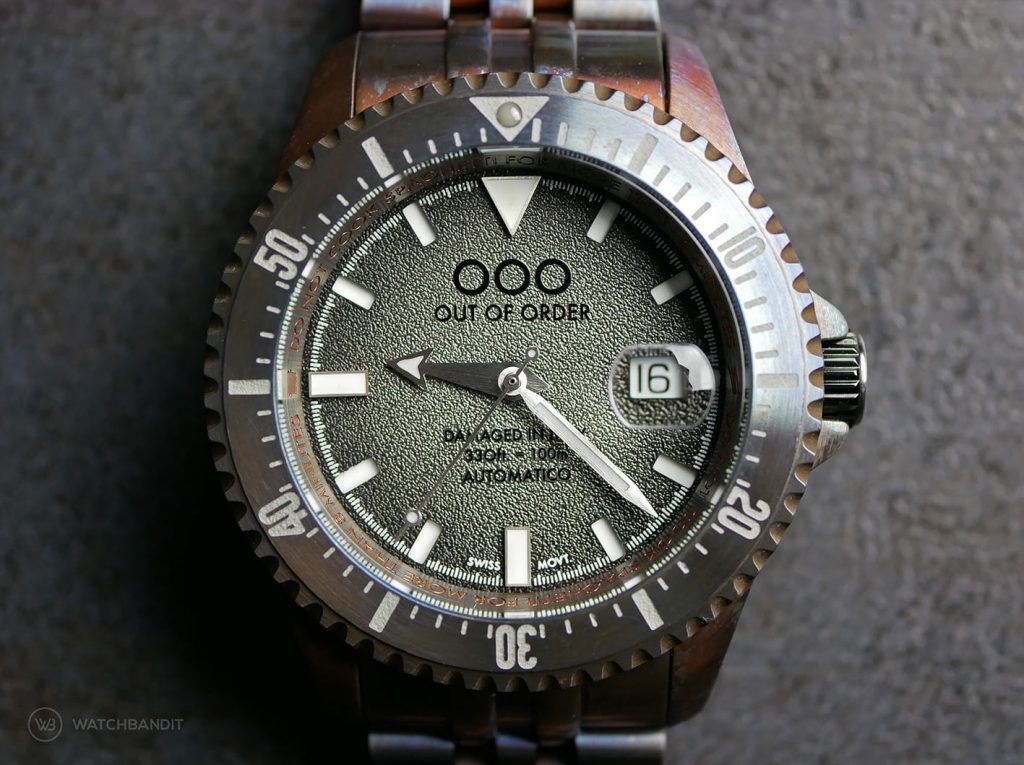 The Swiss Automatico shows a great built quality; the jubilee bracelet feels solid and not rickety at all, which is a great indicator for quality already, because many other microbrands safe money on one of the most important parts of the watch, the bracelet. Not Out Of Order. The shock-resistant 316L bezel is uni-directional and the engraved numbers and markers are treated with SuperLuminova. The case has  a diameter of Ø44 mm, but it's more wearing like a 42 mm! The large case and bezel gives the dial a much smaller diameter and thus the whole watch appear smaller then you'd expect. If you like the special look of the Swiss Automatico and you are used to 40 mm, you won't have any problem with this size.
Used look "Damaged in Italy"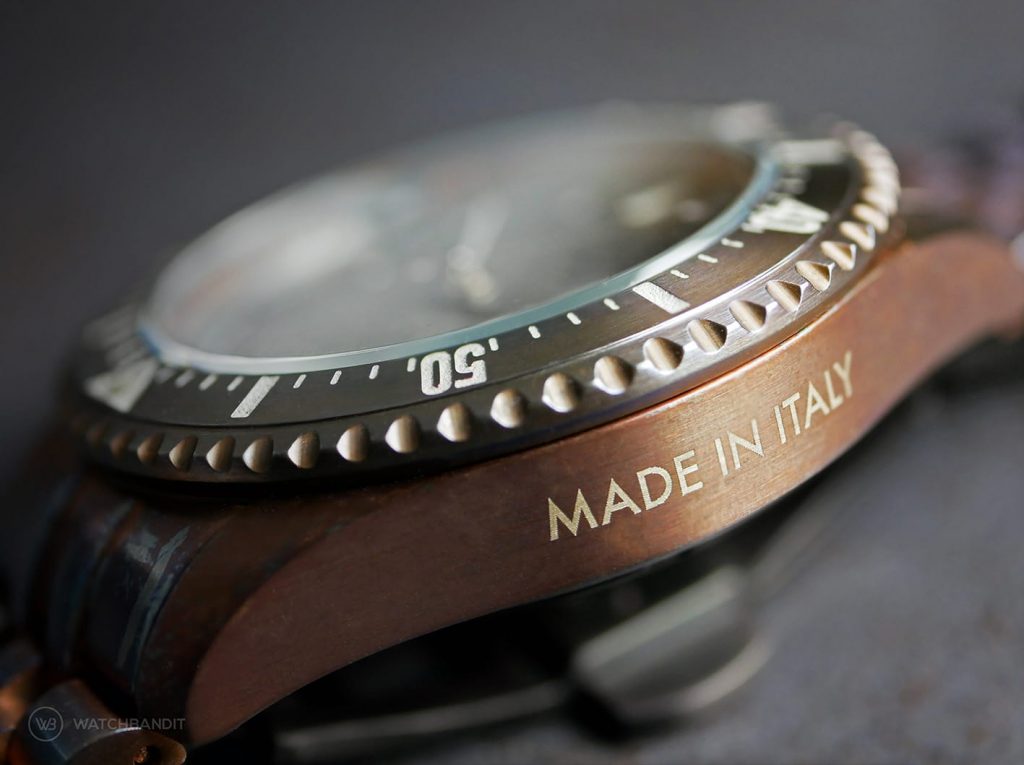 OOO Out Of Order watches are treated with a unique handcrafted process to achieve a special "used look". You don't need to worry about treating it with too much care and caution, like you usually do with your fine brushed and polished watches. It's designed to look worn, so please, treat them badly. The more beat-up they are, the cooler they will look. Each Out Of Order watch is made to create an individual used look.
Italians are proud of their high quality products and they have every reason to be: The hint to the Italian heritage is shown in a great way on the Swiss Automatico, both seriously and with humor (take a closer look to the inner ring and you know what we mean). On one side of the case a "Made in Italy" is lasered into the treated surface. Each OOO – Out of Order Watch is exceptional; in fact any time piece looks differently.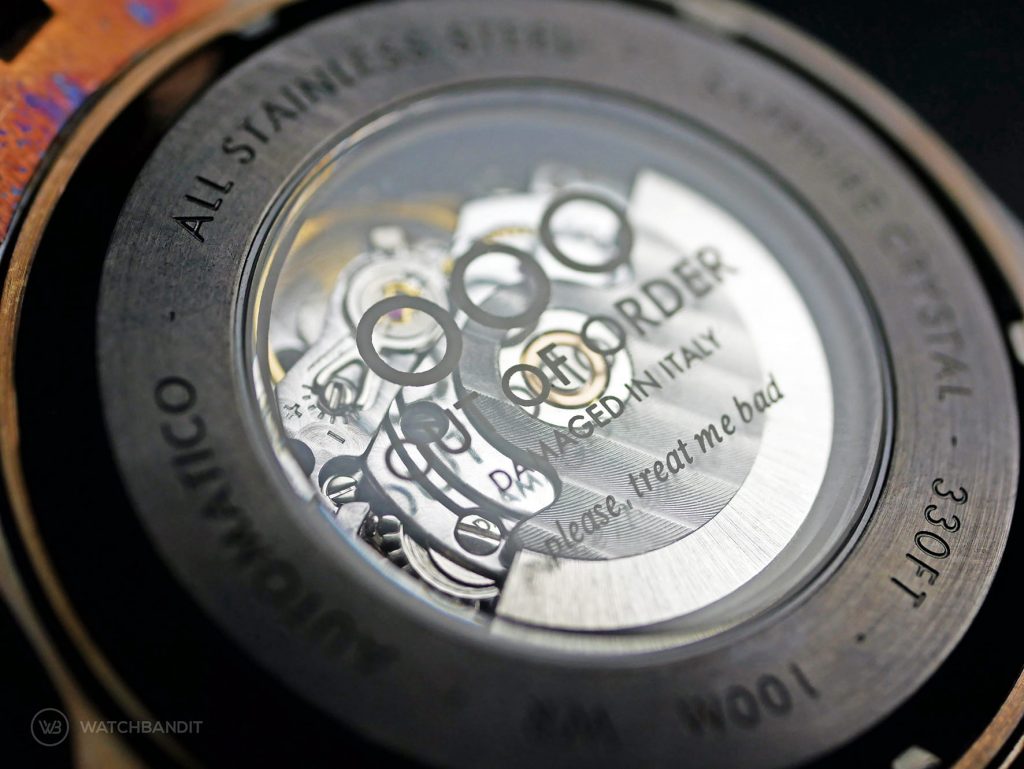 The Swiss Automatico is powered by a Swiss made STP 1-11 movement, that ensures a great accuracy. The OOO Logo is printed on the glass of the black PVD coated 316L Stainless Steel screw down case back and it also shows again a cool and humorous quote "Please, treat me bad". We will focus on this quote, we promise 😉
Not only the movement, also the dial presents the great quality of this watch with it's different layers. The black sandblasted and "sunburn finished" double-layer matt dial with C3 Superluminova® hands and engraved indexes is an absolute eye-catcher. On top of it are the double printed logo and specs. Together with the lavish lume, the Swiss Automatico offers a great readability.
One of the most charming and funny things I've seen on a watch is the inner ring. It literally says: "Do not cook Spaghetti for more than 8 minutes" – it is such a hilarius but very true thing, that Spaghetti taste best "aldente" and not when they're over cooked. Believe me, I have a good Italian friend who absolutely approved this engraving. 😀

The 316L Stainless Steel hand-brushed 5-link Jubilee bracelet is really solid, and the butterfly deployant clasp gives the watch a cool clean look when closed. The Swiss Automatico has a lug width of 22mm and also suits a great selection of WB Original straps. On the picture in the gallery you can already see the cool look of the already scratched clasp, but more on the cool look of the "badly treated watch" in our next blog post.
Product Details
CASE: 316L SS with exclusive aging process Ø44 mm
BEZEL: Uni-directional shock-resistant 316L topring with SuperLuminova engraved numbers
DIAL: Black sandblasted and sunburnt finished double-layer matt dial with C3 Superluminova® hands and engraved indexes, double printed logo and specs.
GLASS: Flat anti-reflective sapphire crystal with magnifier at hrs 3
CASEBACK: 316L Stainless Steel screw PVD Black caseback with window
CROWN: Stainless Steel PVD Black screw crown
WATER RESISTANCE 10 ATM (100 meters)
BRACELET: 22mm width 316L hand-brushed 5-link Jubilee bracelet, PVD Black coated deployante clasp
MOVEMENT: Automatic movement | STP 1-11 Swiss Made
INNER RING: A very important communication