Since we have met the awesome team of Von Doren watches at the Aurochronos watch festival 2019 in Lodz, Poland, we were excited to see their new automatic sports watches line. Finally, after one and a half years designing, Von Doren has launched its new automatic collection "URÆD" on Kickstarter. The campaign was fully funded within 50 seconds (!) with over €100,000. It clearly shows, how much the new automatic watch was awaited by the watch-community. URÆD is a refined, Swiss Made automatic watch where every detail down to the finishing of the movement is designed by Von Doren. We are glad to see high quality- and with passion designed- and produced watches coming back on Kickstarter. This means that URÆD will be a costly watch to produce and that is why Von Doren has decided to launch it on Kickstarter. For you, this means the opportunity to acquire the watch at a 50% discount compared to future retail price, while simultaneously helping Von Doren to realize the project.
Story
The watch is inspired by the Norwegian hero Ole Brude, who set sail from Ålesund, West Norway towards New York, USA, in 1904. Even for big ships it was a long and challenging journey, but the 24 year old explorer did it in a self-designed 18-feet closed lifeboat, designed like an egg. Brude named his creation Uræd, which translates to "Fearless" in Norwegian.
The Norwegian Ole Brude worked as a deckhand from an early age, but the ship where he worked was wrecked under his first voyage. He saw how the wooden lifeboats were smashed to smithereens against the rocks, and this was where he got an idea that would save countless lives across the world.
The young Brude designed a revolutionary lifeboat way ahead of his time; A closed lifeboat made of steel, shaped like an egg. To prove that closed lifeboats was the future Brude decided to sail from Ålesund, straight across the Atlantic Ocean, and end the journey in Boston. Despite severe storms and hurricanes the voyage became a huge success and the crew was celebrated as heroes. Ole Brude even received an audience with President Roosevelt.
This status was however short lived, and closed lifeboats did not become the standard before the '70s. The originator never received the recognition he deserved, even though his construction kept four grown men safe for five months at sea. Von Doren watches have been heavily inspired by Brude's courage, and they are proud to present their tribute to their national hero: Von Doren – URÆD.
Von Doren – URÆD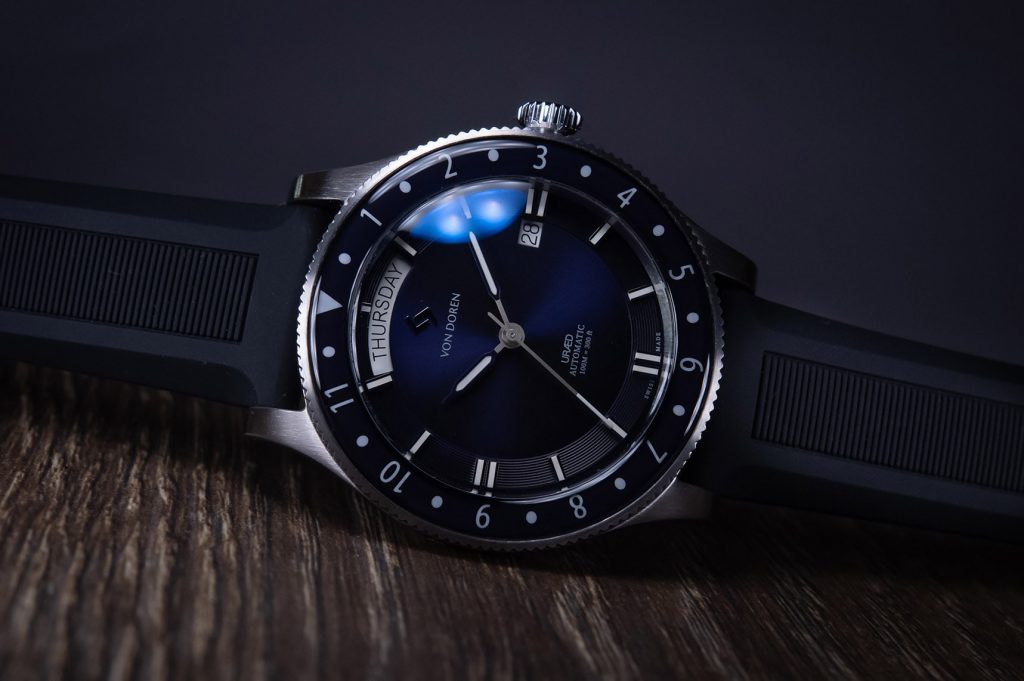 Looking at the close up and macro pictures, you can see the dedication and quality Von Doren has put into its new model: Everything down to the finishing on the movement is designed by Von Doren themselves. The case of the URÆD is rounded alike the pocket- and wristwatches from Ole Brude's time. Besides the personality of Ole Brude, Von Doren has been inspired by the Art Nouveau style of Ole Brude's hometown of Ålesund and used design elements from it for their watch design. The with Super-Luminova treated, 120 click bi-directional bezel is made of sapphire crystal, which gives it a clean, modern look combined with vintage vibes from vintage bakelite bezels. It can be used as a second time zone indicator, important for world sailors.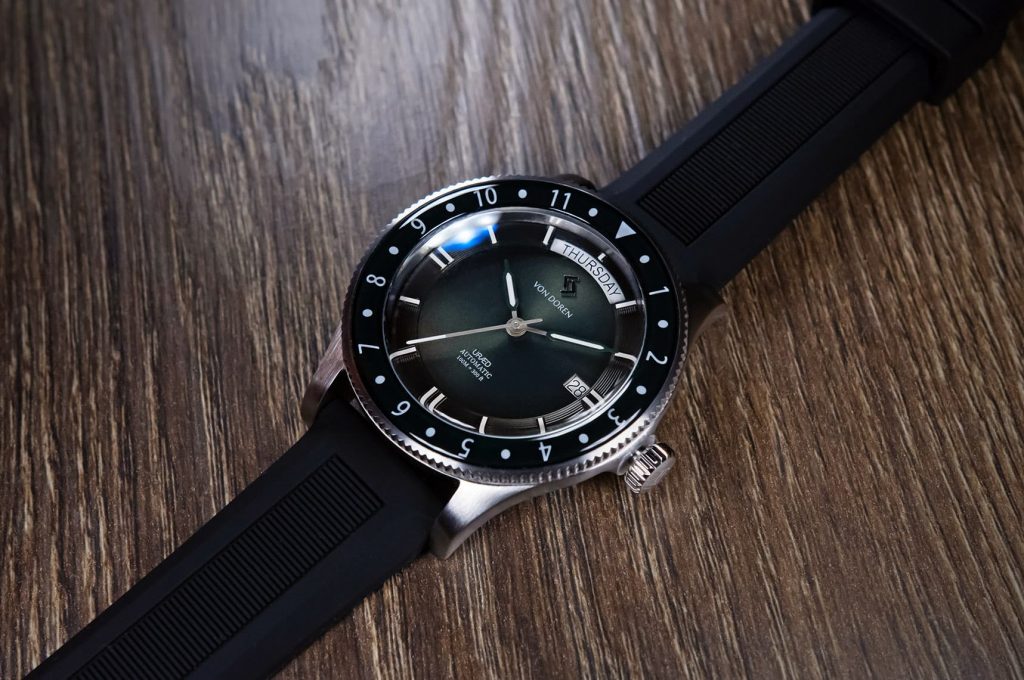 The overall design of the new Von Doren URÆD is modern and yet vintage, combining classic elements and functions mir modern lume and torpedo like shaped hands. And of course, a watch that's named after the heroic crossing of the Atlantic Ocean comes with a water resistance of 100m = 300ft and a diver screwed in case-back with 6 notches. The size of the watch is Ø 40 mm with a thickness 13.4mm (46.2 mm lugs to lugs), which are  well known proportions in the world of dive and sports watches. The decent dial colors represent the sea really nicely; As a sailor myself I know, how the color of the water can change from dark blue do dark green or eben grey and how it can indicate weather changes. The URÆD really represents that certain nautical feeling!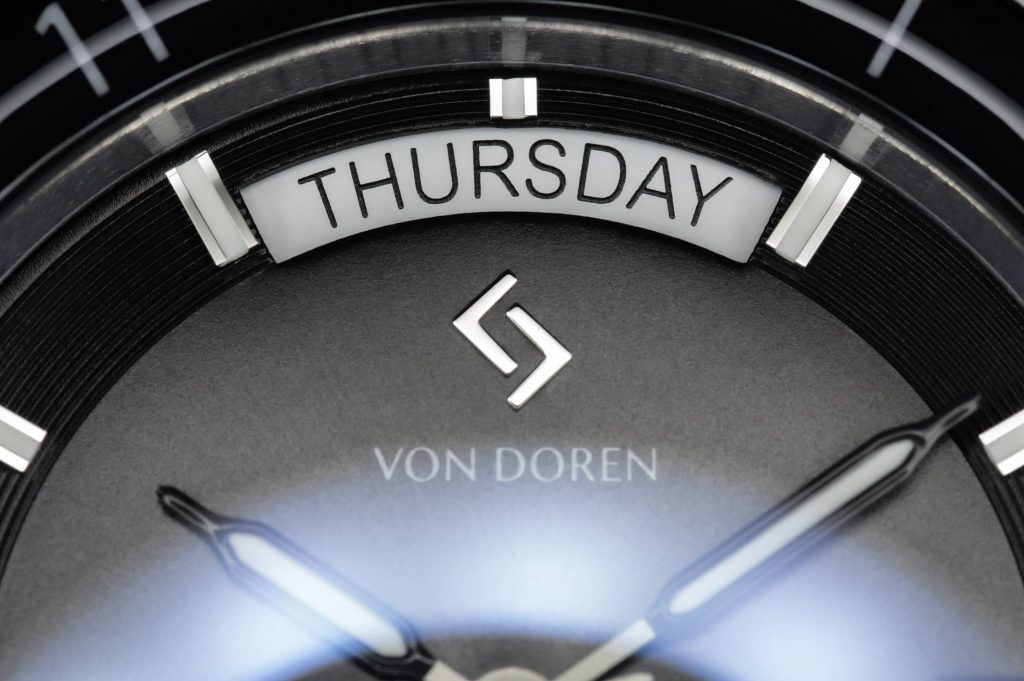 The Day-Date complication is one of the most famous watch complications and rarely seen on microbrand watches. It is available with Norwegian or English days in the day window Usually this complication is seen on classy dress watches, but Von Doren has managed it to combine this complication with a sporty and very modern watch design, which contains also vintage inspired elements. The english edition has a black font on a white background, while the Norwegian days are shown with a white font on a background that matches the respective dial. Each model is limited to 1904 models.
The new URÆD is available in three different colors: Green Sea, Atlantic Blue and Lava and an option of English or Norwegian days in day window. The colors look really decent and have a beautiful shine. The Norwegian day window matches the color of the dial, and the day is shown in white text. The English day window is white, and the day is shown in black text. – We can't wait to get hands on this stunning new watch from Von Doren to write our hands on review!
 Specifications
Case size: Ø 40 mm. Thickness 13.4mm 46.2 mm lugs to lugs. Diver screwed in case-back with 6 notches.

Movement: Automatic Swiss Made STP 4-13 self-winding movement. 26 Jewels, 28 800 vibrations 4Hz.

Complications: Day, Date, Hacking Seconds, Hand Winding, Outer Day Wheel, Quick Date Correction, Quick Day Correction.

Glass: Double domed bell-shape sapphire crystal with 5 AR coating inside. Flat sapphire crystal on case back.

Watch case material: Brushed and polished stainless steel. Screwed in crown.

Power reserve: 44 hours.

Swiss Made: Assembled by hand.

Option: Of English or Norwegian days in day window.

Bezel: 120 clicks bi-directional bezel in sapphire. Great vintage look.

Bracelet & strap: Delivered with both Silicone rubber strap and high quality 3 solid   link bracelet with deployant buckle. Double lug holes. The bracelet is delivered with fitted end-links (not shown on photos of prototype bracelet).

Lug with: 20mm.

Water resistance: 100 meters / 10 bar / 300ft
Acquire the watch at a 50% discount on Kickstarter compared to future retail price
Timeline