WOLKOV watches are launching their new W22 collection: Forget all those copycat products that stick to the same tired old designs – You deserve a timepiece with a truly original look.
Since 2018 the brand DNA is to be memorable and visually striking. This is a mechanical watch that stands out like no other.  The launch of this second collection on Kickstarter is a great opportunity to get various models into one nice bundle pack, and at a very good Kickstarter pricing.
About WOLKOV watches and its founder
WOLKOV was established by William Volcoff in 2018 and released their first collection in 2019 about which we wrote an article about the unconventionally classy SUPER Chrome Edition here. But the idea of designing a completely new type of wrist watch has been brewing since 2014 and it took over 4 years to test the feasibility and refine the design details, before it could be introduced to the public.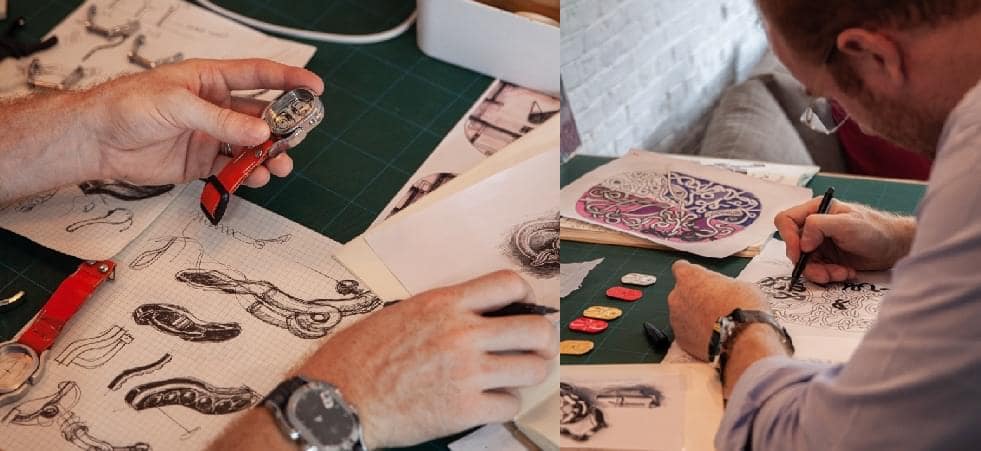 William Volcoff is the mastermind behind these watches. He grew up in the watch industry thanks to his father distributing high-end watches all over France. Imagine your childhood surrounded by Zenith, Raymond Weill and Eterna watches, it definitely influences you.
Already when he was a young boy, he felt most of them look too similar and lack of creativity. This was the trigger to enter the design industry and after 18 years of team leading design management and art direction in various industries between Paris and Shanghai Volcoff decided it was time to develop his own wrist watch, without compromising design with a client.
WOLKOV explores various shapes and functions, starting with a centered split dial (back in 2014-16) and moving toward more pleasant forms and simpler volumes. Originally, the lugs were screw onto the case. The idea to snap them on came as we played with 3D prototypes and realize it could work. It took William Volcoff and his team over 1 year and many prototypes to make it work and convince a factory to manufacture it in the best quality
WOLKOV automatic W22
The design of the new W22 is bold, curvy and very masculine, yet elegant and striking on any wrist. The unique snapping lugs makes changing the straps within seconds and is a great feature to start an interesting conversation.
William and his team spend over 2 years refining their patented snapping system using the oversized lugs to connect the case. It took them another 2 years to find the right partner to produce them and accept all the design requirements set by this very specific system.
Besides the Swiss Sellita SW200 movement everything is custom made by and for WOLKOV; obviously the case, lugs, and dials but also the hands, the crown and even the 6 screws of the back case. Nothing off the shelf.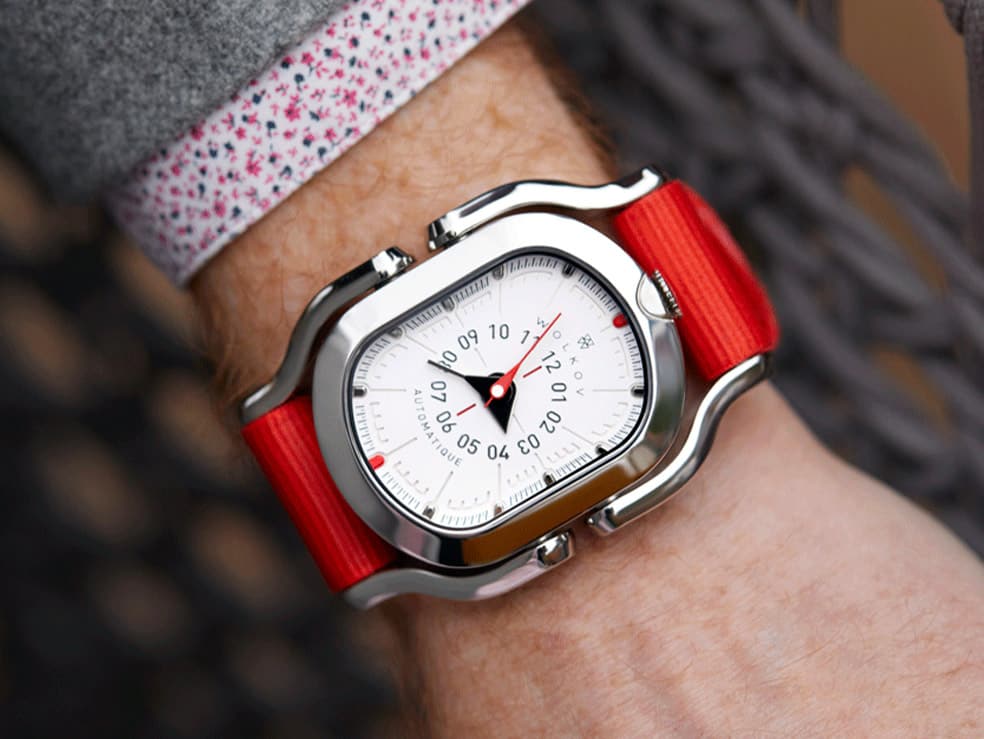 The highly versatile watch comes with 2 extra straps:
Feeling sporty? Try the flamboyant red polyamide strap. It's made from durable polyamide fabric for maximum comfort in the warmer months.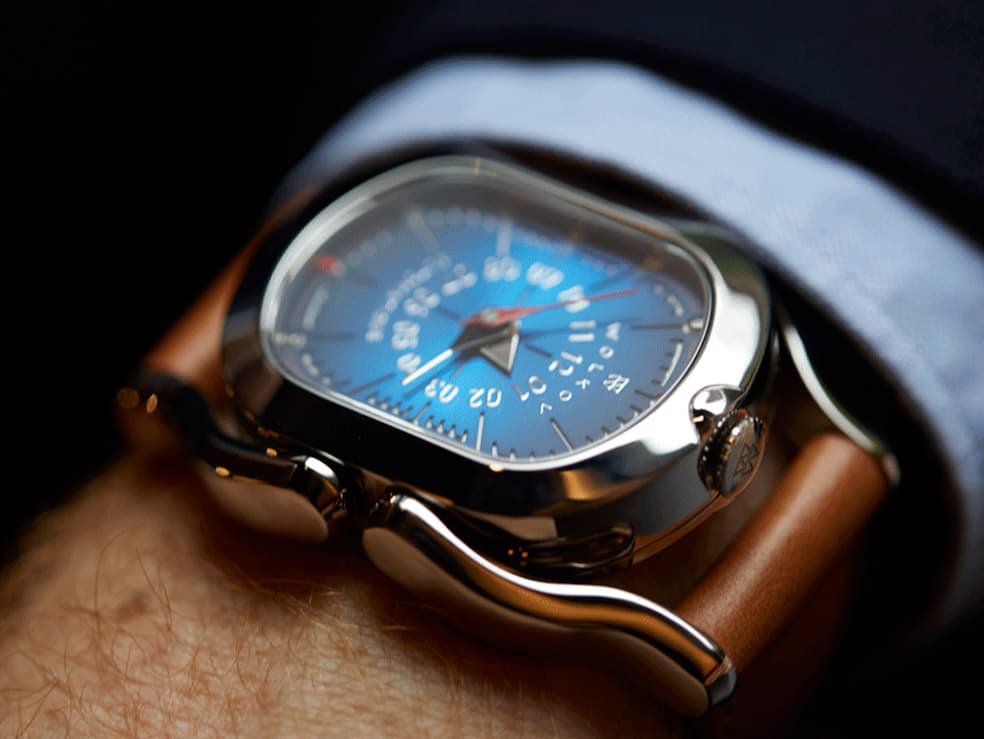 Want a more casual look? Go for our light brown strap made from genuine leather. It will turn your W22 into a timeless classic. Every model comes with two straps, standard. But we'll even throw in a few extra as a surprise. More options can be selected, and custom-made straps are also available upon request.
Specifications
Movement: Automatic Swiss Sellita SW 200 – 38 hrs power reserve
Case: Length: 47 mm – Width: 37mm – Thickness: 12.3 mm
Case and Lugs: High glossy 316L Stainless Steel
Crown: Push In With Double O-ring
Glass: Front: Sapphire Crystal + Multi-Layer Anti-Reflection Coating, Back: Red tainted mineral glass.Water Resistance: 3 ATM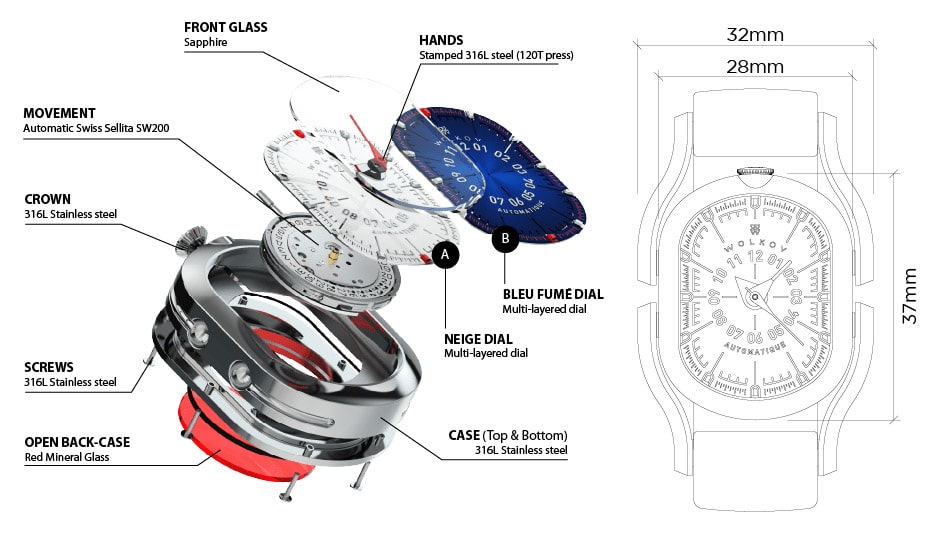 Kickstarter offer
Don't pay full price: WOLKOV is launching soon and you can save yourself a 60% discount by reserving your launch invite on Kickstarter here.