The Rolex Submariner is unarguably one of the most iconic watches ever made. The watch is recognized all around the world by regular individuals and watch enthusiasts alike. It is the watch that many men aspire to own, and it is the watch that has set the standard of how a lot of people think a dive watch should look.
The Rolex Submariner was first released in 1954 at Basel Watch Fair. In traditional Rolex fashion, the Submariner has gone through many revisions, upgrades, and improvements over the years. More than 25 different generations of the Submariner have been made. Yet still, Rolex has managed to keep each model true to the original design traits. Now, more than 65 years later its initial release, the Submariner is more popular than ever which goes to show just how timeless the Submariner truly is.
The Rolex Submariner has always been presented on a stainless steel Oyster bracelet from its factory since its release. Unlike many other watch brands, Rolex hasn't offered the Submariner with different strap options. But the good news is that if you want, it is possible to change the bracelet on your Rolex Submariner to something different to give it a new look – and many people do.
One event that boosted people's interest in changing their strap on their Rolex Submariner watch was when James Bond, played by Sean Connery wore his Rolex Submariner reference 6538 on a NATO (actually a nylon strap) strap in the movie in Golfinger (1964). The nylon strap enabled Bond to put his wrist both on his wrist and on his diving suit. With Bond leading the way, the public interest in replacement straps became greater and the Submariner was given a new personality.
In this article, we share our best strap tips for the Rolex Submariner and what you should think about when choosing a strap for your Rolex Submariner.
Rolex Submariner lug width – which strap size do you need for your Submariner?
Most Rolex Submariner watches have a lug width of 20mm. However, with the release of the latest Submariner model in 2020, reference 12xxxx, the Rolex Submariner now has a lug width of 21mm.
So if you have the latest generation Submariner, you need a 21mm strap for your watch. If you have any of the older generation Submariners, you need a 20mm strap. This is great news because 20mm is the standard size for straps today which means that there is a lot to choose from and it will become easier to find a strap for your watch. Here you find more ways how to determine the "lug width" of your watch.
How to choose strap for your Submariner – Rolex Submariner strap guide
Although the Rolex Submariner has only been presented on a stainless steel Oyster bracelet throughout its production, the watch looks surprisingly good with a large number of different strap types. It has been proven time and time again that the Submariner looks exceptionally good on many different straps – from NATO straps to leather bands. The benefit of changing the strap of your Rolex are many, but in particular, it allows you to change the look of your watch and choose a strap depending on your outfit and occasion.
NATO strap for Rolex Submariner
The most popular type of strap that people opt for when they want to give their Submariner a new look is the NATO strap. The NATO strap has been around for a long time and was originally issued for British soldiers. And as mentioned, James Bond first popularized NATO straps on the Submariner which has played an important role in making it the go-to strap option.
NATO straps offer many advantages. They are available in an endless selection of colors and designs, making it easy to mix and match depending on your outfit and mood. And since they are so cheap, you can buy a bunch of different NATO straps and easily change between them.
NATO straps are really comfortable and can be adjusted to perfectly fit your wrist thanks to the great size-adjusting abilities they have. They're durable, can withstand water, and are – like all strap options, a great way to keep your original steel bracelet from getting scratches. If you want to know more about the history of the NATO strap check out our blog post "All you need to know about NATO straps" here.
Sailcloth straps
A Sailcloth Strap gives your Submariner a stealthy casual look, without loosing its luxury appeal. Our Sailcloth watch strap is made of extremely durable Cordura® Nylon fiber. It is a little thicker and has an inner layer of genuine black leather, to raise the comfort. It has 8 adjustment holes for your perfect fit and the holes are protected with leather to avoid fraying.  The buckle is made from 316L stainless steel and has a brushed finish, with a WB engraving.
Rolex Submariner leather straps
The next option when it comes to straps for the Rolex Submariner is leather straps, you can choose for example between smooth- and suede leather.
This type of strap naturally gives the watch a more formal and less sporty look. With that said, it can be a good option when you want to make your Submariner more suitable for formal occasions. Naturally, leather straps are not to be subject to water, but again, that's not the type of occasions you'll choose a leather strap for anyways.
Leather straps are available in an endless number of different designs and colors so there is a lot to choose from. For a classic look, you can opt for a traditional brown strap. Blue suede straps are also a popular choice for the Submariner.
In general, a suede strap tends to give the Submariner a more casual look than what a leather strap does. A leather or suede strap can make the Submariner a perfect match with a tweed jacket or a more business casual suit.
Tropical rubber straps
Rubber straps have become increasingly popular amongst Submariner owners in recent years. And for good reasons of course.
Rubber straps are closely associated with dive watches due to the water-resistant properties of rubber straps. Rubber straps have been used by manufacturers and professionals for their dive watches for a long time and their look and design tend to pair really well and give them a sportier, purpose-driven style.
There are several different rubber strap designs, but tropical rubber straps are particular rubber strap that tends to pair very well with the Rolex Submariner. What adds to the charm and appeal of tropical rubber straps is their long history. The fact is that the tropical rubber strap first came about in the 1950s – during the same period that the Rolex Submariner was originally launched and dive watches started to become popular. The benefit that these straps offered over the traditional metal bracelets that most dive watches were presented on – including the Submariner – was that they could be fitted to almost any watch and they were also easy to adjust, making it much more convenient to wear the watch when diving where the wrist changes in size due to water pressure but also to wear over the top of one's wetsuit.
Due to the historical connection of the tropical rubber strap, as well as the similarly-long history of the Submariner, they make the ultimate pair and a look that gives the impression that the strap is almost made for the Submariner.
Canvas strap for Rolex Submariner
The thin and light Canvas straps are a nice option, especially for the likewise thinner and lighter 5-digit reference Rolex Submariner. It's robust, light, comfortable and has the perfect thickness to fit between springbar and watch case. It creates the perfect "Mil-Sub" (the military issued Submariner from around 1957) style
Our Canvas Straps are made of superior cotton and viscose and has 10 adjustment holes for the perfect fit, even for larger- or smaller wrists. (Example: With a 18 cm / 7 inch wrist, you close the strap in the 5. hole and the min. wrist size for this strap is 14,5 cm). The buckle is as well made from 316L stainless steel and has a brushed finish, which matches the brushed case of the Submariner perfectly.
Perlon straps for the Submariner
Last but not least, another popular choice of strap for the Rolex Submariner is the Perlon strap. This watch strap offers several benefits, but most importantly, it pairs really well with the design of the Submariner.
The Perlon strap is according to history, the idea of the German watch strap producer, Elion. It originally came about in the 1950s – again, during the same period that the Submariner was released.
The Perlon strap can be explained as a crossing between the NATO and Milanese straps. It is constructed from thick weaved nylon threads. The benefit of this weaving is that the strap becomes very durable which is obviously a great characteristic in any strap – in particular for a sports watch such as the Submariner.
Just like NATO straps, Perlon straps are available in many different colors and designs. They're also affordable like NATO straps. A great benefit of peril straps is also that they are breathable thanks to their weave design. Furthermore, Perlon straps do not have any pre-made holes. Instead, you put the pin of the buckle in any of the holes from the weave, giving you the ability to perfectly size the strap for your wrist for perfect comfort.
The Perlon strap is, thanks to its weave design, considered to be a slightly more formal option than the NATO Strap, even though it offers similar durability.
How do I change the bracelet or strap on my Rolex?
Changing the bracelet or strap on your Rolex is fortunately rather simple.
If you have an older Submariner watch with so-called drilled lugs (holes all the way through the lugs where the spring bars are attached), it is extremely easy to remove the bracelet. Simply push the spring bar with the tip of a spring bar tool from the outside and remove the bracelet to attach a new strap.
If you have a Submariner without lug holes, you need to use either the fork of the above mentioned spring bar tool or better a bracelet tweezer to change your strap. The spring bar tweezer is the safest way to dismantle the bracelet from your Rolex watch without scratching your precious watch.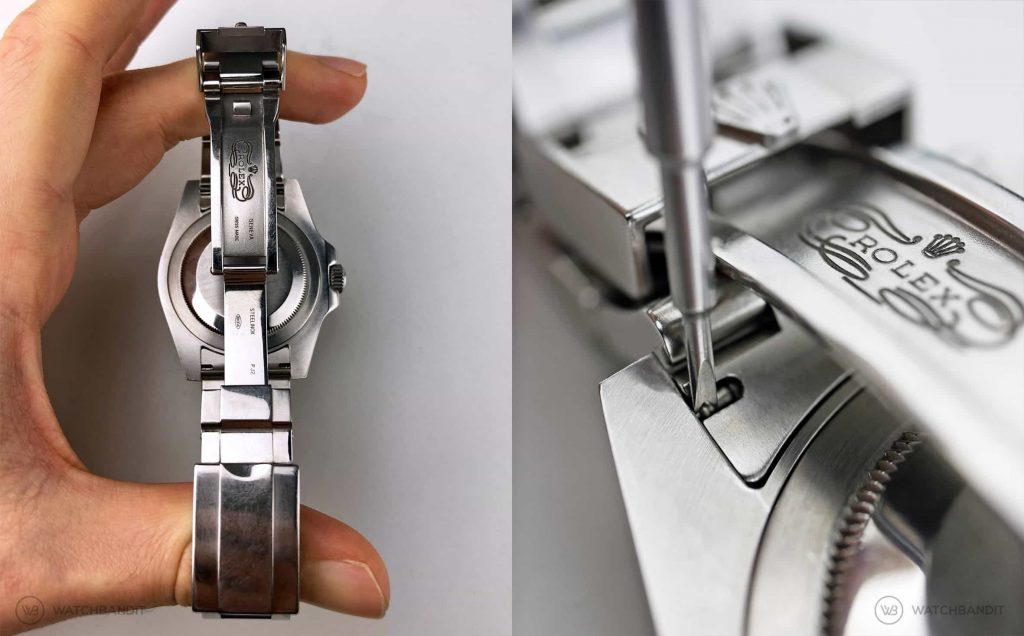 Our advice is to invest in a slightly more expensive spring bar tool and not opt for the most affordable one as there is a difference between the quality and the precision they offer. A more qualitative alternative will provide a better grip and prevent you from slipping. 
A thing you should know about Rolex cases
Most Rolex watch cases have a heavily brushed, or rather not finished, case surface behind the lugs. This rough surface is a stress test for every watch strap and maybe it was the intention of Rolex engineers *conspiracy theory intensifies*.
For that reason, we can't really recommend vintage leather straps, if you don't have curved spring bars (currently we work hard on it to source high quality curved spring bars for you). The leather surface will be scratched and damaged by the rough surface of the rough oyster case surface. Another reason for that is, that the space between case and spring bars is quite narrow. Suede leather straps are rough already, and it doesn't make such a big difference, if the case will rough it up more.
The most resistant straps are with no doubt NATO- and Two-Piece NATO bands. Because of the mentioned narrow space between spring bars and case, the double layered two-piece NATO strap sits very tight, it's even better, because the two-piece NATO strap can't move a lot and so it won't scratch off so easily. NATO bands should have a thickness of 1,2 mm like our Premium NATO bands to fit best between spring bar and case, while pulled through them, yet you need to be careful.
The 0,2 mm thicker Heavy-Duty NATO straps should not be pulled through between spring bar and sharp case edge, otherwise you will most likely destroy the surface of your Heavy-Duty NATO. If you want to use a Heavy-Duty NATO, you should remove the spring bars, lie down the NATO strap on your watch and press in the spring bars again.
On the second place of durability is the Canvas strap, because we made it thinner and without leather, if fits quite perfectly between spring bars and Rolex oyster case.
Life hack: If the strap might scratch off a little after a long time of use and it looses some nylon- or canvas fabrics, you can easily remove them with a fabric shaver.